« New Marine Corps Challenge Coin | Main | The Lesson of The Battle of the Greasy Grass ~ Penned by Rhod »
February 18, 2008
Congratulations Everyone 1,000,000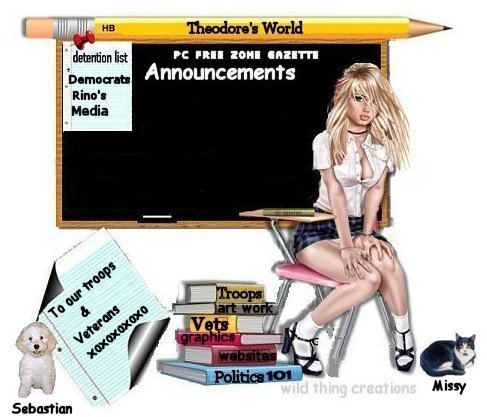 I am happy to announce that Theodore's World blog has reached 1,000,000 hits.


You all have a lot to do with that as well. This blog began September 2005.
The count of hits are made as each different computer ( IP address) visits this blog. The count is only done once for each ip address so that means there have been 1,000,000 individual ip addresses that have peeked in here, commented here or spent time reading the posts and comments. LindaSOG my blog mom showed me how to read the Stats and I usually check them once a month to see how they are doing.
The countries I have been most concerned with are of course the USA but also where our troops are located so that is fun to see hits coming from those places like a way of saying we are out here and are checking in with you. It always makes me feel so happy to think they are lurking here and reading your comments along with the posts and things you all have shared.

Here is a list of some of the countries that read this blog:
Afganistan
Albania
Algeria
Angola
Andorra
Anguilla
Antigua and Barbuda
Argentina
Armenia
Aruba
Australia
Austria
Azerbaidjan
Bahamas
Bahrain
Barbados
Belarus
Belgium
Bermuda
Bolivia
Bosnia-Herzegovina
Brazil
Bulgaria
Burkina Faso
Cameroon
Canada
Cape Verde
Cayman Islands
Chile
China
Colombia
Costa Rica
Croatia
Cuba
Cyprus
Czech Republic
Denmark
Dominica
Dominican Republic
Ecuador
Egypt
El Salvador
Estonia
European country
Faroe Islands
Fiji
Finland
France
Gabon
Georgia
Germany
Ghana
Gibraltar
Greece
Great Britain
Greenland
Grenada
Guadeloupe (French)
Guam (USA)
Guatemala
Honduras
Hong Kong
Hungary
Iceland
India
Indonesia
Iran
Iraq
Ireland
Israel
Italy
Ivory Coast (Cote)
Jamaica
Japan
Jordan
Kazakhstan
Kenya
Kuwait
Latvia
Lebanon
Lesotho
Libya
Liechtenstein
Lithuania
Luxembourg
Macedonia
Madagascar
Malaysia
Malta
Martinique (French)
Micronesia
Moldova
Mexico
Monaco
Mozambique
Namibia
Nepal
Netherlands
New Zealand
Nicaragua
Nigeria
Norway
Pakistan
Palestinian Territories
Panama
Paraguay
Peru
Philippines
Poland
Portugal
Puerto Rico
Romania
Russian Federation
Rwanda
Saint Kitts & Nevis Anguilla
Saint Lucia
San Marino
Saudi Arabia
Singapore
Slovak Republic
Slovenia
South Africa
South Korea
Spain
Sri Lanka
Sweden
Switzerland
Syria
Tadjikistan
Taiwan
Tanzania
Thailand
Togo
Trinidad and Tobago
Tunisia
Turkey
Uganda
Ukraine
United Arab Emirates
United States
Uruguay
Uzbekistan
Vatican City State
Venezuela
Vietnam
Yugoslavia
Zambia
Zimbabwe

Posted by Wild Thing at February 18, 2008 01:48 AM
---
Comments
" ... You're simply the best. Better than all the rest!" - Teena Turner ... See what that conservative 'candy' does WT? CONGRATULATIONS!!
Posted by: darthcrUSAderworldtour07 at February 18, 2008 05:12 AM
---
Congratulations! You earned it!
Posted by: Lynn at February 18, 2008 07:54 AM
---
That is neat Wild Thing. Congratulations! You work hard and your effort is appreciated. And your imaginative graphics are absolutely "Da Best"!
I hope some more of the readers join the commenters. I would especially like to hear the opinions and thoughts of non-Americans from anywhere.
Posted by: TomR at February 18, 2008 11:40 AM
---
Well done! I'm a new viewer but I have this site bookmarked.
Posted by: Odin at February 18, 2008 12:41 PM
---
Congratulations Chrissie!
OMG! I am so proud of you! This is one heck of an accomplishment, but I must say, I am not surprised! You have one of the very best conservative pro-troop, pro-Israel, pro-America sites on the internet!
Posted by: LindaSoG at February 18, 2008 01:02 PM
---
Wow, I'm in awe. You certainly have earned each and every one of them. Thank you for being there for the troops and for us. CONGRATULATIONS!!!
Posted by: Jack at February 18, 2008 02:52 PM
---
Posted by: Mark at February 18, 2008 07:46 PM
---
I love you all sooo much!!! You have helped make it possible and exciting and fun every day.
(((((((((((((((hug)))))))))))))))
Posted by: Wild Thing at February 19, 2008 01:45 AM
---
Linda So Great: "Only GOD is perfect, and your 1972 Miami Dolphins!" - Luke 1:37 and Eli Manning 2008!!... You're WELCOME!!!!!
Posted by: darthcrUSAderworldtour07 at February 19, 2008 07:25 AM
---