« Time for Some Real Straight Talk | Main | Troops To See Super Bowl Thanks To Texas Businessman »
February 03, 2008
*~ Superbowl Sunday ~*


Super Bowl XLII will reach one billion people worldwide.
"When the AFL and NFL decided that they would combine into a single league in 1971, they also agreed to start playing a championship game after the 1966 season. Officially called the AFL-NFL Championship, it was soon nicknamed the Super Bowl. The first Super Bowl, though, between the NFL's Green Bay Packers and the AFL's Kansas City Chiefs, wasn't so excitedly anticipated. The main question seemed to be how large Green Bay's margin of victory would be. NFL Super Bowl Tickets cost only $12, and the game still wasn't a sellout at that time. The Packers won the game 35 to 10. They also won Super Bowl II 33-14 over the Oakland Raiders. It wasn't until Joe Namath guaranteed victory for the AFL's underdog New York Jets in Super Bowl III and then delivered a 16-7 win over the Baltimore Colts that interest rose, particularly with the impending joining of the two leagues."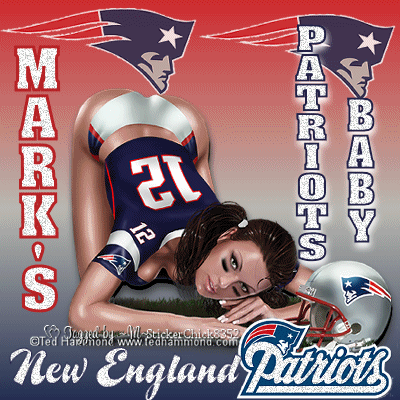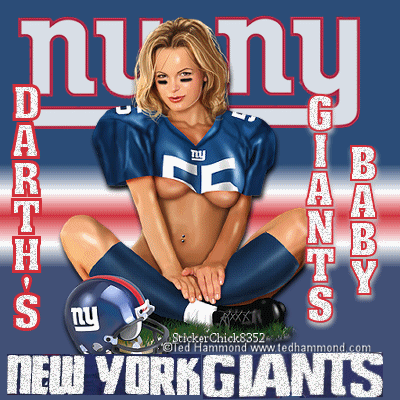 STADIUM
The stadium seats 63,400 for Cardinals games, but will provide approximately 10,000 more seats for Super Bowl XLII.
Site: University of Phoenix Stadium - Glendale, Arizona
Date: February 3, 2008
Kick-off: 6:17 p.m. EST odd time 6:17 not sure why the 17!!??
Network: FOX
Radio: Westwood One
Home Team: New England Patriots
Away Team: New York Giants
Halftime Performance: Tom Petty & The Heartbreakers

Section: 423 Row:20 ....... $1409

FRONT ROW 50 YARD LINE LOWER LEVEL OVER PATRIOTS BENCH
Section: 109 Row:1 ........... $9400
Section: 109* Row: 13....... $10340

Internet Only version of the 2007 GoDaddy.com Super Bowl commercial starring GoDaddy Girl Candice Michelle, IndyCar's Danica Patrick, the Teutuls from American Chopper, AHDRAs Valerie Thompson and Bob Parsons, CEO and Founder of GoDaddy.com

Cost of a commercial shown during the Superbowl
Last year, the big game was the highest rated TV show in the U.S. with more than 93 million people tuning in, according to Nielsen. And this year, with two teams from huge markets competing, the Super Bowl could draw even more viewers.
The average cost for a 30 second spot during this year's game is $2.7 million, according to Fox, the News Corp (NWS, Fortune 500).-owned network that will broadcast the Super Bowl. That's up slightly from last year when the going rate was $2.6 million and more than double the 1997 price of $1.2 million.

These were the teams that everyone picked for this last season. I hope you all had fun and thank you for being a part of football at Theodore's World. For those of you whose team did not make it to the Superbowl I am so sorry, and let's hope for next year. For those rooting for the Patriots and the Giants, CONGRATULATIONS!!
(Some names are those deployed in Iraq)
Lynn - Broncos, Bears, Browns
Tom - Cowboys, Broncos
Darth - New York Giants, Tampa Bay Bucs, (ABP - 'anybody' but Philly )
Mark - Patriots, Buffalo Bills, Bears
Bob - Buffalo Bills
Billy - Jets, NY Giants, Bears
Nick - Cowboys, Rams and Raiders
Karsten - Tampa Bay Bucs, NY Giants
navycopjoe - Chicago Bears
LindaSOG - Miami Dolphins
Jonathan - Raiders
Dawn - Seahawks, Bronco's ....(husband USARMY delpoyed, Iraq)
Amber - Green Bay Packers .....(husband USMC delpoyed Iraq)
Cuchieddie - Raiders
Sierrahome - Colts
patrickdaniel - Chargers, Cowboys
Eve - Colts ....(husband USARMY deployed Iraq)
Beth - Bears , Saints
Chief - Seahwaks
Chrissie - Bears, Broncos and Cowboys
Deployed:
Andy ( USMC) - Colts
Mike ( USARMY) - Seattle Seahawks
Sand Man ( (USMC) - Bronco's
Dave (USARMY) - Patriots
Tim ( USMC) - Bears
Jean ( USARMY) - Atlanta Falcons
Greg (USARMY) - Eagles
Max ( USARMY- Cowboys
Pete ( USMC) - Bronco's
Steve - (USAF) - Bronco's
Tony - (USARMY) - Redskins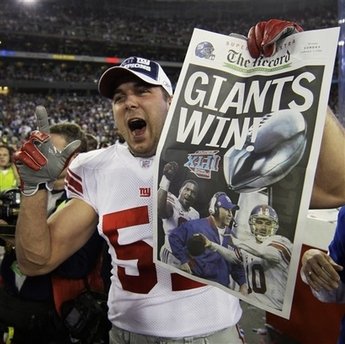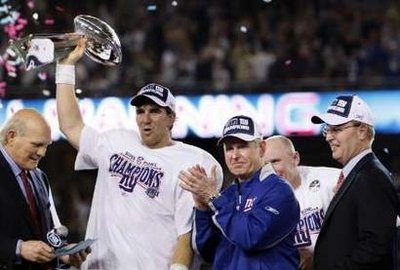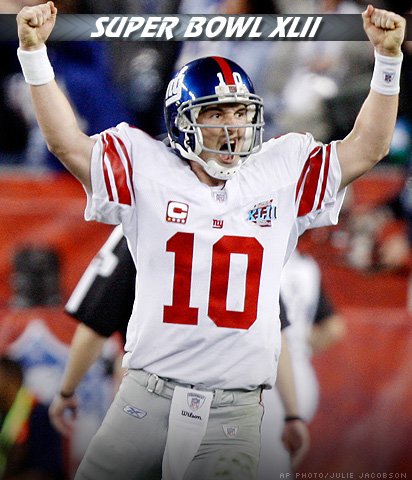 Giants 17
Patriots 14
Posted by Wild Thing at February 3, 2008 03:48 AM
---
Comments
SB XXLL = Super Bowl XXLL? or SB XXLL = Spy Bowl 42? History will be made tonight in reference to a perfect season @ 20-0 or GIANT upset. The NY Giants won at the beach, on the ranch, in the tundra and now the desert? Or will the 20-0 PATS be taking the 5th afterwards? Based on the fact the PATS beat us at the end of pre-season and regular season, the GIANTS will not let the same team defeat them three times in one season!
NY GIANTS - 26
New England Patriots 23
God bless the red, white and blue colors of both teams, but Tom Petty is all they could come up with for entertainment? TOM PETTY?!
One thing is a winner... Chrissie's PATS & GIANTS graphics! I'll hit #55 in the numbers anyday!!
Posted by: darthcrUSAderworldtour07 at February 3, 2008 06:12 AM
---
Well Darth we agree on two things:Chrissie's Graphics and the colors of the Patriots, of course the Name Patriots is good too.
But aren't the Giants red, Off white, and Blue.
the Pats as it stands now are 18-0 Superbowl would make it 19-0 as opposed to the Gi-ants at 10-6 or what ever.
Somebody warned, that the Giants are on a roll they won their last 8 games, so look out, that being said, well the pats have won their last 18 in a row. I guess then you could say the Pats are on a roll.
So we will see. With the intesisty of thie game I will not predict a score, the 'spread' last I heard is 12 points. Look for the Pats to offer schemes that have not been seen before.
Good Luck to you darth but more to the Patriots.
Posted by: Mark at February 3, 2008 08:52 AM
---
Congratulations Darth, I will take my crow medium well.

Posted by: Mark at February 3, 2008 10:10 PM
---
Thank-You Patriot Mark... Luke 1:37 "For with God nothing is impossible."
Bill Belichick will always be a NY Giant and a class act - period. Screw the media and doomsayers. The PATS and GIANTS went 12 rounds tonight and both teams played their hearts out!
The ESPN bullsh*tters and FOX pre-game ANALysts all predicted New England and again, this motivates the Broadway Blues and their 'real' fans!
Mark - Belichick should have attempted that field goal late in the 3rd quarter and by passing on 4th and 13 was his only... coaching mistake? Those 3 points would have possibly forced an overtime situation.
Patriot fans and their organization will never eat crow... only Filthadelphia Eagles will eat crow... ABP! God Bless and what an old school type football game!! WOW !!!
Posted by: darthcrUSAderworldtour07 at February 3, 2008 11:05 PM
---
Darth, Congratulations! It was a great game especially the last 2:45 of it. WOW!
I am so proud of both of the teams and the players. I am also very happy for you and all the Giants fans. Tah dah!!!
Posted by: Wild Thing at February 4, 2008 12:19 AM
---
Darth, you predicted a 3 point win as I did yesterday. Who cares what the actual score is as long as the Giants were on top? This game will be high as the "best ever" for a long time.

I live about 10 miles from Giant's Stadium and can still feel the power in the air of the Giant's Super Bowl XLII victory. It will be here for a long time. WOW! What a night.
Mark, winning is always better than losing, but an 18 - 1 season and a game so closely fought to the very end is something for the history books too.
Posted by: Les at February 4, 2008 12:25 AM
---
Les...Exit 16? North 'Joisey' and Manhattan are partying tonight! I watched the ESPN coverage and FOX analyst coverage and 99% of these supposed 'experts' said the Giants wouldn't win -
period. WE knew better. Terminal cancer patients sometimes defy the odds and ... LIVE, eh? I knew in my heart that if we ran the ball and controlled the clock - old school boring football - that QB Brady couldn't score a lot of points against us. Guess what? TAH DAH!!! Oh that Giants 'D' and what a catch by David Tyree!
So happy for Coach Coughlin and Eli... Now let's Go New Jersey Devils! What a blessed night and how an underdog shocked the world... WOOF!
Posted by: darthcrUSAderworldtour07 at February 4, 2008 02:02 AM
---
Thanks WT for all you do for the Bear Nation & The Troops! This SB 42 win tonight is all about life... when the chips are down and when victories aren't expected... surprise! The Giants 'surge' worked like the surge in Iraq has. That's why they play the game and never ever give up... never! Screw the supposed experts and pollsters and media liberal elites.
The Patriots are a class act... like our patriots fighting for our nation's security in our war on terror....
Posted by: drstrangeloveb52isok at February 4, 2008 02:09 AM
---