« FrankJ as Bill Clinton Road To The White House | Main | McCain to Close Club Gitmo:"The first day I am President" »
January 20, 2008
Leading Democrats To Bill Clinton: Pipe Down ~ LOL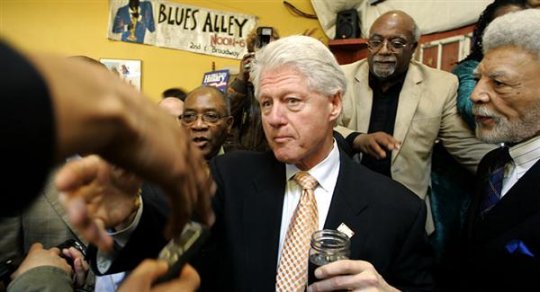 Leading Democrats To Bill Clinton: Pipe Down
By Jonathan Alter
NEWSWEEK ...for complete article

Prominent Democrats are upset with the aggressive role that Bill Clinton is playing in the 2008 campaign, a role they believe is inappropriate for a former president and the titular head of the Democratic Party. In recent weeks, Sen. Edward Kennedy and Rep. Rahm Emanuel, both currently neutral in the Democratic contest, have told their old friend heatedly on the phone that he needs to change his tone and stop attacking Sen. Barack Obama, according to two sources familiar with the conversations who asked for anonymity because of their sensitive nature. Clinton, Kennedy and Emanuel all declined to comment.
On balance, aides to both Bill and Hillary still see Bill as a huge net plus in fund-raising, attracting large crowds and providing a megaphone to raise doubts about Obama—even if some of those doubts are distortions. But there's concern that in hatcheting the Illinois senator and losing his temper with the news media (last week he thrashed a San Francisco TV reporter for asking about a lawsuit filed by Clinton-backing teachers union members to limit the number of Nevada caucuses), Clinton is drawing down his political capital and harming his role as a global statesman. "This is excruciating," says a member of the Clintons' circle, who asked for anonymity. "But the stakes couldn't be higher. It's worth it to tarnish himself a bit now to win the presidency."
During a December taping with PBS's Charlie Rose, a frustrated Clinton called Obama "a roll of the dice," as aides tried to end the interview.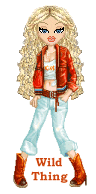 Wild Thing's comment........
LMAO Keep up the good fight Bill. Don't listen to those pesky RATS. LOL He's tasteless trailer trash and all about himself. They encouraged him for years. Why would they think he would shut up now?
It would have suited me if he had shut up somewhere around 1960.
LOL....Remember Bill, this is your reelection, your redemption, your legacy--a time to reverse all those bad things that people said and did to you. Remember one other piece of advice: If she doesn't win, it is because you f*cked up, sat on your duff, didn't do squat for her, said the wrong thing, put your foot in your mouth, came off as too aggressive or, alternatively, dumber than shinola, and you will hear about it for an eternity. (Hint: Look for the note attached to the flying lamp as it sails by.) She won't be busy at 1600 Pennsylvania Avenue or traveling around the world. She'll have oodles of time to teach you a few lessons. So get out there and fight! Obama deserves to go down! And you're just the guy to do it. We're counting on you.
heh heh couldn't help myself. hahaha

Posted by Wild Thing at January 20, 2008 02:55 AM
---
Comments
WE see the phony bologna that the Clintonistas are all about... so much for the schmucks and suckers that do not see and are blind to reality!
They must live in blue states, blue ghettos and in LA LA Land.
Posted by: darthcrUSAderworldtour07 at January 20, 2008 04:28 AM
---
"...the titular head of the Democratic Party..."
Why do we always hear the word "head" when this guy is talked about?
Definition of Titular Tit´u`lar
a. 1. Existing in title or name only; nominal; having the title to an office or dignity without discharging its appropriate duties; as, a titular prince.
If these magnificent titles yet remain
Not merely titular.
- Milton.
n. 1. A titulary.
Related Words: byname, epithetic, in name only, nominal, nominative, quasi, self-called, self-christened, self-styled, so-called, theoretical, token, would-be, wanna-be
Posted by: Steve, Hamas Assassin at January 20, 2008 06:47 AM
---
You're right WT. We need to encourage Bill so his "bigger than this world" ego missteps and really screws up Hillary's campaign. Then his ass is grass and Hillary will go after him with a vengence built up of 40 years of barely concealed tolerance. "Keep up the show Clintons".
Posted by: TomR at January 20, 2008 06:52 AM
---
Titular head ? Does that mean when it's cold out his head comes to a point ?
But what the other demos are telling Clinton to shut up, they will never nominate the Black guy for the presidency anyway so don't create any messes to alienate the black vote.
So as far as I can see the fix is in if Clinton keeps his mouth shut.
Posted by: Mark at January 20, 2008 08:40 AM
---
Whenever I see a picture of Bill I think of this highbrow fella and envision him running amok, hunting his wenches, toking on his joints and prevaricating about it all. Let mr. high and mighty run off at the mouth, it's good when their own have their noses rubbed in the cat's litter box.
Posted by: Jack at January 20, 2008 12:31 PM
---
If Hillary looses, who will file for divorce first; Hillary or Bill? I'm betting Bill.
Posted by: BobF at January 20, 2008 03:21 PM
---
Willy IS the Democratic Party, in the same way a worm owns an apple or a grub owns an acorn. Once it's inside, the parasitic infection is total.
He burrowed in and was welcomed by sleaze clots like Kennedy and Emanuel when he was useful, but they never understood that he wouldn't just slither away.
The same lack of standards and liberal acceptance of corruption that kept him on top all these years, is what makes him appealing, even now, to lots of people I know around here.
Posted by: Rhod at January 20, 2008 08:50 PM
---
Darth your right, we do see it. I don't get why some don't see the truth about the Clinton's even when told about it.
Posted by: Wild Thing at January 20, 2008 11:24 PM
---
Steve, Hamas Assassin, LOL I don't know.
"Why do we always hear the word "head" when this guy is talked about?"
Thanks for the definition too. Interesting!!
Posted by: Wild Thing at January 20, 2008 11:26 PM
---
Tom, heh heh, I would hate to be at the end of Hillary's wrath. I am not a fan of lamp throwers. hahaha
Posted by: Wild Thing at January 20, 2008 11:30 PM
---
Mark I think so too, there may be a lot voting now for Obama, but when the time comes in Nov. I think a lot of the undecided lefties especially will click on the hildabeast.
Posted by: Wild Thing at January 20, 2008 11:32 PM
---
Jack oh my gosh, that is so perfect. Thanks for the link. hahahaahahahahahaha
Posted by: Wild Thing at January 20, 2008 11:33 PM
---
Bob, you can put me down for Bill as well. And a vision of Hillary screaming out in her monotone screech she has.
Posted by: Wild Thing at January 20, 2008 11:34 PM
---
Rhod that is such a great description.
Posted by: Wild Thing at January 20, 2008 11:35 PM
---
Bill Clinton's uncontrollable running amok with Hillary's primary campaigns is just a sneak peek of what will be going on for "four more years" should she get elected President. One thing for sure, Gitmo would not be closed and it would have a new resident with a cell labeled "Titular Head" and waterboarding allowed.
Posted by: Les at January 21, 2008 12:30 AM
---
Les,perfect and Bill can have his own cell.
Posted by: Wild Thing at January 21, 2008 03:04 AM
---