« Car Dealer Helps Deployed Military | Main | Islamic New Year or "Al-Hijra" January 10th »
January 10, 2008
Johnny Grant Honorary Mayor Of Hollywood Dies ~ RIP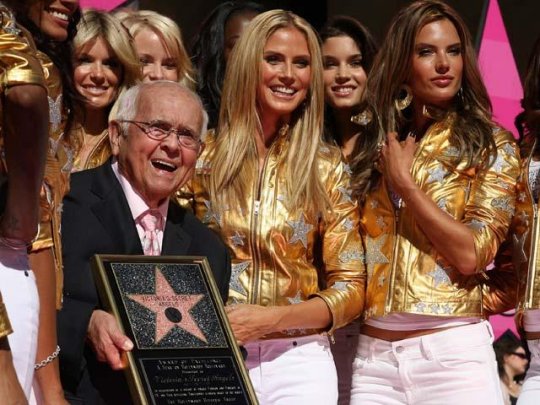 Victoria's Secret Angel Heidi Klum receives a star from honorary mayor of Hollywood Johnny Grant on Nov. 13, 2007

Johnny Grant, Honorary Mayor Of Hollywood, Dies
Johnny Grant, Hollywood's honorary mayor, died Wednesday, according to Los Angeles police.

Information about Johnny Grant's life taken from HERE....there is much more then I am posting and also lots of photos.

Grant, 84, has been one of Hollywood's most enthusiastic supporters for more than 50 years.
He was the creator and producer of the "Welcome Home Desert Storm" parade, the largest single-day event in L.A.'s history. Television audiences around the world regularly see him dedicating stars on Hollywood's Walk of Fame and helping immortalize the world's greatest motion picture personalities in cement in the forecourt of the fabled Grauman's Chinese Theatre. Johnny Grant is Hollywood's most recognized spokesman.
The Hollywood Christmas Parade is another recurring example of Grant's dedication to the revitalization of Hollywood. When the town's annual Santa Claus Lane Parade lost its luster, the parade's organizer, the Hollywood Chamber of Commerce, called Johnny Grant. When he signed on as parade producer in 1978, it was a reasonably popular, but strictly local, event. Grant rounded up 100 of Hollywood's most popular stars, the committee changed the name to The Hollywood Christmas Parade, and with the drive of Johnny's talent and personality, his 20-year tenure transformed the Parade into a nationally-televised festivity that has become one of the world's largest celebrity events.
He was one of the television medium's earliest pioneers and stars. Beginning in 1946, he was host of the game show "Stop the Clock."
During World War II, while serving in the Army Air Corps, he broadcast from Seymour Johnson Field, N.C. and was aired on his "alma mater" station WGBR. He also was heard over New York's WINS Radio, where he hosted a special daily show for the millions of servicemen and women stationed, living, and simply passing through New York City on military duty. The show was called "Strictly GI," and featured not only news of interest to the troops, but interviews with some of the greatest and most popular entertainment stars of the day.
He was on the scene in 1945, shortly after a B-25 bomber crashed into the Empire State Building and was the only radio reporter on the air March 18, 1946, when Andrei Gromyko angrily walked out of the United Nations Security Council Chamber.
Grant also recalls his chats with the legendary Babe Ruth, Jack Dempsey, Ty Cobb, Eleanor Roosevelt, Great Britain's Sir Anthony Eden, Captain Eddie Rickenbacker, Admiral William F. Halsey and more.
Grant also served as producer and host of the United States Marine Corps Reserve's "Toys For Tots" Telethon for ten years.
Johnny has also produced hundreds of these events, raising millions of dollars for the USO, Boy Scouts of America, the Arthritis Foundation, police and fire services, veterans organizations, etc.
Johnny Grant is one of America's most enthusiastic, energetic and vocal supporters of the men and women of the United States Armed Forces. His service to his country includes 15 trips to Korea and 14 gut-wrenching tours to combat bases throughout Vietnam... in all, a monumental 55 USO and personally-organized visits to bring laughter, encouragement and the spirit of America to GIs overseas.
During the Korean War, Grant's "GI Phone Fund" provided wounded servicemen with free telephone calls home when they arrived at California's Travis Air Force Base hospital.
Johnny's 12th trip to Vietnam brought high praise from General Creighton Abrams, Commanding General of U.S. Forces there, as he pinned Grant with the Army's Outstanding Civilian Service Medal. Since then, his amazing dedication to our armed forces personnel has been recognized with The Army's Legion of Merit, two awards of the Meritorious Service Medal, an Army Commendation Medal and Distinguished Civilian Service Medals from the Department of Defense, Department of Army and Department of Navy on behalf of the Marine Corps.
Johnny spent Christmas of 1982 and '83 entertaining U.S. Marines in Beirut, Lebanon, and was the only Hollywood personality to make two trips to visit our troops in Saudi Arabia during Desert Shield/Storm.
To date, he has made five visits to the Balkan countries of Kosovo, Bosnia and Macedonia. During these trips, he took the opportunity to re-establish a longtime association with the Armed Forces Radio and Television Service (AFRTS) by appearing on Christmas Day Specials on the AFN in Frankfurt, Germany, whose radio signal covers almost half the world. During both the Korean and Vietnam wars, Johnny hosted daily hour-long disc jockey shows for AFRTS.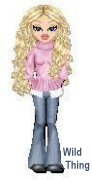 Wild Thing's comment........
It is always sad to say goodbye to a friend. Hollywood even though extremely liberal does have some awesome people that have real substance and truly love our troops and know why we live in a free land. Johnny was one of them.
I met Johnny Grant through Bob Hope and trips to Vietnam. He was a jolly, fun and lovable man and very kind. Over the years of knowing Johnny Grant I was honoered to work with him and with the Marines Toys for Tots TV show with Angie Dickinson and Henry Winkler and others.
One Christmas Johnny called and asked if I wanted to ride in the Hollywood Christmas Parade and I was thrilled. I love Christmas and the Hollywood Christmas Parade was always fun. So I asked him if Nick could come too and he was wonderful and said absolutely. Johnny Grant did a lot to support the troops over the years and he will be missed.
His last trip to see our troops
November 29, 2007
Hollywood's honorary mayor, Johnny Grant, plans to leave Friday for Guantanamo Bay to entertain and honor American troops.
Grant said the trip will be his final USO tour.
"Their applause is thunderous, and their laugh has a certain spark that you don't hear anywhere else," Grant said.
Grant, who's performed with Bob Hope, Betty Grable and a long list of celebrities, has entertained troops for the last 65 years.
Grant said he bringing Victoria's Secret models on this tour.
"I've got a lot of beautiful ladies for the men," Grant said. "I'm afraid we're going to disappoint the women soldiers, because I'm their sex symbol."
On Thursday, Grant emceed The Recording Academy's "Award of Excellence" star on Hollywood's Walk Of Fame. During the ceremony, he shared a joke he plans on telling the troops.
"I say, 'You know, I have a lot of problems in Hollywood. You'd be amazed at how many people mistake me for Brad Pitt,'" Grant said.
This isn't the first time Grant has said his USO touring days are over. During a KNBC interview in 2001, he said that his 2001 tour would be his last.
While he stands by his remarks that this trip is the last, he hasn't closed any doors.
"I say this is definitely the final tour, but if they called me the day I got back and asked me to go to Baghdad, I'd go," Grant said.
Posted by Wild Thing at January 10, 2008 03:44 AM
---
Comments
I hear Dean Martin will honor Mr. Grant tonight in Heaven with a cebrity roast! Johnny Carson is the MC!! Not all are Hollyweirdos in La La Land, eh?
Posted by: darthcrUSAderworldtour07 at January 10, 2008 06:15 AM
---
Hollywood has had it's heroes although you'd be hard pressed to find one in the new generation. Thank you Johnny Grant, the USO and WT.
Posted by: Jack at January 10, 2008 10:54 AM
---
Wow, what an interesting man. I have heard of Johnny Grant, but did not know much about him. Just Wow! To think of the famous people he has known, the events he witnessed. He knew Hollywood at it's zenith of quality and was a very key figure in it's glory. And his patriotism and dedication to America's military are priceless. He obviously accomplished a lot for Hollywood and America and did so in a fairly low key manner. And, he knew our own Wild Thing.
Darth's comment is probably right on. I can just imagine the size of the celebrity table at Johnny Grants roast.
Posted by: TomR at January 10, 2008 01:43 PM
---
PS: Co-Pilot No-Class Chewbacca wants to know ...
"Who the heck is buried in Grant's Tomb (NY) then... if he's still alive?"
Posted by: darthcrUSAderworldtour07 at January 11, 2008 12:05 AM
---
Darth, (smiling) I can see that happening.
Posted by: Wild Thing at January 11, 2008 01:05 AM
---
Jack wow that is an awesome link. Thank you so much. Yes they would be hard to find today in Hollywood.
Posted by: Wild Thing at January 11, 2008 01:06 AM
---
Tom, it is a nice feeling to think of a roast going on in Heaven with all of them. haha Love it.
Posted by: Wild Thing at January 11, 2008 01:08 AM
---