« "What are you, some kind of Republican?" ~ LOL | Main | Sharpton to Bill Clinton: 'Shut Up' »
January 28, 2008
Ice Queen Breaks Ranks With Democrats And Comes To Florida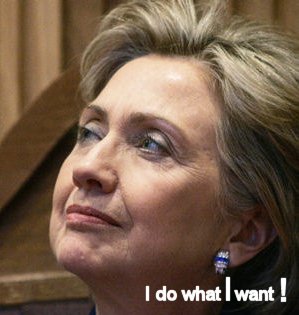 Hillary Clinton comes to Florida, but is it campaigning?
MIAMI BEACH
A day after losing big in South Carolina, Hillary Clinton jetted into Florida for private events Sunday, raising money and hopes that her campaign is still on track.
In South Florida, Clinton was greeted by Miami Mayor Manny Diaz outside the Lucky Strike Lanes, a bowling alley on South Beach, site of the night's first fundraiser in the area.
"She emphasized having enough turnout (Tuesday) to see that the Florida delegates are seated," said Mike Garretson, deputy superintendent of the Broward County Schools. Garretson and his wife, Patricia, were among those who paid $500 each to attend
.
Clinton, who earlier attended a fundraiser in Sarasota, spoke for about 30 minutes at the Lucky Strike before heading to a developer's house for the second fundraiser.
Clinton and the other Democratic presidential hopefuls pledged not to campaign in Florida after the state's primary was scheduled in January. The party also stripped the state of delegates to the party's convention, but Clinton on Friday issued a statement saying she would urge seating delegates from Florida and Michigan, another state that scheduled an early primary.
Clinton said Sunday she was going to Florida to assure Democrats that "their voices are heard" and to underscore her commitment to seeing the state's delegation seated at the national convention.
"Hundreds of thousands of people have already voted in Florida (in early voting) and I want them to know I will be there to be part of what they have tried to do to make sure their voices are heard," Clinton said in Memphis, Tenn., before heading for Florida.
She arrived in Sarasota taking care to abide by the details of the agreement not to campaign, because events in Sarasota and later in Miami were not open to the public.
With a wink at the deal, Clinton carefully staged her arrival so she left her airplane with palm trees in the background for photographers. Asked if she was happy to be in Florida, she said: "How could you not be. It is absolutely glorious. It is a perfect day here in Florida."
At least two Obama supporters charged that Clinton's presence in Florida constituted campaigning.
"She's campaigning by her presence here. She's telling Florida voters she cares," said Brooke Gaebe, 24, of Miami Beach. "That's campaigning."
She stood outside the bowling alley holding a homemade sign that read, in part, "We want a president that can keep a promise."
Among Clinton supporters at the first fundraiser was Michael John McCann, 52, of Delray Beach. He said the results in South Carolina didn't worry him: "That was expected. She's going to take Florida like (Barack Obama) took South Carolina."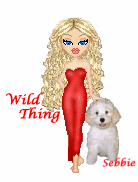 Wild Thing's comment........
Oh my gosh! LOL This is sooooo rich!! Now that Hillary is in Florida, I hope the Oranges don't get frost bite.
There you have it ... Hillary pulls a rope-a-dope on her opponents. She is after the delegates and will now claim they are disenfranchied - even though she was instrumental in the disenfranchisement as a party bigwig.
Dem candidates had agreed NOT to campaign here in Florida because they moved their primary date.
This FL & MI play is a "Hail Mary" pass if ever there was one.
Once again the Clintons PROVE that they can't be trusted, no promise is binding, and it all depends on what the definition of "is" is.
The analysis by a CBS news political correspondent on tonight's CBS Evening News to Clinton's complete disregard of the rules that the rat's put in place for the seating of Florida and Michigan's delegates was, and I quote.........
"It is what it is"
That was the entire explanation.

And THIS quote is the best part of the entire article ROTFLMAO
She stood outside the bowling alley holding a homemade sign that read, in part, "We want a president that can keep a promise."
Posted by Wild Thing at January 28, 2008 12:55 AM
---
Comments
The Clinton's always want to break the rules if it furthers their goals.
Wouldn't it be something if Florida went like South Carolina for Obama. I'd bet my life she wouldn't be pushing for their delegates to be seated.
Posted by: BobF at January 28, 2008 07:28 AM
---
He is not worried about South Carolina ? Thats like your team is the Superbowl Champion and they lose to a 4-12 team. Not by a point or two by are blown out 51-3. Their QB just shredded your defense with pin-point laser passes but this guy, he is not worried.
The big Kahuna of Dem politics just endorsed you rival, and the daughter of a democrat Icon did the same.
The man is a liar, I know I'd be damn worried.

Posted by: Mark at January 28, 2008 08:29 AM
---
She'll stop at nothing to win, will she?
I guess she's worried that Obamanation is now going to get the dem nod (but he's not much better--untested, still wet behind those Howdy Doody ears of his).
I want to know now, what changes is he going to make and why do we need to make them?
Same with Hitlery. Put the cards on the table and let's see what you got.
I can't vote for anyone without knowing where they stand and why they make that stand and why they want me to make a change.
Posted by: Lynn at January 28, 2008 09:47 AM
---
I wonder if the Floridians will take note of her nastiness's flight from the stage in SC with nary a kiss for her loyal constituents, no concession speech, no thank you's, NADA. She treats them like used toilet paper. But isn't that what sycophants love about the Clintoons? Hillary is too Marxist for the Toad to endorse!!! Now that's rich.
A lot of conservatives are retired there, I hope she comes in dead last in Florida.
Posted by: Jack at January 28, 2008 10:11 AM
---
She is desperate. She is cracking. Ditto Bill. She can't believe another liberal Democrat could be more popular than herself. The Clintons lustre is fading. What entertaing events will this frustration and desperation lead to? We have to enjoy her agony while we can. Conservatives agony may begin in Jan. 08 with an all Dem government.
Posted by: TomR at January 28, 2008 11:46 AM
---
None of this surprises me....it's just the same old crap!!! What worries me is that Obama will get the nomination. Hillary is beatable but Obama seems to have the smooth tongue to get votes. I can't support someone like Obama who doesn't respect this country!! Think about him saying his oath on the Quran instead of the Bible.......Who would you vote for????
Posted by: John at January 28, 2008 12:03 PM
---
John, I don't think you have worry. The Donks have a habit of mistaking a funeral procession for a bandwagon.
I think the political calculation at work among Donks is to support the candidate who, by losing, will still leave HIS supporters with some self-respect and a way to exact praise.
The transormation in this campaign is that the Clintons are Yesterday, and very soiled, rather than stable and competent. Supporting Hillary, who's a loser, gains you nothing.
Example? Ted Kennedy supporting Obama. He knows he can't win the general election, but he'd rather support a loser (Obama), who can be made into a mythical character, rather than a sludge kitten like Hillary.
Posted by: Rhod at January 28, 2008 01:11 PM
---
I wasn't going to comment, but "Sludge Kitten"?
I spat my coffee. I am sorry to hear that the the woman is bespoiling your fine state with her presence, Ms. Thing. She'll be in mine soon enough.
Oh, and by the way? Yes, I'm about positive that I do.
Wollf

Posted by: howlsatmoon at January 28, 2008 07:06 PM
---
I'm not sure which is worse, the scummy Clintons or the stupid people that buy their crap and still support them. Did anyone really believe the the DNC would piss off and not seat the delegates from the large population and critical electoral college states of Michigan and Florida? Not even the DNC is that stupid.
If Barack Obama wants to show the voters that he is a real leader with the cajones to deal with Islamofascist terrorists then he should call out Hillary Clinton for what she is for pulling this desperate "seating" stunt in Florida and with Michigan. He should call her a chronic liar, a cheat, and someone the rest of the world knows that they can never trust. If he is afraid to do this then maybe he doesn't deserve to be the Democratic nominee either.
Posted by: Les at January 28, 2008 07:16 PM
---
Wollf:
Maybe Sludge Kitten was a little extreme. She hasn't been a kitten for a good long time.
Are you positive about Hillary visiting your state? I can't tell.
I stand by my point about the Clintons. Progressivism is about the perpetual search for the next human need to exploit, the next mania to fill the void at the center of liberalism. The Clintons just can't energize them anymore. They're stimulus addicts.
They've exhausted themselves with Bush, and Obama wandered in during their current period of boredom and struck gold. Kennedy's speech today supporting could have been delivered at Nuremberg, to fluttering flags and goose steppers. Same bullshit, same megalomania, different years.

Posted by: Rhod at January 28, 2008 07:23 PM
---
I just ran across this tribute to Hillary, that you might enjoy.
Posted by: Jack at January 28, 2008 11:40 PM
---
Bob, yes, she just can't keep her word. On their first date....Bill to Hillary, I love to lie. Hillary to Bill oh me too Bill. Great we have a lot in common, let's get married. hahahahaha
Posted by: Wild Thing at January 29, 2008 12:16 AM
---
Mark, LOL yesss. I bet they are steaming and furious at Kennedy's endorsement. Kerry I don't think they cared about. But the Kennedy's to them anyway has to be a biggie.
Posted by: Wild Thing at January 29, 2008 12:18 AM
---
Lynn, "Obamanation", is just what he is. Yes she can't be honest if her life depended on it.
Posted by: Wild Thing at January 29, 2008 12:20 AM
---
Jack, I hope she comes in last here too. There wasn't that much in our paper about it, only one little photo and a tiny write up. But it is weird because our paper is owned by the New York Times. I guess they are going to be for Obama. It is a terrible newspaper, totally slanted news e very day.
Posted by: Wild Thing at January 29, 2008 12:23 AM
---
Tom, she sure is, you are right, she is probably in some kind of political shock and Bill too. No one questioned them from their side only we Republicans did. She is getting it from her own party and Bill is being called a liar by his cronies.
Posted by: Wild Thing at January 29, 2008 12:26 AM
---
John, he better not say his oath on the Quran if he does win. The outrage he would get would be historic I am sure of it.
I can't see him winning, not when it comes down to the final vote for everyone. In my husband's family there are several democrats ...(YUK!)and three are all voting for Edwards and two of them are voting for McCain. They said McCain is the closest to a democrat for them and they don't like Edwards, Hillary or Obama.
That is very telling to hear dems would vote for McCain, it says a lot of how much of a democrat McCain truly is.
..."Who would you vote for????".....well let's see since I have never voted Democrat, I can't even imagine who I would pick. I tried to think of it and my DNA is so strong the opposite of a dem I can't even say ok to even one thing they stand for. LOL
Posted by: Wild Thing at January 29, 2008 12:38 AM
---
Rhod.....Oh my gawd I love it!!!
"sludge kitten like Hillary."
ROTFLMAO That is so perfect for her!!
Posted by: Wild Thing at January 29, 2008 12:40 AM
---
Wollf, oh that's right she will be in your State soon. I wonder if the Hollywood crowd out there will be friendly like they used to be to Bill. I have a feeling they are going to be for Obama. Just a feeling I could be wrong.
Posted by: Wild Thing at January 29, 2008 12:43 AM
---
Les, I don't get a feeling from Obama that he has any real strength at all. Not a man's man and we girls can tell things like that, it is in our geans, or something like that. LOL
I agree with you Les, this is a chance for Obama to point how she can't keep her word and how her promises she is making mean nothing.

Posted by: Wild Thing at January 29, 2008 12:49 AM
---
Jack......ROTFLMAO that is soooooo funny.
Thanks Jack.
Posted by: Wild Thing at January 29, 2008 12:52 AM
---