« Football Weekend Schedule | Main | Robin Williams in Kuwait »
January 13, 2008
Aaron Tippin Supporting Our Troops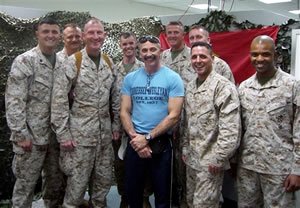 Country music star Aaron Tippin poses with Marines serving in the global war on terrorism. The country music singer spent his third straight Thanksgiving entertaining servicemembers serving in Iraq and Kuwait. Stars for Stripes photo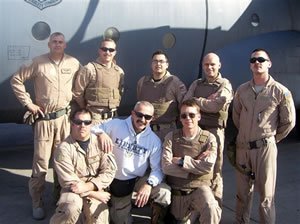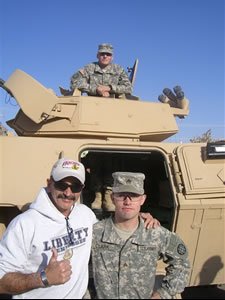 Country Musician Comes by Patriotism Naturally
WASHINGTON, D.C.
Growing up as part of a military family, country music star Aaron Tippin learned a crucial lesson early in life: Freedom isn't free.
"That might be a corny old saying, but you know what?" he asked. "It is still true. Freedom is not free."
Tippin, who was in Washington for some publicity appearances, said his father, Willis, served in the military. The senior Tippin always was deeply patriotic, even after he left the service, his son added.
"That really bled into me," he said. "So I have a great appreciation for my freedom and have a deep understanding that (servicemembers) are the people that are directly responsible for it."
The musician has expressed that appreciation many times through his music. One of his first hit songs, the 1991 single "You've Got to Stand for Something," earned him a spot entertaining the troops with comedian Bob Hope in the Persian Gulf region.
Since then, Tippin has entertained the troops numerous times, including the past three Thanksgiving holidays. Each visit gives him new perspective and renews his admiration for those serving the United States, he said.
What strikes him most is the progress being made and the troops' role in that growth. One Iraqi boy in particular made it clear that U.S. troops are making a difference during Tippin's 2007 trip.
After suffering serious facial injuries in a roadside bombing, the boy had undergone many surgeries and was still in the hospital recovering. He caught Tippin's attention as the singer visited the hospital, which just two years before had been filled with wounded American troops.
Tippin autographed a picture for the boy while a translator explained who the singer was and what he was doing.
"He got up off his little mat and he came over to me and he took the picture," the singer said. "He looked up at me and then looked at it again, and he walked over and gave me a great big hug and a kiss.
"That floored me," Tippin added.
The child's simple act was powerful enough, but it was more than just simple human emotion to Tippin.
"What I realized (through) the touch of that child (is), our troops know how to be great soldiers, great Marines, great airmen, great sailors," he said. "They do battle the way it should be done, and that was just so inspiring.
"If that would have been our enemy (that found the boy), they'd have left that little kid to die right there in the street," Tippin added.
The Nashville-based musician doesn't have to be oceans from home to be "wowed" by the troops, though. He frequently plays for military audiences in the states as well.
He considers it his reward when, while meeting fans at the end of a show, a servicemember shows him a photo from an overseas performance. It never fails that the photo strikes a familiar chord.
"It's me and them on the battlefield," Tippin said. "That's a cool moment because ... I've been waiting for the chance to see them here in our country and go, 'Thanks, Man. Glad to see you're home. Glad to see you're safe. Thanks so much; we appreciate what you do for us.'"

Wild Thing's comment........
I knew Aaron Tippin supported our troops and have posted about him before and also video's of his music. But I never knew about his Dad being a Veteran before. I was so glad to read about that.
Posted by Wild Thing at January 13, 2008 12:44 AM
---
Comments
Love his 9-11-01 song: "The stars and stripes and the eagle flies" song... very moving!
Posted by: darthcrUSAderworldtour07 at January 13, 2008 05:32 AM
---
I sure like Aaron Tippin, both his singing and his personality. That is a great story about the wounded Iraqi boy.
Posted by: TomR at January 13, 2008 07:40 AM
---
Darth I like that one too, he is good. And a person can feel it coming from his heart too.
Posted by: Wild Thing at January 13, 2008 11:09 PM
---
Tom glad you like him too.
Posted by: Wild Thing at January 13, 2008 11:09 PM
---