« Fred Thompson Withdraws and Other Political Thoughts | Main | Suicide Bomber Falls Down Stairs ~ Allah OOPS! LOL »
January 24, 2008
500,000 Fake Guns Flooding Britain Every Year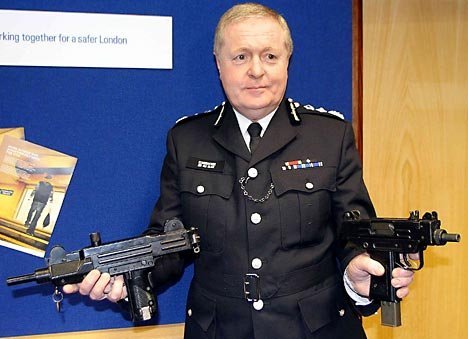 500,000 fake guns flooding Britain every year... and that's just through ONE port

Up to half a million replica guns are flooding into Britain each year through a single port, police have revealed.
Uzis, Berettas and AK47 rifles are among the huge stash of firearms shipped in from across the globe by importers at Felixstowe, Suffolk.
Though some are sold on legally, police fear most are falling into the hands of criminals who use them to intimidate victims.
Many imitation weapons can be converted into real guns in a matter of hours, although police say this is not the case with the guns brought in through Felixstowe.
Half of all gun crime, including street robberies, involves imitation weapons that have either been converted to fire deadly live ammunition or look so realistic that even police cannot tell they are fakes.
Scotland Yard yesterday started a month-long 'surrender' scheme, urging young men and boys or their relatives to hand in replica guns at police stations anonymously, in an attempt to stem rising gun crime.
The scheme is aimed at tackling the easy availability of replica guns on London streets and enforcing legislation introduced in October which makes it an offence to manufacture, import or sell realistic imitation guns.
The maximum sentence for carrying a replica gun in public has been increased from six months to a year. Ball bearing guns, cap guns, blank-firing pistols, airguns and 'airsoft' guns - which fire plastic ball bearings and are used at accredited game centres - are all included in the laws.
One mother has already been to a police station in South-East London-and handed in 19 replica guns she found in her son's bedroom.
Detective Chief Superintendent Barry Norman, of the Violent Crime Directorate, said there were 30 or 40 importers at Felixstowe each bringing in about 1,000 guns a month.
He said: 'We don't know yet exactly how many are coming in. But if you're looking at a thousand a time, then the numbers quickly become vast. Some of these will be destined for legal means but my assumption is that a great many are destined for illegal outlets.'
The Met will also crack down on the market stalls and shops where replica guns are mainly sold. Officers will carry out test purchases on companies selling them on the internet and prosecute suppliers.
Commissioner Sir Ian Blair said: 'Imitation weapons cause fear and distress on our streets and I would urge our communities to take this chance to get rid of them.
'While overall crime in London has significantly decreased, this campaign is aimed at young people whose lives are being blighted by gun culture and imitation firearms are an intrinsic part of that.'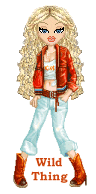 Wild Thing's comment........
LOL When fake guns are illegal, only criminals will have fake guns.
Note to Britian....When one of Osama Bin Laden's cohorts walks into the PMs office and says he is here to take over and implement sharia law. His uzis won't be fake.
"You can have my toy gun when you pry it from my inflexible plastic fingers."
-GI Joe doll
Posted by Wild Thing at January 24, 2008 01:44 AM
---
Comments
Oh well, they brought this on themselves. They didn't have the balls to stop the invasion and now their country is in ruin. They ought to be Thanking the Good Lord that the guns are fake and not real.

Posted by: Lynn at January 24, 2008 05:11 AM
---
No wonder our patriots WON the American Revolution! Sh*tty way to rob a bank over there, eh? At least 'The Sun' Page 3 girls have loaded 44's.... www.thesun.co.uk
Posted by: darthcrUSAderworldtour07 at January 24, 2008 05:18 AM
---
Yeah Darth, Page 3 girls, yummy!
Note; most toy guns CANNOT be cnverted to fire safely.
I just bet this importation of illegal toy guns is an immigrant enterprise. Europeans are beginning to really awaken to what uncontrolled immigration has done to their countries. The big question is whether it is too late to save European culture. Probably.
Posted by: TomR at January 24, 2008 08:03 AM
---
DILLIGAF!!! Better a fake gun than their fake leadership.
After preventing Europe from the pointed hats of the Kaiser, the jackboots, the short black moustache and the goosestep the servile have chosen Dhimmitude and the hand of the EU to protect them.
Il est trop tard pour couper le fromage pour l'UE. Le Légion étrangère ?
No man is entitled to the blessings of freedom unless he be vigilant in its preservation.
--Douglas MacArthur
Posted by: Jack at January 24, 2008 03:10 PM
---
I wonder if this is a British thing. Fake guns are a problem that requires new laws to deal with them. However, an Islamofascist invasion of their country is not a problem and is encouraged to proliferate without restriction.
Fake guns don't kill people. Islamofascists kill people.
Posted by: Les at January 24, 2008 07:56 PM
---
Typical.
They figure that people who aren't the problem handing in their fake guns will reduce crime caused by those people that are the problem and didn't hand in their real guns.
Posted by: Rick at January 24, 2008 11:24 PM
---
Lynn, I agree,they better be glad the guns are fake.
I sure hope and pray we don't get as far into the trouble they have pupt themselves into in England.
Posted by: Wild Thing at January 25, 2008 01:39 AM
---
Darth, hahaha
Just too funny all those fake guns for what, it makes no sense unless for kids. Not sure if a fake gun could be redone into a real one or maybe it would melt when fired.
Posted by: Wild Thing at January 25, 2008 01:51 AM
---
Tom, thank you I was wondering if they could be changed to a real gun or not.
Posted by: Wild Thing at January 25, 2008 01:52 AM
---
Jack that is a great quote!!
Posted by: Wild Thing at January 25, 2008 01:55 AM
---
Les, I agree, they sure are worried about the wrong thing. Their country is disappearing right in front of them and they worry about fake guns.
Posted by: Wild Thing at January 25, 2008 01:56 AM
---
Rick, exactly! It is so stupid.
Posted by: Wild Thing at January 25, 2008 01:56 AM
---
PS: Tom... I no longer surf on the 'Page 3 Girls'
but in my younger days... Zoe and Nicola and Nikkala were simply... "For Your Eyes Only 007!"
- 100% WOW!!
Posted by: darthcrUSAderworldtour07 at January 26, 2008 12:11 AM
---