« Memorial Run For Slain Soldier Raises $23K | Main | God Bless America »
December 11, 2007
Tree Shipments To Troops Take Root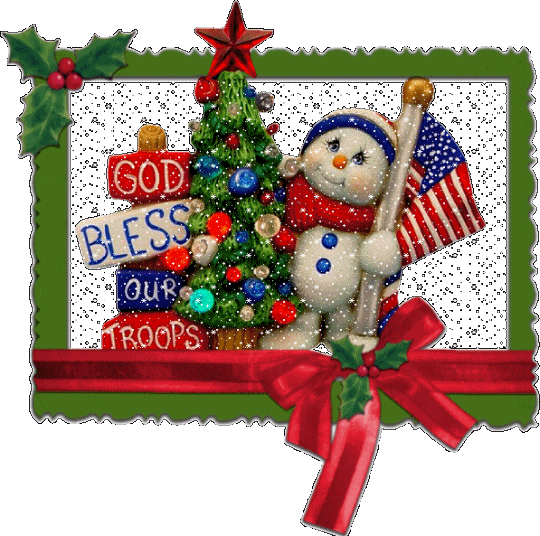 By DAVID DISHNEAU
WESTMINSTER, Md.
Sprawled in his recliner, tired and achy after three days of nearly nonstop work, James Ward hardly looks like Santa Claus.
But this laid-off truck driver has just made Christmas brighter for thousands of U.S. Service members overseas by mailing them miniature, live spruce trees with all the holiday trimmings.
A year after Ward started Operation Christmas Tree to cheer up his deployed stepdaughter and a few dozen of her fellow soldiers in Iraq, the project has blossomed into a national campaign that shipped 5,000 potted trees this season.
About 2,200 of the 2-foot trees — packed along with bags of colorful ornaments and battery-powered lights — were mailed Dec. 3 to individual service members, mostly in Afghanistan and Iraq, whose families paid $20 to Ward's nonprofit organization.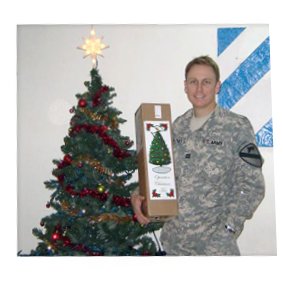 Some of those service members also received a batch of 50 or 60 extra trees to share with others. Other batches were sent to chaplains in the war zone to hand out to anyone in uniform who wants one.
The $80,000 balance not paid by donations was covered by the Armed Forces Foundation, a Washington-based nonprofit that helps the families of deployed troops. Local businesses also collected donations.
For Ward, 34, Operation Christmas Tree is an expression of the code he was taught by a firefighter uncle: "I was always brought up that if somebody's in need of something, you help them."
The same principle prompted Ward to lead a convoy of donated goods to Gulf Coast hurricane victims in 2005.
"If you can get seven tractor-trailer loads down to Katrina with all that going on, you can ship 5,000 trees," he said.
But not without a lot of help. About 350 volunteers from as far away as Phoenix helped the Ward family pack the trees for shipment Dec. 1, working close together in a 40-by-60-foot rented tent at the nearby Carroll County Agriculture Center. Donated barbecued beef fed the volunteers. The trees, purchased from a North Carolina grower, had been parked there for a month, kept alive with regular waterings by the Westminster Fire Department.
The president of the Armed Forces Foundation, Patricia Driscoll, said Operation Christmas Tree is a joy for her staff members, who spend most of their time arranging housing, counseling and other services for families of injured warriors.
"When you're dealing with the sick and wounded all the time, it can get depressing. This was really fun," she said
.
This year's 5,000 trees were a huge increase over the 75 that Operation Christmas Tree shipped last year — half to Ward's Army medic stepdaughter, Spc. Luisa Gonzalez, and members of her unit. Gonzalez, 23, now stationed at Fort Hood, Texas, while awaiting discharge early next year, came home to help with the tree packing.
"I've been that person on the other end and it just meant a lot to be there to see the next wave," she said. "In Iraq, every day's the same — no holiday — so that little piece of home gives that holiday season something special."
Ward's wife, Betty; stepdaughter Elizabeth, 20, and daughter, Marie, 2, also worked on Operation Christmas Tree.
Photographs of Ward and his wife meeting first lady Laura Bush and Secretary of State Condoleezza Rice are displayed on the living room wall, and a scrapbook is filled with thank-you notes from service members and their families.
But Ward said there's one reward he's missing: seeing the trees as they're received by the troops.
"I'd love to be a fly on the wall to watch them open them," he said. "Trust me, it's satisfying doing it, but it would be so cool to see these guys open some of them."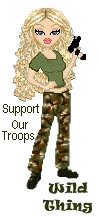 Wild Thing's comment.........
The media of course never tells stories of the tremendous support for our troops. Hell would have to freeze over first.
Well hell doesn't have to freeze over for all of us to know how much WE all love, respect and appreciate our troops and the same with all these various organizations that love to say thank you soldier we know you sacrifice for us.
Posted by Wild Thing at December 11, 2007 12:44 AM
---
Comments
I'll never forget our C-5 Galaxy load of Christmas Trees that we airlifted to the Gulf and Somalia! The pine and fir evergreen smells were wonderful. "O tannenbaum thous is so lovely..."
Danke Germany and Martin Luther for the tannenbaum and our Christmas tree traditions.
FROHE WEIHNACHTEN UND GUTES NEUES JAHR 2008!
Posted by: darthcrUSAderworldtour07 at December 11, 2007 06:45 AM
---
So many things being done for our troops by so many Americans and organizations It is great that we haven't fallen back into the horrible "blame the soldiers" attitude of the Vietnam era. The average American now supports the troops and separates the fighting man from the politics of the war.
Posted by: TomR at December 11, 2007 08:06 AM
---
Christmas trees are my favorite part of Christmas. It reminds me of the beauty that God created for us and how much he loves such a wondrous variety that he made us all so different. Our God is an Awesome God. We are truly, truly blessed to live in a nation where freedom reigns and we have found the will and the might to survive.
I would rather have a table top in a pot Christmas tree and let the big ones go to the troops. They deserve them. Let them have some enjoyment of Christmas. And Jewish soldiers should get Menorrahs for Hanukkah. God bless them all.
Posted by: Lynn at December 11, 2007 06:42 PM
---
Darth, oh I lvoe the scent of Christmas trees so much. That is so neat Darth.
Posted by: Wild Thing at December 12, 2007 12:25 AM
---
Tom I agree, we hear too much about the tiny population that do not support the troops, when they are so many more that do.
Posted by: Wild Thing at December 12, 2007 12:27 AM
---
Lynn that was beautiful, I agree so much with what you said.
Posted by: Wild Thing at December 12, 2007 12:30 AM
---