« "Elect me and oil prices instantly drop" ~ Hillary | Main | Soldiers Share Best Possible Gift »
December 27, 2007
Pakistan's Bhutto Assassinated And Others Killed In Bombing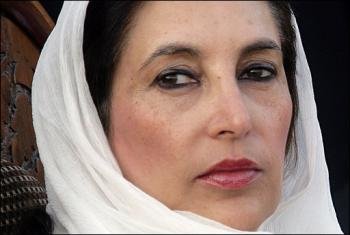 Pakistan's Bhutto assassinated at rally By SADAQAT JAN and ZARAR KHAN Associated Press Writers Article Launched: 12/27/2007 02:15:23 AM PST

RAWALPINDI, Pakistan—Pakistan opposition leader Benazir Bhutto was assassinated Thursday in a suicide attack that also killed at least 20 others at the end of a campaign rally, aides said.
The death of the 54-year-old charismatic former prime minister threw the campaign for the Jan. 8 election into chaos and created fears of mass protests and an eruption of violence across the volatile south Asian nation.
The attacker struck just minutes after Bhutto addressed a rally of thousands of supporters in the garrison city of Rawalpindi, 8 miles south of Islamabad. She was shot in the neck and chest by the attacker, who then blew himself up, said, Rehman Malik, Bhutto's security adviser.
At least 20 others were killed in the attack.
Bhutto was rushed to the hospital and taken into emergency surgery.
"At 6:16 p.m. she expired," said Wasif Ali Khan, a member of Bhutto's party who was at Rawalpindi General Hospital.
"The surgeons confirmed that she has been martyred," Bhutto's lawyer Babar Awan said.
Bhutto's supporters at the hospital exploded in anger, smashing the glass door at the main entrance of the emergency unit. Others burst into tears. One man with a flag of Bhutto's Pakistan People's Party tied around his head was beating his chest.
Some at the hospital began chanting, "Killer, Killer, Musharraf," referring to Pakistani President Pervez Musharraf, Bhutto's main political opponent. A few began stoning cars outside.
"We repeatedly informed the government to provide her proper security and appropriate equipment including jammers, but they paid no heed to our requests," Malik said.
Nawaz Sharif, another former premier and opposition leader, arrived at the hospital and sat silently next to Bhutto's body. Earlier on Thursday, four people were killed at a rally for Sharif when his supporters clashed with backers of Musharraf near Rawalpindi.

TV channel in English-Dawn News from Pakistan.
Link is:

This happened just the day before..........
PAKISTANI LEADER ESCAPES ATTEMPT AT ASSASSINATION
President Pervez Musharraf escaped an assassination attempt here on Thursday, the second in 11 days, when two suicide bombers plowed their vehicles into his motorcade and detonated car bombs.

He was unhurt, but Pakistani officials said the bombs had killed at least 14 people, including both bombers. At least 46 other people were wounded, they said.

It was the deadliest attempt on General Musharraf's life since he reversed Pakistan's support for the Taliban in Afghanistan and sided with the United States in 2001. The Bush administration relies on the general as an important ally in the fight against terrorism. But he has also been criticized for delaying the re-establishment of democracy in the country, failing to crack down on the Taliban and other Islamic militant groups and harassing critics.

Visibly shaken, General Musharraf appeared on national television Thursday night and blamed ''terrorists and extremists'' for the attack.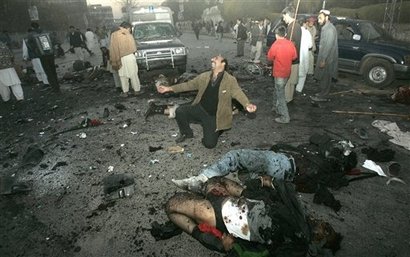 Pakistan: Al-Qaeda claims Bhutto's death
Karachi, 27 Dec. (AKI) - (by Syed Saleem Shahzad) - A spokesperson for the al-Qaeda terrorist network has claimed responsibility for the death on Thursday of former Pakistani prime minister Benazir Bhutto.
"We terminated the most precious American asset which vowed to defeat [the] mujahadeen," Al-Qaeda's commander and main spokesperson Mustafa Abu Al-Yazid told Adnkronos International (AKI) in a phone call from an unknown location, speaking in faltering English. Al-Yazid is the main al-Qaeda commander in Afghanistan.
It is believed that the decision to kill Bhutto, who is the leader of the opposition Pakistan People's Party (PPP), was made by al-Qaeda No. 2, the Egyptian doctor, Ayman al-Zawahiri in October.
Death squads were allegedly constituted for the mission and ultimately one cell comprising a defunct Lashkar-i-Jhangvi's Punjabi volunteer succeeded in killing Bhutto.
Bhutto had just addressed a pre-election rally on Thursday in the garrison town of Rawalpindi when the bomb went off.
She had come to Rawalpindi after finishing a rapid election campaign, ahead of the January polls, in Pakistan's volatile North West Frontier Province (NWFP) where she had talked about a war against terrorism and al-Qaeda.
.

Wild Thing's comment........
I put the second photo here, yes it is vile, horrible and hard to look at. BUT this IS the enemy and what they do. Too many, NOT at this blog, but too many simply read an article and go about their day. The reality of what an attack does like this is something unimaginable. But the truth is this is the kind of destruction that is on the agenda for America, our troops and all Christians and Jews, as well as their own fellow Muslims.
These followers of Islam do NOT value life at all, not even their own. That is what makes them more dangerous IMO then any other enemy the world has ever known. Parents being proud of their suicide bomber children, bragging about it, encouraging it from their own flesh and blood, young children being taught hate and how to kill as easily as our own American children are taught how to color in a coloring book and play the Twister game or jump rope.
"If we lose freedom here in America, there is no place to escape to. This is the last stand on Earth."
- President Ronald Reagan
October 27, 1984
Posted by Wild Thing at December 27, 2007 11:55 AM
---
Comments
Thanks for posting the photo Chrissie, I'm not offended by the truth and I'm sick of the media sugar coating the acts of these monsters, put the gore and destruction on at prime time just like they exploited the Vietnam War, let the muzzies see what they really are about.
Where is Sara and her whining about being an offended moslem now? Oh, it wasn't her sect!!!
As I stated on another site these beast's are like the rhinocerous, attacking anything and everything around them.
Musharraf has reason to fear, and so does the west, the Taliban and al Qaeda are close to seizing the nuke capabilities of Pakistan, but it's all OK though, Harry and Nancy will have a chat with them and all will be just fine. The 110th Congress can even send their bi-partisan ambassador's Kucinich and Paul over to negotiate for our freedom, they're honorable peoples, just ask Ramsey Clark. Hey lame duck Jorge!!! Put some Rice on it while it's still steaming, she can issue the standard UN sanctioned condolences.
Posted by: Jack at December 27, 2007 01:08 PM
---
I put the Islam=carnage pics up as well....how quickly we all forget thy enemy.
Posted by: Jenn at December 27, 2007 01:31 PM
---
All the peoples of Pakistan are/will be paying the price for allowing sanctuary to extremist islamic groups. Some of these present problems could have been lessened if Pakistan had allowed US and coalition forces to pursue Taliban and Al-Qaeda into Pakistan territory from Afhganistan.
Of course, there is also the fact that all islamic countries are unstable just due to the insane nature of the islamic religious cult and the vile hatred and intolerance expressed by it's leaders. I do not see anything but worsening conditions in Pakistan and growing danger as the security of their nuclear weapons is jeopardized.
The posturing and power playing of America's Democrats and peace groups endanger us because we do not provide a united front for our own defense. Like Jack states, the downplaying of the terrorist events on the world scene by both our MSM and our government give too many Americans a false sense of security.
Posted by: TomR at December 27, 2007 01:33 PM
---
That could very well be a daily scene here in America if we aren't careful.
Posted by: BobF at December 27, 2007 02:46 PM
---
Makes you wonder if this will finally wake up the "moderate" muslims and cause them to attempt to eradicate the vermin who do things like this and are living amongst them.
Posted by: vilmar at December 27, 2007 03:35 PM
---
Benazir Bhutto returned to Pakistan to try and win an election in the hope that she would be more successful in aggressively fighting and reducing terrorism in her country. She knew that there was a 50-50 risk that she would be assassinated but took it anyway to try and improve conditions in her terror-ridden country.
What is President Bush's excuse for putting himself at a similar risk? He is traveling to Israel and the West Bank next month. His security detail in Ramallah and the West Bank will include members of the Al Aqsa Martyrs Brigades, Fatah's declared military wing. Even our Arabist State Department knows that these are dangerous terrorists.
"The Brigades is listed as a terror organization by the U.S. State Department. The group took credit along with the Islamic Jihad terror organization for every suicide bombing in Israel between 2005 and 2006, and is responsible for thousands of shootings and rocket firings. Statistically, the Al Aqsa Brigades perpetuated more terrorism from the West Bank than Hamas, according to the Israeli Defense Forces. "
I wonder if Benazir Bhutto's assassination will make George Bush rethink such foolishness in going to similar terror-ridden territory.
For the full story, go to:
Terrorists' new mission: Protect President Bush
Most active West Bank militant group in security team for Middle East visit
http://www.worldnetdaily.com/news/article.asp?ARTICLE_ID=59390

Posted by: Les at December 27, 2007 05:01 PM
---
Jack yes that is the thing, the media hold back on showing what the real enemy is like and what they do.
Good way to put it ...."Put some Rice on it"....that is what will end up happening. Send Condi there and it will just get more of a mess then it is already.
Posted by: Wild Thing at December 27, 2007 07:17 PM
---
Jenn good one, I think these should be in the face of every adult American and maybe few might wake up to what the enemy wants for all of us.
Posted by: Wild Thing at December 27, 2007 07:21 PM
---
Tom I agree, maybe now they will finally allow our troops to come in there and do what needs to be done. They should have let them in their long ago.
Posted by: Wild Thing at December 27, 2007 07:25 PM
---
Bob I expect it if we keep going in the direction our country has been going. I pray I am wrong, but we keep financing the Hamas etc. and all the other things that weaken our nation.
Posted by: Wild Thing at December 27, 2007 07:28 PM
---
Vilmar, I wish it would and I wish it would wake them up even a step further to completely leave Islam and get the heck out of the death cult.
Posted by: Wild Thing at December 27, 2007 07:31 PM
---
Les, oh my gosh!!!! Thank you for the information and the link. This is insane!
Posted by: Wild Thing at December 27, 2007 07:37 PM
---
With all the reports that I have heard since early this morning. First report was Bhutto was not hurt then she had been shot twice, now they are saying she was killed in the bomb blast.
Was she the target or just the victim of another Terrorist attack and she was in the wrong place at the wrong time.
Nobody seems to know.
Posted by: Mark at December 27, 2007 10:29 PM
---
Mark, wow this is so weird the many various reports on what happened. Thank you Mark, I wonder exactly what might have happened.
Posted by: Wild Thing at December 27, 2007 11:57 PM
---
"Our Father who art in Heaven... deliver US from evil. Amen. Are you ready? LET'S ROLL!" Shhhh! Listen how QUIET the leftards are now! And not a word from the Demlibloonies today about GITMO or WATERBOARDING, eh? A great woman was murdered by the islamofascists today... and only a few of US get it right.
Posted by: darthcrUSAderworldtour07 at December 28, 2007 12:03 AM
---