« Texas Paper Credits Texan of the Year: The Illegal Immigrant | Main | ~ Happy New Year ~ »
December 31, 2007
Lawyer Damages Marine's Car on Eve of Deployment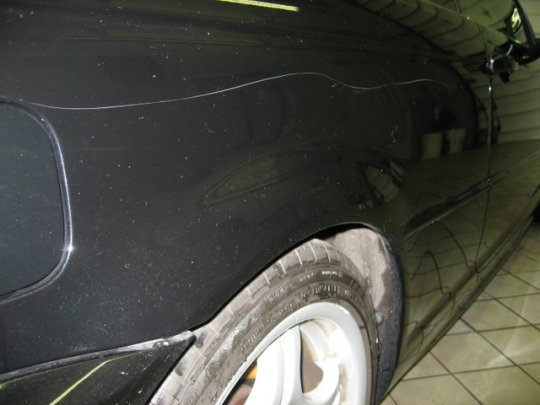 Anti-Military Lawyer Damages Marine's Car on Eve of Deployment
This ought to make your blood boil. And this Marine should receive a commendation for not kicking the living crap out of the guy...seriously.
Marine Sgt Mike McNulty is on activation orders to Iraq (second tour). On December 1st, 2007, Mike went to visit a friend in Chicago before deploying to say goodbye. In order to get to his friend's residence, and keep in mind that Chicago is a myriad of diagonal and one-way streets, the front entrance (right way) to the one-way street was blocked. Mike, being a Marine, overcame and adapted by driving around the block to the other end of the street and backing up all the way to his friend's place.
While saying goodbye, at about 11am, he noticed a man leaning up against his car. Mike left his friend's apartment and caught the man keying his car on multiple sides.
After caught in the process, the man told Mike, "you think you can do whatever you want with Department of Defense license plates and tags". (In Illinois you can purchase veteran, Marine, or medal plates. Mike has Illinois Marine Corps license plates.) During the exchange, he made additional anti-military comments.
Mike called the Chicago police and had the man arrested. A citation against the man was issued for misdemeanor criminal damage to private property.
The police report (and I have copies if needed) states:
Victim related to P/O that as he walked back to his vehicle, he observed the offender leaning up against his vehicle and rubbed/dragged his left arm and hand across the passenger side. As offender walked away from victim's vehicle, victim observed a scratch along the rear trunk and passenger's door area where offender dragged his arm and hand over. Victim and witness stopped offender and confronted him. Victim has military plates and decals on his vehicle and offender made anti war and military comments to victim. Upon P/O's arrival to scene, offender denied scratch victim's vehicle, but did admit to rubbing past it. Victim at this time did not sign complaint, because he is leaving tour for military duty. Offender said they accused him of scratching the car because he is Jewish. Offender's statements/responses to P/O's questions unreasonable.
As it turns out, the man is Chicago lawyer Jay R. Grodner, who owns a law firm in the city and has offices in the suburbs.
After sending the car to the body shop, it was determined there is $2400 in damage, making this a felony. Mike went to court Friday morning to collect the damages against Mr. Grodner and file felony charges. Though the damages are over $300 (the amount which determines felony or misdemeanor) Grodner offered Mike to pay his deductible, $100, and have Mike's insurance pay for it.
The Illinois States Attorneys tried to coerce Mike into accepting the offer. Appalled, Mike said he wanted this to be a felony. The state told Mike that it was not worth pursuing felony damage against Grodner because they don't have the time. In addition, the state prosecutors told him that he would never it 'would be difficult to recover the damages' from Grodner because he is a lawyer.
Instead, the State asked Mike if he would accept probation for Grodner. Mike accepted, probation was offered to Grodner, and Grodner declined the offer, saying within ear shot of Mike, "I'm not going to make it easy on this kid". Mike's next court date is tomorrow, Monday, December 31st, to pursue misdemeanor charges against Grodner.
Mike's leave is over on January 2nd when he reports to Camp Pendleton before heading to Iraq.
Jay Grodner knows this and is going to file for a continuance until Mike is gone and cannot appear in court.
By account of the Illinois State's Attorneys, Grodner is likely to get away with defacing Mike's car with no penalty because, 1) Mike is about to deploy to Iraq and will not be available to appear in court, and 2) Grodner is a lawyer and can get out of this very easily.
So, does anyone have any ideas about how to proceed? All peaceful and rational ideas are welcomed. We are contacting the media about this, too.
Please pass this story on to anyone you know that might be able to help. Contact me [Blackfive] if you have any information or ideas.
Thanks!
Matt (Blackfive)

.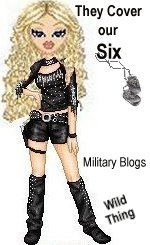 Wild Thing's comment........
What a world that this kind of thing would happen to one of our soldiers. That lawyer could so easily have been appreciative of this soldier and thanked him for his service. But NO way, not for a low life like this lawyer. This is so horrible!

UPDATE
Information on the Lawyer
Lawyer name: Jay R Grodner and Assoc
Jay R. Grodner
Law Offices of Jay R. Grodner
Principal Office-Deerfield
625 Deerfield Road –Suite 406
Deerfield, IL 60015
Phone: (847) 444-1500
Fax: (847) 444-0663
Downtown Chicago
30 N. LaSalle St. - Suite 1210
Chicago, IL 60602
Phone: (312) 236-1142
Fax: (312) 236-6036
Email: jayrg8@aol.com
Posted by Wild Thing at December 31, 2007 12:50 AM
---
Comments
... in the home state of Senaturd Barack Hussein Obama? An ACLU lawyer?
Posted by: darthcrUSAderworldtour07 at December 31, 2007 05:11 AM
---
God made bad people for the pleasure of punishing them. Proverbs 16:4
Romans 12:19
Or, please forgive me, "Vengeance is mine sayeth the Marine Corps"
Posted by: SSgt Steve, SNCOIC of Retribution at December 31, 2007 06:23 AM
---
I would hope their are some military folks or supporters in the Chicago area that will follow-up on and introduce this lawyer to some fist to face counseling.
Posted by: BobF at December 31, 2007 07:25 AM
---
This is Bullshit. Any solutions ? yeah, a blanket party.
This is why the scumbag lawyer did it he knew he could get away with it. This scumbag lawyer knew the state would not push it because they probably party together. The state Attorney should be fired. But this is Chicago, a mecca for the left wing dirtbags who do this kind of stuff and get away with it.
Imagine the situation, reversed, can you imagine the Marine offering to pay the deductable, no he'd be in jail waiting on a hearing to be charged, he would miss his deployment, then would not only be charged with a Felony he would have the Marince Corps after him because he missed his deployment.
There is no justice for the honest, only for the 'Cop Killers' and leftist cause Celeb's of the moment.
There is no solution, except a letter writing campaign to the state attorney's office and any one else in the area. If we flood them with letters of miscarriage of justice might be able to shame the bastards into porsecuting this case.
Posted by: Mark at December 31, 2007 07:47 AM
---
Here is how to file a complaint against this a$$hat.
http://www.iardc.org/htr_filingarequest.html
More contact info.....
Illinois Attorney Registration & Disciplinary Commission.
One Prudential Plaza
130 East Randolph Drive
Suite 1500
Chicago, IL 60601-6219
(312) 565-2600 or, within
Illinois, (800) 826-8625
Fax (312) 565-2320
One North Old Capitol Plaza
Suite 333
Springfield, IL 62701-1625
(217) 522-6838 or, within
Illinois, (800) 252-8048
Fax (217) 522-2417
ARDC offices are open Monday through Friday from 9:00 a.m. to 5:00 p.m., with the exception of Commission Holidays.
Posted by: MO | December 30, 2007 at 08:56 PM
Posted by: Mark at December 31, 2007 09:37 AM
---
Darth, yes isn't that something, this is in Obama land. Obama the jerk that can't even put his hand on his heart during our anthem.
Posted by: Wild Thing at December 31, 2007 10:42 AM
---
SSgt Steve, Amen to that.
Posted by: Wild Thing at December 31, 2007 10:43 AM
---
Bob, Yes, this is so vile.
Posted by: Wild Thing at December 31, 2007 10:45 AM
---
Mark it sure is bullshit and this has my blood boiling.
Yes if it was reversed,oh my God the media would be all over this. How the war trains people to be criminals etc. All LLIES of course but they would be all over the place on this if it happened the other way around.That is what they have done in the past and it makes me sick!!!!!!!!!!!!
Thanks for the information Mark, I will send it to Matt at Blackfive.
Posted by: Wild Thing at December 31, 2007 10:58 AM
---
What a sorry bastard this guy is. He feeds the scumbag reputation lawyers have(and earned) and he sure hasn't done Jews any favors by claiming racism.
The brunt of the frustration though is that the legal system is going to completely fail Sgt McNulty. Even thogh he has a witness and the police officer claimed the lawyer was unreasonable, the court(lawyers, judges) is not supporting Sgt McNulty.
I hope the local media has picked up this story and run with it. A good public embarrassment and shame for Lawyer Grodner might be some compensaion for Mike.
Posted by: TomR at December 31, 2007 11:27 AM
---
Blanket party!!! Hell no!!! A necktie party for this lowlife is too good for him.
Posted by: Jack at December 31, 2007 03:16 PM
---
This story is growing legs it is all over the internet. Hopefully this slip and fall lawyer will get his just rewards. like a 2 x 4 right upside his 'haid' just to get his attention.

Posted by: Mark at December 31, 2007 06:52 PM
---
Waterboarding would be a good start for this dirt bag lawyer. However, the best non-jailable punishment is to keep on sharing this story and not only publicly shaming Jay Grodner but also the Illinois State Attorney's Office.
Hopefully, when the conservative talk show hosts get back on the air Wednesday they will add to the outrage and make Jay Grodner a long time poster boy for everything that is evil about the legal profession.
Posted by: Les at December 31, 2007 09:17 PM
---
Tom, yes it is people like this lawyer that are the reason so many caan't stand lawyers and that is just for starters on why this is so horrible.
I wish at least Fox would take this story on.
Posted by: Wild Thing at January 3, 2008 01:08 AM
---
Jack, I can't even put here what I wish would happen to this lawyer.grrrrrrrrrrrrrr
Posted by: Wild Thing at January 3, 2008 01:11 AM
---
Mark that is great I am sooooo glad.
Posted by: Wild Thing at January 3, 2008 01:12 AM
---
Les I like that for him to start with.....waterboarding.
Posted by: Wild Thing at January 3, 2008 01:13 AM
---
Send the story to Bill O'Reilly. He'll take care of the creep!
Posted by: Sue Abshire at January 3, 2008 05:54 PM
---
This REALLY sux, but once a Marine ALWAYS a Marine.

My suggestion is to find a civilian lawyer who served in the Corps and ask him if he is willing to fight this maggot on his own turdf.
Sadly, the Marine is quite unlikely to get anything out of it but a good attorney can make this crap head's life miserable as well.
Posted by: Muttling at January 3, 2008 06:00 PM
---
If you really want to hurt him, hit him in the bank account!! Run him out of business. Confront his clients as to why they would choose such a scumbag criminal for an attorny. Picket his offices, and tie up his phones with calls and fill his email account daily.
Follow him in public and make sure anyone he comes in contact with knows what he's done. I don't think it would take too long to reduce his life to a mesery. If I lived anywhere near there I'd volunteer some time to hound him. I'm willing to make a call a day for the next month to his offices, and send email.
How about it?
Posted by: Rhetta at January 3, 2008 06:31 PM
---
Has an old Marine vet from Nam and a Texas peace officer I can tell you about these left wing suck ass lawyers. They are the bottom of the ladder of life. They are lower then rat crap. I would love to give him some roadside justice Texas style. I was going to send this on my office e-mail but, we have some gutless upper ranks that would get their panties in a wad. My oldest son is a Capt. in the Corps. I know he would agree with me. SEMPER FI
Posted by: HUGH MCCLELLAN at January 4, 2008 03:51 PM
---
Chrissie, I'm so glad you saw my e-mail to that asswipe and I loved yours as well. Bastards like him deserve to be tarred and feathered before being hung.
Posted by: cuchieddie at January 4, 2008 05:28 PM
---