« Thank you Troops With All Our Hearts | Main | Sen. Harry Reid's Stink Bomb »
December 21, 2007
Friday With Your Tigress of the Tigris, Ramadan Rosie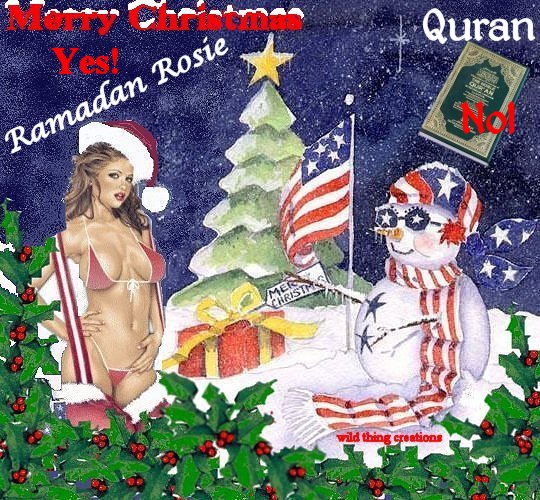 As you know I was successfully snatched, grabbed and waterboarded by the following during OPERATION ICEBREAKER: USMC recon, USA Rangers, US Navy Seals, Royal Marines, Black Watch, USAF Pararescue and many other of your soldiers, sailors and Fly Boys.
In the process my burka was removed and of course I ended up with only this bikini. I was generously given part of one of their Santa outfits, but for some reason the soldiers said they could not find the jacket. I do love the suspenders aren't they cute? If I snap by suspenders just soooo with my finger tips I can even get a few soldiers to salute me.
Oh we are having fun over here in the land of sand. But they are busy too, there are still a lot of my former brain dead Allah freaks to find, take prisoner or of course help them get to those promised virgins ( allah lied about that as I mentioned last week. There are no virgins at all but 72 hairy lipped, womens lib, man hating members of one of your organizations called N.O.W. they came over here when they delivered a check to the terrorists from Code Pink).
Did you hear the latest from the country near us Iran? You know the one that women in Iran who do not wear the hijab or Muslim headscarf, should die. That is the newest declaration from one of their top Muslim clerics in Iran, Hojatolislam Gholam Reza Hassani. Don't you think his name sounds like HOT Botulism? LOL May the stings of a thousand bees land on his forehead. Did I say that? This Tigress of the Tigris has come a long way. But your soldiers are ever so convincing.
"Women who do not respect the hijab and their husbands deserve to die," said Hassani, who leads Friday prayers in the city of Urumieh, in Iranian Azerbaijan.

"I do not understand how these women who do not respect the hijab, 28 years after the birth of the Islamic Republic, are still alive," he said.

"These women and their husbands and their fathers must die," said Hassani, who is the representative of the Iranian Supreme Leader Ayatollah Seyyed Ali Khamenei in eastern Azerbaijan."
What a change life is from living under such laws and thinking. Your Western ways are much more fun. I think Muhammad was not only evil but also a stuffed shirt don't you? That is where these clerics get their instructions from his writings and that silly Quran filled with let's go bomb someone today verses.
Time to go and I leave with you my wishes for your Holiday called Christmas. And here is my Christmas tip for you.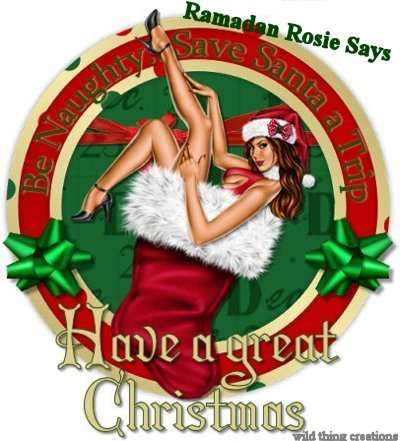 Posted by Wild Thing at December 21, 2007 12:45 AM
---
Comments
The United States should bomb Iran with tens of millions of copies of the picture of Ramadan Rosie in her bikini. If that doesn't cause both the male and female population to see the light nothing will. Wouldn't it be a hoot if Ahmadinanutjob was the first to convert?
Posted by: Les at December 21, 2007 01:02 PM
---
LMAO, Sampai jumpa hagi, Terima kasih.*
Bhasa *See you later, Thank you.:)
I like that Les, I don't think old Monkey Glands is able to leave his camel unattended that long.
Posted by: Jack at December 21, 2007 01:50 PM
---
"As you know I was successfully snatched,..."
Whoa..."STEVE, STEP AWAY FROM THE KEYBOARD!!!"
Posted by: Steve, Jihad Jacker-upper at December 21, 2007 04:10 PM
---
Les, LOL yes it would, I can see it now Ahmadinanutjob on his knees pleading with our soldiers as he holds a Ramadan Rosie flyer. heh heh
Posted by: Wild Thing at December 22, 2007 01:17 AM
---
Jack, LMAO oh my gawd that is so funny.
Posted by: Wild Thing at December 22, 2007 01:18 AM
---
Steve, Jihad Jacker-upper , well hi there Marine!
Too funny!!!!!!
Posted by: Wild Thing at December 22, 2007 01:19 AM
---
... but the waterboarders wanted 'seconds'? No wonder the CIA tapes were destroyed! MY surf is UP on the Euphrates River too!! The BABE of BABYLON no doubt my friends!!!
Posted by: darthcrUSAderworldtour07 at December 24, 2007 12:18 AM
---
Darth, hahahahaha that must be it.
Posted by: Wild Thing at December 24, 2007 01:28 AM
---