« Bride (a-hem ?) and Groom Terror Suspects | Main | Ahmadinejad Offers To Be Observer At US Presidential Election »
November 27, 2007
Hillary ~ "It will be me"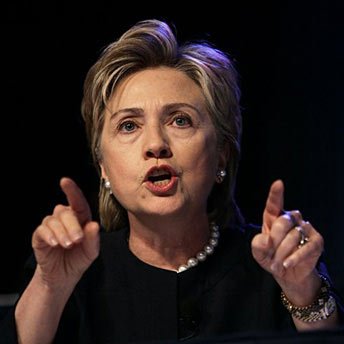 Sen. Hillary Clinton tells Katie Couric: I will be the Democratic nominee
Is Sen. Hillary Clinton feeling any doubts about winning the Democratic nomination for president? Not at all.
"It will be me," Clinton tells Katie Couric in an interview to air Monday on the "CBS Evening News With Katie Couric." The broadcast airs at 6:30 p.m. on WKMG-Channel 6.
Couric also asked if Clinton is concerned that Oprah Winfrey could boost Sen. Barack Obama by campaigning for him in three key states.
"No, at the end of the day," Clinton says. "I'm proud to have my husband support me ... with his knowledge, experience and incredible ability to vouch for me."
Clinton says she hasn't raised expectations of success in the Iowa caucus on Jan. 14, which is the first contest.
"When I got into the race, I was so far behind in Iowa it was embarrassing," Clinton says.
The candidate said she is encouraged by her progress and predicts Iowa will be a tight race.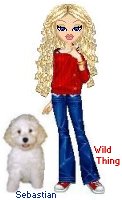 Wild Thing's comment........
So the keeper of all those FBI files declares herself a winner. LOL Now she can relax and pick out the draperies for the White House. OH wait..... She already has the draperies picked out, they're the same ones she and Bill stole on Jan 20, 2001, (along with the White House silverware.) I guess it depends on what the definition of VOUCH is.
"incredible ability to vouch for me"
WOW well yes it is incredible how the two of them vouch for each other. She's being vouched for by a man convicted of perjury!! LOL
Criminals BOTH! Will people DIE if it ISN'T her!!

Posted by Wild Thing at November 27, 2007 12:47 AM
---
Comments
What is it with Democrats and their exaggerated hand gestures and wild finger pointing and shaking.
I guess, when talking, they need to do something else with them, than sticking them up their...
Posted by: SSgt Steve, CLC at November 27, 2007 05:26 AM
---
She learned the finger wag from Bill("I did NOT have sex with that woman -----"). Interns look out if Hillary starts stocking up on cigars.
Posted by: TomR at November 27, 2007 06:50 AM
---
The intimidator, Hillary reminds me of the character Hanover Fiste in the Sci-Fi animation Heavy Metal segment, Captain Sternn, transforming from meek and timid to a raging and vengeful monster.
Nikita Khrushchev taught all of them their stage presence, they have been emulating him ever since. Notice her 'We will bury you' stance, all that's missing is the unibrow on her skullcase. About Couric.....Thank Rodger and Southpark.
Posted by: Jack at November 27, 2007 09:05 AM
---
What arrogance!
Can you imagine the arrogance if she were to become President? It wouldn't be an Inauguration Ball, it would be a Coronation. I bet Bill would be spending a lot of time with the "Ladies in Waiting".
Posted by: BobF at November 27, 2007 09:24 AM
---
I think she's scared to death she will lose. She has dropped in the polls, the people are tired of the 'Bushkins' and I think they are tired of the Clintons, too. Bush, Clinton, Bush, Clinton ? I don't think it will work this time around. She is not the come back Kidette. That Slick Willie is/was perceived as.
Slick Willie could charm anybody, she couldn't charm a doorknob, she has about as much charisma as a wet mop, and she is also uppitty and arrogant.
When she and her entourage went to Iowa the first time they demanded a lot from the Reataurant they visited and the restaurant responded and Hillary left no tip, This is another huge mistake. The 'little-people' she is supposedly looking out for she can't even leave a tip.
I think she is in trouble.
Now the Oprah is campaigning for Obama, this is huge for Obama. She is not a slam dunk for the nomination.
Posted by: Mark at November 27, 2007 11:32 AM
---
Posted by: patrickdaniel at November 27, 2007 05:31 PM
---
SSgt Steve, LOL
I truly hate that finger in my face.
Posted by: Wild Thing at November 28, 2007 12:29 AM
---
Tom, yes and she learned it well too. Yuk what a horrible couple.
Posted by: Wild Thing at November 28, 2007 12:31 AM
---
Jack, oh my gosh I never saw that before. haahahahaa Thanks for the laugh. Hilarious.
Posted by: Wild Thing at November 28, 2007 12:34 AM
---
Bob, I agree, it is arrogance.
There is a difference in believeing in ones self, being positive and working toward a goal. Athelets, etc. know the difference and what she is doing is something completely different.
Posted by: Wild Thing at November 28, 2007 12:36 AM
---
Mark, yes, I am not a fan of Oprah but she has a lot of pull with her followers. Hillary can't be happy about any of this.
Posted by: Wild Thing at November 28, 2007 12:38 AM
---
Patrick I sure hope she does lose. She is very dangerous.
Posted by: Wild Thing at November 28, 2007 12:39 AM
---