« American Muslim Demographic Facts | Main | In Country With Our Troops ~ Thank You »
November 15, 2007
Hey Wolf Blitzer Will You Have Arkancidophobia At Debate Tonight?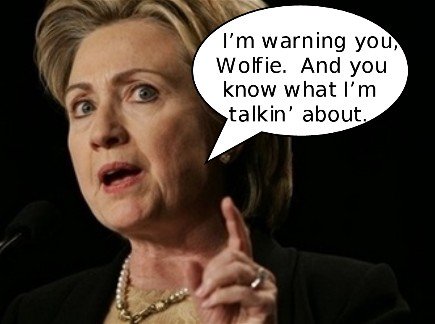 Blitzer: No Campaign Has Pressured Me on Debate Questions
CNN Anchor Wolf Blitzer told Cybercast News Service Wednesday that no presidential campaign of either party has tried to pressure him to influence his questioning in CNN-hosted presidential debates.
The issue arose on Tuesday when the Drudge Report reported - under the banner headline "Wolf Warned: No Ganging Up on Hillary in Vegas"- that "Wolf Blitzer has been warned not to focus Thursday's Dem debate on Hillary."
The report quoted an unnamed "top Clinton insider" who said: "This campaign is about issues, not on who we can bring down and destroy. ... Blitzer should not go down to the levels of character attack and pull 'a Russert.'"
On Tuesday afternoon's edition of CNN's "The Situation Room," where this writer was making a regular weekly appearance as a guest commentator, Blitzer refuted the report.
"Not true," Blitzer said, when asked about the Drudge piece by his CNN colleague Jack Cafferty. "No one has pressured me, no one has threatened me. No one is trying to intimidate me."
Blitzer added, "No one has even called me to try to pressure me or anything like that."
On Wednesday, Blitzer was asked by Cybercast News Service whether Mrs. Clinton's campaign had attempted to influence the questioning in the debate he will moderate Thursday night in Las Vegas, or whether any Republican campaign had attempted to influence his questioning in the GOP presidential debates he has moderated.
"Nobody from Senator Clinton's campaign put any pressure on me, or threatened me in any way," Blitzer said. "No other Democratic campaign has tried to pressure me about my questions. Likewise, no Republican campaign has ever tried to pressure me before a Republican debate."

Wild Thing's comment........
Um, well it IS the Clinton News Network afterall. And Wolf may be a leftie but he is not wanting to be the next Vince Foster either. hahahahaha Or Ron Brown or Colby or any of the other DEAD people associated with the Clinton's on their last time in power.
Words mean something and notice that Blitzer never said that that anyone in the Clinton campaign had spoken to him...
Just that he had not been threatened and/or warned.
Posted by Wild Thing at November 15, 2007 12:55 AM
---
Comments
I am sure this "debate" has been choreographed to Her Highnesse's advantage. I doubt Blitzer is going to throw any hardballs her way. That doesn't mean that she may not still slip. Her opponents may still take a shot or two at her she is not prepared for.
Posted by: TomR at November 15, 2007 04:43 AM
---
Are you sure? Those looney lefties all hang out together at recess and plot their evil deeds together.
She'll get easy, unloaded questions--mark my words.
She's a girl after all and we have to "baby" her into the White House.

Posted by: Lynn at November 15, 2007 04:55 AM
---
Clinton News Nutwork anchor Wolf Blitzer looks like a Geico caveman cro-magnonite. He also resembles Eddie Munster's doll Wolf-Wolf! "Herman Munster, I'm going to bed now so kiss Wolf-Wolf good night!"
Posted by: darthcrUSAderworldtour07 at November 15, 2007 05:47 AM
---
PS: CNN Geico caveman look-alike Wolf-Wolf Blitzer (Eddie Munster's doll)will make sure HER THIGHNESS gets the Q's & A's ahead of time!
Posted by: darthcrUSAderworldtour07 at November 15, 2007 05:50 AM
---
They don't have to say a word to Wolf or any other debate moderator. What they said about Russett is warning enough to all other moderators.
That's why she won't appear on a debate sponsored by FOX and moderated by its people. She knows they won't cower in fear and put forth questions that will reveal her true identity.
Posted by: BobF at November 15, 2007 08:55 AM
---
This is the last chance that Barack Hussein Obama and John Edwards have to show the Democratic voters that they have the cahones, fire-in-the-belly, debating skills, and CEO leadership qualifications to take on the front-runner, Hillary Clinton, for their party's nomination as it's presidential candidate. If they don't draw blood and deliver a knock out punch at tonight's Las Vegas debate the rest of the primary campaign is a waste of everybody's time and vote.
So, regardless of what Wolf Blitzer asks or doesn't ask of Hillary Clinton, Obama and Edwards better take control with a winning game or they will be singing Hail to the Queen as they effectively crown her the nominee. Either way, all the Democratic candidates are poison for the country and should any of them become President the whole country will be losers.
Posted by: Les at November 15, 2007 04:34 PM
---
Since CNN has admitted to capitulating to Saddam Hussein's plitical intersts, how can they deny capitulation to Clinton's political interests?
Posted by: Jonn Lilyea at November 15, 2007 08:47 PM
---
To all of you thank you so much for your input and comments. The debate just finished and this is something that really bugs me about all of these debates for both political parties.
I would like the debates to be where they are asked one question after the other, but instead of going to the same people so much, it would be better imo if they would just go right down the line of each person running. Short and to the point answers, then if they have a grip with each other they can counter punch. And then get back after that to the next question.
Just an idea but for me I feel like I just wasted 2 hours of my life tonight. hahahahaa And I am very political and Nick and I watch every debate, and both of the conventions when they happen.
Thanks again for your awesome comments.And just this, please God don't let a Democrat win the Presidency.
Posted by: Wild Thing at November 15, 2007 10:28 PM
---
Just got to work after napping all night and I bet you 'Her Highnesses' answers were: "Quality health care for all... I will end the Iraq War...
tax-cuts for the middle class... college educations for all (even for the ones that dropped out of high school)..." How did I do?
Posted by: darthcrUSAderworldtour07 at November 15, 2007 11:41 PM
---
Posted by: Wild Thing at November 17, 2007 11:40 PM
---