« High Court to Weigh Ban on Gun Ownership | Main | Traditional Holiday Meal To Replace Field Rations for Many Troops »
November 22, 2007
China Flip Flops ~ NO Then Yes On Allowing U.S. Carrier Into Hong Kong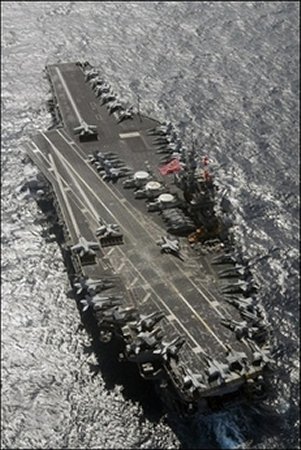 China to allow U.S. carrier into Hong Kong after all
BEIJING
(Reuters)
China refused permission for a U.S. aircraft carrier and accompanying vessels to visit Hong Kong for a long-planned Thanksgiving holiday visit -- and then changed its mind.
The USS Kitty Hawk group and its crew of 8,000 airmen and sailors had been expected in Hong Kong on Wednesday, but the U.S. State Department said the visit had been blocked by China.
Hundred of relatives of crew members of the Kitty Hawk had flown to Hong Kong to celebrate Thanksgiving. Hong Kong, especially its Wanchai bar district, has been a regular port of call for U.S. sailors on "R & R" (rest and recuperation) since the Vietnam War.
The Chinese move came as a surprise just weeks after a visit to China by U.S. Defense Secretary Robert Gates, which he said he hoped would lead to a long-term dialogue.
But the Chinese Foreign Ministry said on Thursday the carrier would be allowed to dock in the former British colony after all.
"We have decided to allow the Kitty Hawk to stay in Hong Kong during Thanksgiving," spokesman Liu Jianchao told a news conference.
"It is a decision based on humanitarian considerations only."
He did not say why the ships had been blocked in the first place, but there are issues that may have prompted Beijing's action including U.S. plans to sell Taiwan a $940 million upgrade to its missile system and last month's meeting between U.S. President George W. Bush and the Dalai Lama, the Tibetan Buddhist leader who Beijing considers a traitor.
Last year a Chinese submarine surfaced uncomfortably close to the Kitty Hawk near the Japanese island of Okinawa, an incident that highlighted the potential for friction between the two powers.

Beijing's move coincided with "airspace controls" introduced on Wednesday which the Xinhua news agency said affected the air travel plans of 7,000 people in south and east China.

The controls had been ordered for "unspecified reasons."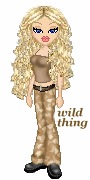 Wild Thing's comment........
France learned that it isn't good to tick off the American consumer and now it's the chicom's turn.
I may be wrong, but my understanding is that U.S. Navy port calls are scheduled months in advance, (nrmally before leaving the U.S.)so this was a snub of the U.S. Usually, there is a confirmation of the arrival of the Navy ship one to two weeks ahead of the port visit by the State Department so that the tugs, food delivery, fuel and water/electricity can be formalized and payments arranged. In Hong Kong the ships anchor in the harbor and require shuttle boats to be hired to transport the liberty party to the pier.
Posted by Wild Thing at November 22, 2007 12:45 AM
---
Comments
You don't think the 2008 $ummer Olympic Game$ in CHINA had anything to do with this reversal, eh?
NO YEN FOR MY EGG ROLLS 2008!
Posted by: darthcrUSAderworldtour07 at November 22, 2007 04:08 AM
---
We must take the time this Thanksgiving to be thankful to the New Deal Democrats and their media for preconditioning the Chinese leaders thoughts with their anti-Americanism. They only have to look at Olympia, Washington, the capitol city and residence of governor Christine Gregoire for an example of how to treat our military. Whether it be Maoist Communists like Hu Jintao or Marxist Communists like Gregoire they all like all the Yankee dollars they can steal.
Posted by: Jack at November 22, 2007 11:00 AM
---
Made lots of Liberty call in Hong Kong,all I can
say is it was ok for a dirty smellie city.I made
a dive in the harbor to cut a fishermans net out
of our main induction pump inlet,I took in a bunch
of that nasty water and was sick for a week...
Hong Kong don't miss it one little bit...
Posted by: Tincan Sailor at November 22, 2007 11:31 AM
---
I would love to boycott Chinese products, but our bought leadership has us too ingrained with Chinese imports to allow a minor boycott to do any good. Our big globalist, multinational companies run Amerca now. Hell, we are building them a private superhighway from Mexico to Canada just so they can move their Chinese products quicker and cheaper.
We will soon see an influx of illegal Chinese joining the hordesfrom Mexico and Central America. The US Navy may have to make port calls on the US West Coast to see Hong Kong. Or just go to the nearest WalMart!
Posted by: TomR at November 22, 2007 01:28 PM
---
Screw the Chicoms! Last summer the bastards poisoned our pets and now they're poisoning our children with lead paint on toys. We sold ourselves / AMERICANS out - the steel workers and the manufacturers - period. Love DUNCAN HUNTER'S take on these facts....When will we ever learn? Screw pork 'fLied Lice' and egg 'Lolls'!!!
Posted by: drstrangloveb52isok at November 23, 2007 12:07 AM
---
Darth, I still am angry that the Olympic committee said ok to China for the Olympic Games.
Posted by: Wild Thing at November 23, 2007 02:00 AM
---
Jack, exactly, your right.
Posted by: Wild Thing at November 23, 2007 02:02 AM
---
Tincan Sailor, thank you for sharing about it. I was ther one time and I would never miss that place either.
Posted by: Wild Thing at November 23, 2007 02:04 AM
---
Tom, I think your right, they will be coming too.
Posted by: Wild Thing at November 23, 2007 02:07 AM
---
drstrangloveb52isok, AMEN!
Posted by: Wild Thing at November 23, 2007 02:07 AM
---
So what's the big deal? My friends and I went to Hong Kong and all I got was this dang tatoo.
Billy Bob came back with something else, but it was gone after eight weeks or so.
Posted by: SSgt Steve (USMC Die Hard) at November 23, 2007 07:50 AM
---