« Excerpt From Ghosts of Anbar | Main | Germans Arrest 3, Thwart "Imminent Threat" »
September 05, 2007
Weapons Anyone? From Russia With Love ??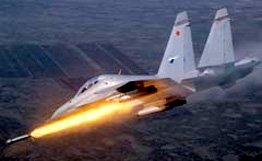 Malaysia to receive brand-new Russian SU-30MKM fighters
MOSCOW. (Yury Zaitsev for RIA Novosti)
Malaysia will receive the first 12 of its order of 18 Sukhoi Su-30-MKM Flanker fighters, the most advanced versions of the Su-27 warplane, before the year is out. The Su-30-MKM embodies the best achievements of the Russian aircraft industry and has the most advanced European avionics.

The Malaysian version is based on the Su-30-MKI, earmarked for India, but features different equipment and an electric remote control system.

Reports of sale to Iran of Su-30s rattle Israelis
Geostrategy
Russia's arms export agency Rosoboronoexport disclosed recently that it plans to sell Iran up to 250 advanced Su-30 fighter bombers, dramatically increasing the power projection capability of Iran and possibly giving it a nuclear delivery vehicle other than missiles.

The sale was disclosed at the Paris Air Show and reports stated that the sale could include advanced S-300 air defense missiles as part of a modernization aimed at upgrading the aging Iranian air force.

U.S. sources said the sale of Su-30s in such large numbers to Iran would open up sales to Iran of Chinese versions of the jet, known as the J-11 that would include new precision guided missiles and munitions that the Chinese are building for its aircraft.

Iran may also purchase Il-78 refueling tanker aircraft that would be part of the long-range aerial assault capability.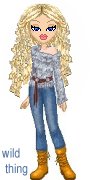 Wild Thing's comment........
Well these that Iran is going to buy could be Raptor food maybe. Putin is first and foremost KGB, and Israel has a right to be rattled. Also this is very short-sighted on Russia's part, the Iranian government is not trustworthy. Well heck few governments are, so I better take that part back. haha
Posted by Wild Thing at September 5, 2007 12:47 AM
---
Comments
Putin is a slimy bastard. I wonder if George Bush has figured that out yet.
Iran may just be purchasing 250 targets for Raptor pleasure, just as WT states. It would not surprise me now if Israel began getting Raptors to counter Iran's purchase. This all adds to the volatility of the MidEast, but what else is new! These SU-30s are only as good as their pilots and the moslem pilots have a very dismal record against the Israelis.
Posted by: TomR at September 5, 2007 08:14 AM
---
... Laura W. Bush kissed ole Comrade Putin in Crawford Texas and even fed this KGB scumbucket! - From KGB With Love 2007
Posted by: darthcrUSAderworldtour07 at September 6, 2007 01:02 AM
---
Tom, thanks...."These SU-30s are only as good as their pilots and the moslem pilots have a very dismal record against the Israelis.".....

Posted by: Wild Thing at September 6, 2007 01:31 AM
---
Darth oh yuk, hahaha I think I would have pretended I had a cold and said sorry I cannot kiss you mr. KGB man.

hahaha
Posted by: Wild Thing at September 6, 2007 01:33 AM
---