« Football Second Week | Main | Bush Picks Mukasey As Attorney General »
September 16, 2007
Support Our Troops Gathering of Eagles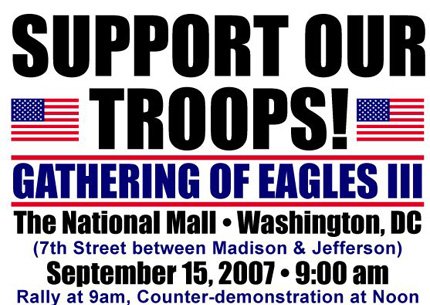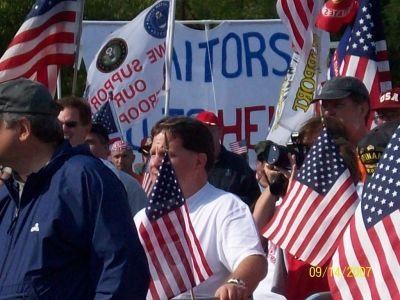 Duncan Hunter was there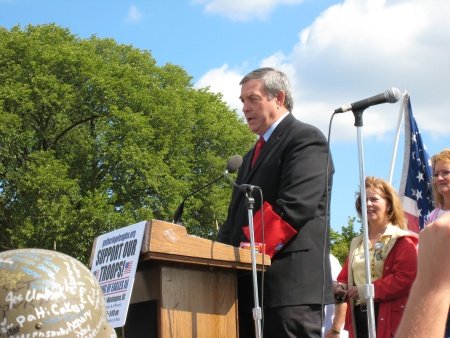 The LEFT had been organized by the ANSWER Coalition, which stands for Act Now to Stop War and End Racism. It formally began at noon at Lafayette Park, on the north side of the White House, with speeches from at least two dozen speakers ranging from former U.S. Attorney General Ramsey Clark and Ralph Nader to Washington Wizards player Etan Thomas and Michael Berg, whose son Nicolas was a contractor killed in Iraq.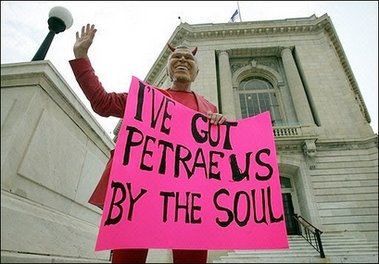 A costumed protester stands on the steps of the Cannon House office building
At the U.S. Navy Memorial, members of the Gathering of Eagles set up a command post in anticipation of counter protesters who planned to line Pennsylvania Avenue near 7th St. NW.
1,000 counter-protesters gathered near the Washington Monument, frequently erupting in chants of "U-S-A" and waving American flags.
They planned to line both sides of Pennsylvania Avenue to confront anti-war protesters as they marched by and follow them to the Capitol.
Retired Air Force Lt. Col. Robert "Buzz" Patterson, speaking from a stage to crowds clad in camouflage, American flag bandanas and Harley Davidson jackets, said he wanted to send three messages.
"Congress, quit playing games with our troops. Terrorists, we will find you and kill you," he said. "And to our troops, we're here for you, and we support you."
Rep. Duncan Hunter, R-Calif., made a surprise visit to the counter-protest, which was organized by the group Gathering of Eagles. The group was created this year by veterans who wanted to challenge war protesters.
"We're a people of faith, courage and fidelity," said Hunter, a 2008 presidential candidate. "It's for this generation that we will win this war on terror."
Posted by Wild Thing at September 16, 2007 12:55 AM
---
Comments
Why would you even think of putting the war with racism? These are two different things.
The anti war protesters ought to think that they live in America where they are free to act like morons and get away with it.
And it's because of our troops that they can.
Do they really think any soldier is going to cry
over being called names? I don't think so.
Good for Duncan Hunter--this is why he and Fred would make a good team for 2008. They actually care about America--they're not in it for the prestige or the money and fame it brings.

Posted by: Lynn at September 16, 2007 05:37 AM
---
ANSWER: Atheists Nutworks Saboteurs
Wackos Evil Retreatists...
- WHERE EAGLES DARE 1968
-- WHERE EAGLES SOAR 2007
Posted by: darthcrUSAderwotldtour07 at September 16, 2007 06:18 AM
---
Here in the D.C. area, we had some local news coverage of this event. Apparently, the Eagles were outnumbered, so the news coverage was slanted in favor of the anti-war crowd. The arrests were mentioned, but not given much coverage. Hmmmm.....
Last March 17, when I was part of GOE and when we outnumbered the Sheehan crowd, the news coverage was very minimial. Figures!
I wish that I'd been downtown yesterday. But I couldn't go, due to back pain.
Posted by: Always On Watch at September 16, 2007 08:46 AM
---
Fox news covered the anti-American maggots, and once again I rooted for the cops.
Looking back at the 68' Chicago riots the cops today are much more restrained. Then the big persuader was the baton, it worked well for Chicago's finest.
Yesterday, they just sorta carted off the maggots who were unruly ...
Posted by: Mark at September 16, 2007 11:31 AM
---
Thank you so much for this post. I took the liberty of putting it up on FreeRepublic. Thanks again!!
Posted by: pissant at September 16, 2007 12:17 PM
---
Thank You Eagles. Our folks are not professional protesters or demonstators. The ANSWER bunch don't work except at protesting around the country. They are bankrolled by Leftist money. The news media always shows it's bias toward the Lefties.
I am glad Duncan Hunter showed up. He has a son in Iraq.
Posted by: TomR at September 16, 2007 03:22 PM
---
ANSWER is where people too healthy to be institutionalized but too sick to function go to find recognition. Every generation has them. Cult queens, goat sacrificers, self-mutilators, horror film nerds; it must go all the way back to the primate who ate his own crap to shock the rest of the group. There has to be some evolutionary reason for them. I haven't found it.
Posted by: Rhod at September 16, 2007 04:09 PM
---

If they find is so bad to live in America they
should give Iran a look see...In the past 2 months
they have hung over 180 for various crimes!!
Posted by: Tincan Sailor at September 16, 2007 10:33 PM
---
Lynn, I love how you put that.

Posted by: Wild Thing at September 17, 2007 01:00 AM
---
Posted by: Wild Thing at September 17, 2007 01:01 AM
---
Always On Watch, I am so sorry about your back. That can really mess with every move a person makes.
Isn't that something how the media does it like that. Their agenda makes me furious.
Posted by: Wild Thing at September 17, 2007 01:04 AM
---
Mark, that is so bad that PC has effected our police like that. They just like our soldiers need to not have that over their heads all the time or ever.
I would hate to have to worry about 'should I' all the time with bad guys.I would prpbably be a cop like Dirty Harry or something. heh heh
Posted by: Wild Thing at September 17, 2007 01:06 AM
---
Hi Pisaant, nice to meet you. Thank you so much.
Posted by: Wild Thing at September 17, 2007 01:07 AM
---
Tom, that is so true, they are paid, most of them are, their leaders are big time paid by ANSWER and Soros. Years ago during the Clinton years I was on a forum and one of the Democrats that was there all the time let it slip that he was paid by the DNC. hahahaha sheesh
Posted by: Wild Thing at September 17, 2007 01:09 AM
---
Rhod, LMAO that is a perfect description of them.
Posted by: Wild Thing at September 17, 2007 01:10 AM
---
Tincan Sailor, good idea, they should go there and live asap.
Posted by: Wild Thing at September 17, 2007 01:11 AM
---
I had the great honor to join teams of Gathering of Eagles who guarded Gold Star family members during the "Die-In" at the Capital.
I wish to say they received no respect from the Anti-America clown parade. I do wish to say the Capital Police & DC Police were very professional and I say this as a retired NC Police Officer who has helped control KKK Rallys in NC. The KKK showed more control & respect then these vile people,.. who pander for political pork and gain and still say "We support the troops".
I am a 24/7 365 Recruiter for the Gathering of Eagles, I have faced the ANSWER groups in NY, NJ, DC, CT, & NC, they never change, they stand for defeat of our nation.
111 groups fund ANSWER, communist, socialist and Jihad front groups, they are listed on the ANSWER web site, please check this for yourself.
I am a Vietnam vet & a very proud INFIDEL.
for information on joining the Gathering of Eagles please contact me at george.samek@gmail.com
God Bless America and our brave military now in combat for your freedom.
Posted by: George Samek, CW-3 US Army Retired at September 19, 2007 06:57 PM
---
Nice to meet you George, I went to your site and clicked to be requested to add you as a friend to mine.
Thank you for serving our country and for all you have been doing with GOE too.
Posted by: Wild Thing at September 19, 2007 11:53 PM
---