« Great Guns (Jeep Recon) | Main | More Than 40 Arrested in Immigration Raid at McDonalds »
September 28, 2007
Robert Duvall Visits Troops at Walter Reed Army Medical Center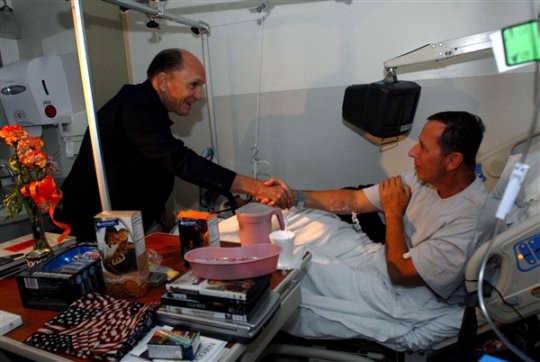 Retired Army Chief Warrant Officer 4 Dan Cordell shakes hands with actor Robert Duvall, who spent time visiting wounded servicemembers at Walter Reed Army Medical Center in Washington on Sept. 25, 2007. Cordell was injured Sept. 13 while working as a contractor in Iraq. Photo by Petty Officer 2nd Class Molly A. Burgess, USN
Actor Robert Duvall talks with Army Lt. Col. Gregory Gadson on Sept. 25, 2007, during a visit to Walter Reed Army Medical Center in Washington. Gadson, who is recovering at the facility after losing both legs above the knee fighting in the global war on terrorism.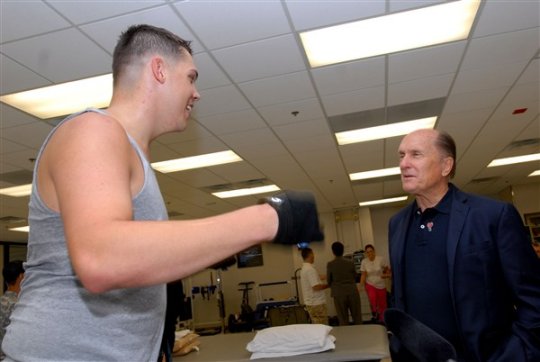 Duval with Army Spc. Brent Hendrix on Sept. 25, 2007, during a visit to Walter Reed Army Medical Center in Washington. Hendrix, an outpatient at the facility, lost his right leg below the knee when his Stryker hit a roadside bomb near Iraq's Anbar province.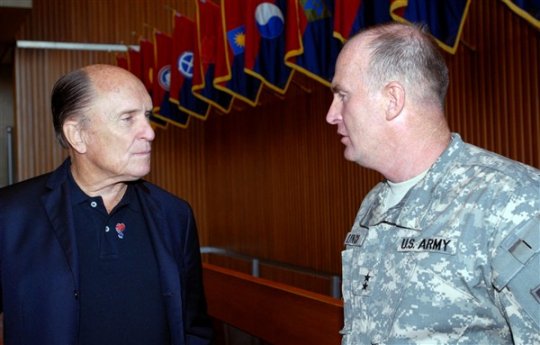 Duvall crosses paths with Army Maj. Gen. Rick Lynch at Walter Reed Army Medical Center in Washington on Sept. 25, 2007. Duvall was on his way into the facility to visit with wounded servicemembers. The commander of 3rd Infantry Division and Multinational Division Center in Iraq was just on his way out after visiting about 50 of his wounded soldiers and their families before returning to Iraq.

WASHINGTON
Sept. 26, 2007
Award-winning actor Robert Duvall certainly wasn't gone in 60 seconds when he stopped at Walter Reed Army Medical Center here yesterday to visit wounded servicemembers.
He did discover, however, that his 2000 movie "Gone in 60 Seconds," was a favorite with those he talked to. "What is it with that movie?" he asked after talking with several troops who said they loved the film.
"I think 'Gone in 60 Seconds' was on (Turner Network Television) the other day, so I just watched it," Army Spc. Brent Hendrix, a Walter Reed outpatient, said in providing a possible explanation.
Duvall's visit was a welcome surprise, said Hendrix, whose right leg was amputated below the knee after his Stryker combat vehicle hit a roadside bomb in Iraq's Anbar province on June 27, 2006.
"I'm all about him," he said. "Most times you sit there, and you think about celebrities, … and you wouldn't ever think they'd come by here and see us. They really do appreciate what we do and what we continue to do."
That sentiment was echoed throughout the physical therapy room as Duvall worked his way around amid the hubbub of on-going rehabilitation sessions.
Duvall was sincere and heartfelt, said Marine Cpl. Kenny Lyon, also a Walter Reed outpatient, who lost his left leg above the knee when his operating post north of Fallujah, Iraq, was hit by a mortar May 1, 2006.
"I really enjoy it when people visit," he said. "It's just good for the patients and other people who have been here less time than me. Some of them think this really sucks and they see people come in. It really puts a sparkle in their eye, and it's nice to see."
Despite repeatedly being stopped in the halls by those wanting to meet the screen legend, Duvall also managed to visit servicemembers in the occupational therapy rooms and in Ward 57, an in patient ward housing mostly orthopedic patients. Most of the amputees are treated there.
"We have so many people coming to visit – VIPs, general officers – it just seems like sometimes people walking in off the streets to say, 'Hi,'" said Retired Army Chief Warrant Officer Dan Cordell after visiting with Duvall in his Ward 57 room. "It's nice that people care."
Cordell was injured while working as a contractor in Iraq.
Duvall played down the significance of his visit, saying it was an "honor and a privilege" to be able to talk with these "wonderful young people," and that he's impressed with the care they're receiving.
"I'm just a layman. I don't really understand the specifics of what you have here, but it seems wonderful what's being done and the treatment these people are getting," the actor said. "It's very thorough and scientific, specific, and loving at the same time."
The son of a career Navy officer, Duvall marveled at the persistence the wounded warriors displayed. "So many of these young men and women, they want to go back," he said. "They want to go back to the fighting in Iraq and Afghanistan. It's amazing."
Amazing perhaps, but very telling, said Alan Geoffrion, who accompanied Duvall and his wife, Luciana Pedraza.
Geoffrion, who wrote the western novel "Broken Trail," said he and his father-in-law, both Vietnam veterans, once had doubts about an all-volunteer military.
"Last night we both … agreed that this is probably -- well, not even probably -- this is the best military our country has ever fielded," he said. "They're brighter, smarter (and) more skilled. They need to keep them back in active duty. I think it's terrific that the services are willing to do that."
The former Navy signalman also wrote the screenplay for the television movie version of his book, which recently garnered Duvall an Emmy award for outstanding leading actor.
"I wanted to come and do this," Geoffrion said. "You come here thinking you're going to help them, and you wind up they help you a lot more."
Celebrity visits really do help the servicemembers and their families, though, Army Maj. Gen. Rick Lynch said.
Lynch spent yesterday at the hospital visiting about 50 of his wounded soldiers from the 3rd Infantry Division, which he commands out of Fort Stewart, Ga. He'll soon head back to his other position as commander of Multinational Division Center in Iraq.
"I think -- and I'm a fan of Robert Duvall, as well -- when they see him on the screen and see him in person they can relate, because he's always doing action adventures," Lynch said. "At least on the screen, he's doing what we do in life. To me, it's personally inspirational that he takes the time to come and visit these great soldiers."
Duvall wrapped up his visit with a tour of the new Military Advanced Training Center, which was officially opened during a Sept. 13 ceremony.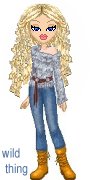 Wild Thing's comment........
At "Hold Their Feet To The Fire" event that was held a benefit dinner for agents Ramos and Compean and Deputy Gilmer. Duncan Hunter was there and spoke and also Robert Duvall came to support the agents wives, Robert Duval is also in favor of secure borders
Here is a scene from one of his films:
Lonesome Dove: Some Old Men Get Respect
Posted by Wild Thing at September 28, 2007 12:47 AM
---
Comments
... loved him in Gods & Generals and in The Godfather. What a great actor and human being he is, unlike the other Hollyweirdos and kooks on the left coast.
Posted by: darthcrUSAderworldtour07 at September 28, 2007 03:41 AM
---
Me, too--Darth. Duvall is a fantastic actor and a better gentleman, I think.
The man has a heart the size of Alaska.
My favorite movie of his?--The Great Santini.
We used to tease our dad about being the Great Santini himself.
I know it was a darker movie, but he was truly wonderful in it.
We need more in Hollykookland to show their support.
You would have never seen this kind of disregard for the troops in WWII. NEVER.
Posted by: Lynn at September 28, 2007 05:32 AM
---
I did not know Robert Duvall was a troop supporter. I am glad to learn this so I can watch his movies with new respect.
Yes Lynn, I also loved The Great Santini.
Posted by: TomR at September 28, 2007 09:10 AM
---
WT--
That clip just re-enforces the truth of the adage "The best way to become an old person is not to **cough** with old people when you're young."
Now, I'll have to watch more of Duval's stuff.
Posted by: Rick at September 28, 2007 10:00 AM
---
I don't ever recall Duvall doing anything to besmirch the nation and it's people even though he has worked for some less than honorable directors, he is from a military family and has served himself in the peacetime army. Ned Pepper was one role where he played the bad guy but he is from a Christian background and he directed the movie Apostle, Secondhand Lions was another good flick. Good enough for me, that above clip reminds me of something that is largely missing today, respect.
Posted by: Jack at September 28, 2007 05:22 PM
---
According to Wikipedia
His father was a Navy Admiral and he served in the Army. His political views are conservative/libertarian and he supports Giuliani for President.
You smell that? Do you smell that? Napalm, son. Nothing else in the world smells like that. I love the smell of napalm in the morning. You know, one time we had a hill bombed, for twelve hours. When it was all over I walked up. We didn't find one of 'em, not one stinkin' dink body. The smell, you know that gasoline smell, the whole hill. Smelled like... victory. (Pause) Some day this war is going to end...
Posted by: BobF at September 28, 2007 06:19 PM
---
Off topic, here is another thank you from the Democrats in their tender loving care about the troops and the war veterans.
Rather than using U.S. tax dollars to pay American veterans who have sacrificed, Chairman Bob Filner, D-Calif and the Democrats on the Veterans' Affairs Committee decided that paying non-U.S. citizens was a more important national priority.
http://www.timesgazette.com/main.asp?Search=1&ArticleID=147067&SectionID=1&SubSectionID=&S=1
Bob Filner should visit the same hospital that Mr. Duvall has, but he's really not much of an American supporter.

Posted by: Jack at September 28, 2007 07:32 PM
---
Darth, yes he is an excellent actor, those are some terrific films.
Posted by: Wild Thing at September 28, 2007 11:29 PM
---
Lynn, he was so good in The Great Santini. Great movie, I love all of these films mentioned.
Posted by: Wild Thing at September 28, 2007 11:31 PM
---
Tom, me too, I had no idea he felt like this about our troops.
Posted by: Wild Thing at September 28, 2007 11:34 PM
---
Rick, hahaha there were several videos to pick from and I wanted to post one where it was mostly Duval speaking.
I agree with you, I will watch his films now with a new feeling about Duval as a person.
Posted by: Wild Thing at September 28, 2007 11:36 PM
---
Jack, I was thinking that too when I saw the video. How they had been respected in their younger days and then it got to be who are they kind of thing.
Posted by: Wild Thing at September 28, 2007 11:41 PM
---
Bob wow that is great, thank you so much. I remember that scene, it is so famous.
Thanks for the information too on his father.
Posted by: Wild Thing at September 28, 2007 11:43 PM
---
Jack, oh man I am so sick of this, how our Veterans have been lied to, cheated and no intention of keeping promises to them.
Thanks for the link.
Posted by: Wild Thing at September 28, 2007 11:47 PM
---
Lynn... my second assignment was at SPangdahlem AB in Germany, an F-4 Phantom Cold War mission in the 80's, and the 'Great Santini' flew an F-4 and I think this great flick was filmed in South Carolina! Frau Vader will tell ya Robert Duvall is a studmuffin!
Posted by: darthcrUSAderworldtour07 at September 29, 2007 12:16 AM
---