« The Vietnam Veterans Memorial Wall | Main | Chief Machinist's Mate Ervin Mateer, 85, Retires »
September 16, 2007
KC Chiefs Cheerleaders Visit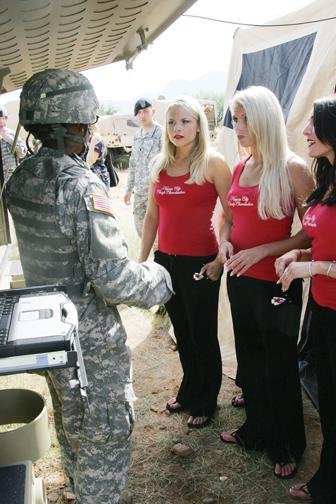 Ashley, Katie, and Kristin, cheerleaders with the Kansas City Chiefs, listen as Sgt. Supriya Vidic, of the 40th Expeditionary Signal Battalion, briefs them on the Joint Network Node and its capabilities. (Photo by Spc. Anthony Blagg)
Football team's cheerleaders visit with soldiers on the fort
FORT HUACHUCA
The 11th Signal Brigade got a taste of football fever last Friday when four of the Kansas City Chiefs cheerleaders visited them.
Prior to coming to the brigade area, the cheerleaders went out to the 40th Expeditionary Signal Battalion field exercise-training site.
While out there, the unit showed the cheerleaders their signal capabilities and what soldiers do on a daily basis. The cheerleaders also had the opportunity to try on some of the soldiers tactical gear.
"I could not believe how heavy the gear is!" said Ashley, who is in her second year with the Kansas City squad. "I feel I am in really good shape, but don't think I could wear that around all the time."
Soldiers were able to have their pictures taken with the cheerleaders and receive autographed pictures.
After they were finished in the field, the cheerleaders went to brigade area of operations, and more than 20 soldiers greeted them.
Soldiers filed in the Cpl. Victor Langarica Conference Room so they could have a chance to have their pictures taken with the women and receive an autographed picture.
The cheerleaders expressed their gratitude for the soldiers.
"We want you to know how proud of you we are," said Katie, who is currently in her first year with the Chiefs.

Wild Thing's comment.......
I love to see people going to see our troops, and thanking them. It can never happen enough and it should happen more often.
Posted by Wild Thing at September 16, 2007 12:40 AM
---
Comments
Yes, things like this should be all over the news. The USO should be at the fore front like they were in wars past. There should be more entertainers taking an interest in our kids in harm's way (even if they don't like the war--at least give the kids a good time--they deserve it.)
Too bad Bob Hope isn't still around--he'd have shows from there every three months and they'd be on TV!
But it's "the IN thing" to "HATE" America right now and all she stands for. I find that sad and depressing.
Posted by: Lynn at September 16, 2007 05:45 AM
---
This wigwam makes me wigwarm ... Hail to these chiefs! - The Red State Cheerleaders #1
Posted by: darthcrUSAderworldtour07 at September 16, 2007 06:29 AM
---
Derrick Thomas, the Kansas City Linebacker who was killed as a result of a traffic accident lost his father in Vietnam. His father was an Air Force B-52 Co-Pilot.
DERRICK THOMAS, the Kansas City Chiefs' All-Pro linebacker, said yesterday that he just wanted to live up to the courage of the father he never knew, a co-pilot who was killed during the Vietnam War.
"It's very ironic that my father's last mission was named Linebacker 2," said Thomas, who was among the speakers who joined PRESIDENT CLINTON at the Vietnam Veterans Memorial in Washington. "It's very ironic that in college I had 52 sacks and my father flew a B-52."
The Chiefs have a long relationship with the Air Force and a request for a B-2 flyby at Arrowhead Stadium is always honored.
Posted by: BobF at September 16, 2007 09:43 AM
---
Those are three beautiful young women. That is wonderful that they spend their charm with our troops.
Posted by: TomR at September 16, 2007 03:32 PM
---
TomR...you were right (correct) in the other post you made. You are a dirty old man!
No worries...I'd go to Iraq just to be visited by these three.
"All women are created equal...then a few become cheerleaders!" Author Erica Gardner, Putnam, CT, USA
Posted by: SSgt Steve, USMC at September 16, 2007 09:57 PM
---
Lynn, your so right, Bob Hope would be doing some awesome shows if he was still alive. He sure loved our troops.
Posted by: Wild Thing at September 17, 2007 01:51 AM
---
Darth, hahaaha
I got to go to a few Chiefs games they were great.
Posted by: Wild Thing at September 17, 2007 01:53 AM
---
Bob, wow thank you so much for sharing about that.
Posted by: Wild Thing at September 17, 2007 01:54 AM
---
Tom, yes they are. I am glad they are not a squad of Helen Thomas over there. hahahaahhahaha
That would make out soldiers sick I am sure.
I wish there was a way to get photos of our troops while they are watching the games. They are so hard to find when there are any.
Posted by: Wild Thing at September 17, 2007 01:58 AM
---
SSgt Steve, USMC, you always have such good quotes. Love it.
Posted by: Wild Thing at September 17, 2007 01:59 AM
---