« Weapons Anyone? From Russia With Love ?? | Main | Jihad! The Terror Awareness Project »
September 05, 2007
Germans Arrest 3, Thwart "Imminent Threat"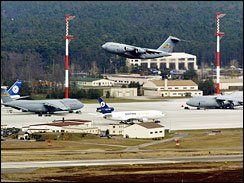 U.S. Air Base Ramstein in Germany. German officials said (Wednesday, Sept. 5, 2007) they had arrested three men.
Germans Arrest 3, Thwart "Imminent Threat"
Three men have been arrested for planning attacks on Frankfurt's international airport and the U.S. military base in Ramstein, the German Defense Minister said Wednesday.
"There was an imminent threat," Franz Josef Jung told Germany's ARD broadcaster. He declined to elaborate.
Two of the suspects had German citizenship while the third was Pakistani, Germany's Sudwestrundfunk public broadcaster said.
German federal prosecutors said they had arrested three suspected members of "an Islamic motivated terrorist organization." It was not immediately clear whether the three were suspected of having links to al Qaeda.
Sudwestrundfunk said the men were arrested Tuesday evening and were close to carrying out the attacks. German and U.S. officials have warned of the possibility of a terrorist attack, and security measures have been raised, they said.
Government sources told the AFP news agency that the three had links to Pakistan and had been experimenting with explosives and trying to build car bombs.
German television reported that explosive materials had been found in an apartment in a town in the northern state of Hesse. It said " the planning was at an advanced stage."
Two of the suspects were Germans who had converted to Islam while the third held Turkish and German passports.
The arrests come a day after Denmark's intelligence service arrested eight Islamic militants linked to leading al Qaeda figures in anti-terror raids in the Danish capital, according to the head of the agency.
The men, between ages 19 and 29, were suspected of preparing a terror act involving explosives, said Jakob Scharf, the head of Denmark's PET intelligence service.
BERLIN, Germany (CNN)
"At U.S. European Command in Stuttgart, Capt. Jeff Gradec said German authorities had alerted them of a possible terrorist threat to American installations, but not specifically Ramstein. Suspects said to be part of an "Islamist-motivated terrorist group"

And this from Forbes.com
UPDATE: Germany: 3 Terror Suspects Arrested
"German and U.S. officials have warned of the possibility of a terrorist attack, and security measures have been increased. Navy Capt. Jeff Gradeck, spokesman for the U.S. military's European Command in Stuttgart, said German authorities had contacted them concerning the alleged plot, but had no further information.

"We extend our gratitude to Germany for their efforts in protecting us," Gradeck said.

The group had been under observation by authorities for many months and all three men are considered radical Islamists with contacts to terror cells abroad, Der Spiegel reported online.

Authorities decided to move in on the group after members were observed moving a stock of chemicals easily obtainable in Germany, but which can be used for making a bomb, from a storehouse to another, Der Spiegel said."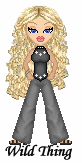 Wild Thing's comment........
I wonder when we're going to get around to banning Islamic immigration? Just wondering.......
Posted by Wild Thing at September 5, 2007 12:55 AM
---
Comments
Islamist-motivated terrorist group? Who would have figured they had connections with Islam, the religion of peace.
Have you read whee viles of a chemical choking agent were found at the UN?
http://blogs.abcnews.com/theblotter/2007/08/nerve-gas-scare.html
Since this stuff most likely came in under diplomatic cargo and not subject to customs inspections, it makes me wonder how much of this type of stuff has been brought into the UN by countries friendly to Isalmist Terrorists.
Posted by: BobF at September 5, 2007 07:16 AM
---
These moslem terrorists seem to be quite inept. However, eventually they will succeed. It seems that these attempts come in series. If a series of bloody attacks did occur throughout Europe in a short period of time, maybe the Europeans will finally awaken to the islamic cancer in their midst and strike back. The longer we all in the West allow this insideous moslem invasion by immigration to continue, the bloodier the eventual showdown.
Also, notice that two of these moslem terrs were converts. Converts to cults are the craziest and most extreme of unbalanced people.
Posted by: TomR at September 5, 2007 08:24 AM
---
I don't see the US government doing anything more until the next attack and afterward.
They are going on about the business of NAFTA and the Super-highway with complete disregard for the problem we are really facing. The problem of Terrorism.
The border is still wide open, and not one person in the government has any concerns about the flood of people coming across the border. Bush thinks his GOOD Friend Filipe Calderon is going to secure the border so only Mexicans can cross. If you put a sombrero on a jihadi and stand him next to a Mexican who can tell the difference.
The Democrats are worried about not being able to raise taxes enough to pay for Health Care for Illegals and the Republicans are too worried about Larry Craig part-time Senator and part-time cross dresser Mens-room toe tapper.
Am I worried, You bet and I am hording Ammo. I am afraid the next attack will be devestating and again we will not be prepared for it.
Posted by: Mark at September 5, 2007 10:19 AM
---
Not on the subject of German terrorists...Hannity argued illegal immigration with Geraldo a while back. On the subject of Mark's mention of terrorists crossing our boder, Geraldo claimed that he asked Chertoff in an interview if there was ANY confirmed incident of a terrorist crossing the border. Chertoff said "no". What?
This passes for evidence of security in the screwball world of open borders folks like Geraldo. Clue to Geraldo: No confirmed incident of terrorists crossing the border means only that they haven't caught any, it DOESN'T MEAN THERE AREN'T ANY!
...and in the weird Bush/Chertoff world of border security, Chertoff might have added..."and we aren't looking for any".
Posted by: Rhod at September 5, 2007 06:29 PM
---
The coordinated and constant trashing of the United States and it's core values by Democratic politicians, their looney-left supporters, and the drive-by media just emboldens the Islamofascist terrorists to do all that they can to hit us again and hit us hard. Add to that the movie "Redacted" about the rape and killing of a 14-year old Iraqi girl and her family by U.S. soldiers and the multiple other anti-American films coming out in the next few months from Hollywood and the message to al-Qaeda is clear. You are good and we are evil.
How stupid can a country be? I agree with Mark that the next attack will be devastating and the country won't be prepared for it. Voters will have a simple choice to make. Which presidential candidate will protect them and their families more than the others? Not Hillary Clinton. Not Barack Hussein Obama. Not John 'Breck Girl' Edwards.
Posted by: Les at September 5, 2007 08:25 PM
---
... chatted with my in-laws from Der Fatherland on Sunday. These proud West Germans agree that
we should never have told Gorbachev to tear down
the Berlin Wall in the late 80's! Inflation is at 16%, the muslims have invaded Der Fatherland
from Turkey and the Middle East, and the 9-11-01 ringleader of the crazed 19 islamofascist terrorists - Mohamad Atta - was educated in Hamburg. 9-11-01... I will never forget!
Posted by: darthcrUSAderworldtour07 at September 6, 2007 01:00 AM
---
Bob thank you so much and thanks for the link too. I really appreciate it.
You have a good point too, I wonder now about that, they (the UN) sure could do that. sheesh
Posted by: Wild Thing at September 6, 2007 01:35 AM
---
Tom, I agree, I read someplace ( forget where) that those that are converts are already unbalanced and seeking something to fill that craziness that they have.
Posted by: Wild Thing at September 6, 2007 01:38 AM
---
Mark, I fear you are right. I really want to be prepared and not have my head in the sand. Not that we would know ahead of time, but all heck could break loose depending on what kind of attack they would do. Maybe even all of us not being able to defend ourselves if we didn't already have weapons, who knows.

Posted by: Wild Thing at September 6, 2007 01:45 AM
---
Rhod, OMG what an outright lie that was that he said. There were tons of articles awhile back of known terrorists coming across our borders and even physical evidence of uniform patches they had and weapons found on them. Also other weapons found just in a ditch I guess they had planned to come back and get later.

Wow how can they just lie like that with a straight face, Chertoff and Geraldo make me sick.
Your so right Rhod,....and they are even looking for any is right. The ones that our Border Agents found (their guns and clothing etc.) was reported and the whole thing and oh man that Chertoff sure is a liar. sheesh
Thank you so much Rhod.
Posted by: Wild Thing at September 6, 2007 01:51 AM
---
Les, I agree, and this next we will either be doomed big time as a country and a people or we just might be able to take back our country a little anyway. It really concerns me what is happening to this wonderful country of ours.
Posted by: Wild Thing at September 6, 2007 01:55 AM
---
Darth thank you for sharing that. Me either I will never ever forget.
Posted by: Wild Thing at September 6, 2007 01:56 AM
---