« Hunter On O'Reilly About The Fence and Petraeus | Main | Senate Votes to Kill Mexican Truck Demo »
September 12, 2007
"Freedom isn't Free but Membership Is" ~ Patriot Guard Riders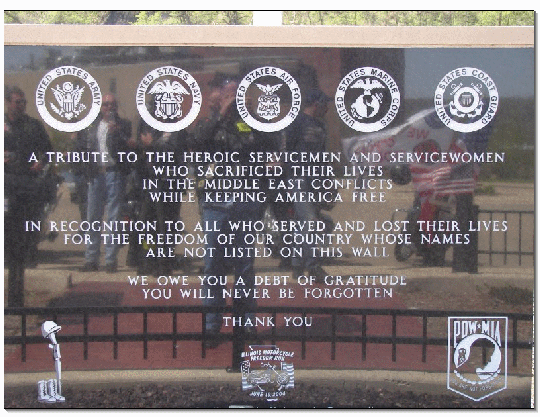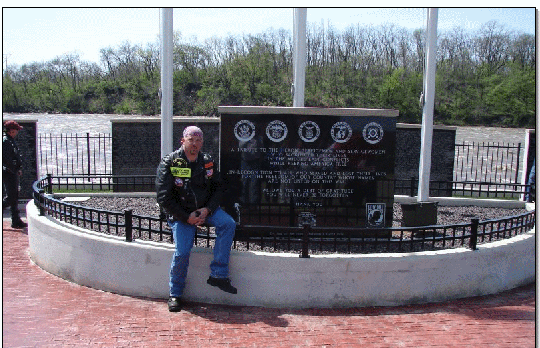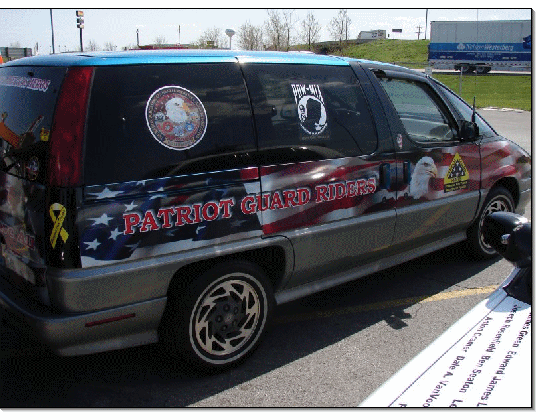 I have had this in my sidebar since last year. They are such a wonderful group. I joined and I don't have a motorcycle but anyone can join and it is great to be a part of it.

"The Patriot Guard Riders is a diverse amalgamation of riders from across the nation. We have one thing in common besides motorcycles. We have an unwavering respect for those who risk their very lives for America's freedom and security. If you share this respect, please join us.

We don't care what you ride or if you ride, what your political views are, or whether you're a hawk or a dove. It is not a requirement that you be a veteran. It doesn't matter where you're from or what your income is; you don't even have to ride. The only prerequisite is Respect.

Our main mission is to attend the funeral services of fallen American heroes as invited guests of the family. Each mission we undertake has two basic objectives.

1. Show our sincere respect for our fallen heroes, their families, and their communities.

2. Shield the mourning family and their friends from interruptions created by any protestor or group of protestors.

We accomplish the latter through strictly legal and non-violent means.

To those of you who are currently serving and fighting for the freedoms of others, at home and abroad, please know that we are backing you. We honor and support you with every mission we carry out, and we are praying for a safe return home for all."
Freedom isn't Free but Membership Is
To join.....http://www.patriotguard.org/Home/tabid/53/ctl/Register/Default.aspx

When you join you will get announcements in your email of events they are doing in your area. I get these annoncements in mine and have been able to go to a couple of them here in the Sarasota and Tampa area.
This one below is an example of what they send. Thank you soooo much Tom for sending me one of yours so people can see what they look like. The PRG do not send spam in your email and notices only are sent when they are going to be attending one of the funerals for our soldiers that was killed.
Friends, Venus, TX is a small town south of Mansfield and they have lost their first son in the Global War on Terrorism. The CPL Thomas L. Hilbert Mission is going to be a difficult one for many of us. Glen Carlisle, who grew up in Venus, will serve as the overall Mission Ride Captain. He and I were at the parent's home today, assisting them with the details of his memorial.

The whole town wants to make sure that the family knows that the sacrifice that
Thomas made was appreciated. So on Wednesday, September 12th, there will
be a tribute to him on the town square and the PGR has been invited to be
there. We will stage at the David's Supermarket, on the SW corner of Hwy 67
and FM 157, from 6:30-7:00, KSU at 7:15.

The program will last about an hour. CPL Hilbert arrived at Dover AFB Saturday,
so he could be landing at any time.

Probably by tomorrow night we'll have the details of his arrival,
visitation, funeral and internment. Right now, the only thing we know for
sure is that he will arrive at Spinks Airport, 450 Alsbury Ct Burleson, TX
76028. Bill "RotorHead" Holcomb is RCing that portion of the Mission.
Visitation will be held at Midlothian Funeral Home, 200 E Avenue E
Midlothian, TX. Internment will be at Venus Memorial Park, East 5th Street,
Venus, TX.

The location of the funeral and all the dates and times are
pending. The family wants us there for every moment and we will do our best
to fulfill this request. If you have not attended a Mission in a small
town, brace yourself, as it is a very emotional event. We ask for your
support and prayers, this one hurts more as it is "family" for us.

God bless all as we ride to Stand Tall and Silent,

Rick
Deputy State Captain
North Texas

.....Thank you Tom for sending this to me. I really appreciate it.

Posted by Wild Thing at September 12, 2007 12:47 AM
---
Comments
It's so wonderful to know that the Patriot Guard is out there. They don't have to be, but they are.
Every soldier who dies during any war deserves every respect from every citizen.
Used to be joining up was the "IN" thing to do.
Serving your country and making your family proud and people cheered in parades at your homecoming.
You were a hero and children were taught to respect you.
Thank you, Patriot Guard for all you do.

Posted by: Lynn at September 12, 2007 04:59 AM
---
Thank you Chrissie for putting together this nice presentation for a wonderful group. Maybe one or more of your readers will join the PGR. I am a member in support. The Patriot Group Riders and Gathering of Eagles were formed to respect and support fallen troops, wounded troops, their families and veterans, especially against the sick activities of anti-war activists and the Westphal Baptist Church wackos.
You don't have to have a motorcycle to join PGR. You don't have to attend any of their rides, but you can even in a car. It is amazing how many grief stricken families request the PGR to attend the funerals and escort the body of their fallen warrior.
I wish there had been a group like the Patriot Guard Riders during Vietnam. Maybe that is why most of the founders of PGR are Vietnam vets.
Thanks again Wild Thing.
Posted by: TomR at September 12, 2007 05:59 AM
---
Lynn good comment, thank you so much.
Posted by: Wild Thing at September 12, 2007 11:44 PM
---
Tom thank you, I know mostly everyone on here has signed up there but so many read this blog that don't comment so it was a great idea to post about it.
((hug))
Posted by: Wild Thing at September 12, 2007 11:45 PM
---
I have been with or around these guys many times (MCL). I tried to join BUT there joining web site won't let me. I can;t even find a contact e*mail. I'm SAD.
Posted by: SSgt Steve, USMC at September 13, 2007 10:19 AM
---