« A Tribute - The Sacrifices US Military | Main | Bacon Given To Muslim Inmate Cost Prison $2,000 »
September 25, 2007
Coyote Ugly Denies Marines Permission To Film Ad in S.F.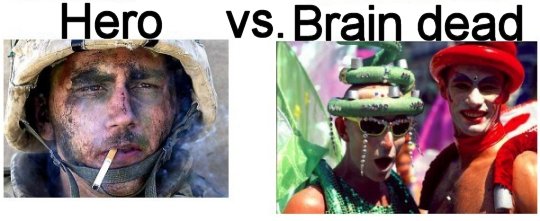 .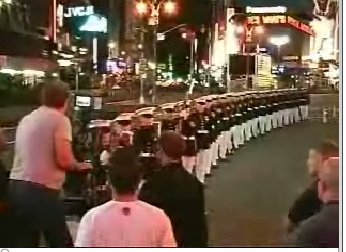 Marines Denied Permission To Film Commercial On The Streets Of San Francisco
abc local

New York said "yes," but we said "no." Why were the U.S. Marines denied permission to film a recruiting commercial on the streets of San Francisco?
San Francisco is, once again, the center of a controversy over how city leaders treat the U.S. military. This time, it involves an elite group of Marines who wanted to film a recruitment commercial in San Francisco on the anniversary of 9/11.
The tension has been building in the two weeks since the city turned away members of the Silent Drill Platoon, and it boiled over Monday afternoon at a meeting of the San Francisco Film Commission.
The U.S. Marine Silent Drill Platoon performed Monday morning in New York's Times Square. They filmed part of a recruitment commercial through the start of the morning rush hour -- something they could not do in San Francisco on the anniversary of 9/11.
"It's insulting, it's demeaning. This woman is going to insult these young heroes by just arbitrarily saying, 'no, you're not going to film any Marines on California Street," said Captain Greg Corrales of the SFPD Traffic Bureau.
Captain Greg Corrales commands the police traffic bureau that works with crews shooting commercials, TV shows and movies in the city. He's also a Marine veteran and his son is serving his third tour of duty in Iraq.
He says Film Commission Executive Director Stefanie Coyote would only allow the Marine's production crew to film on California Street if there were no Marines in the picture. They wound up filming the empty street and will have to superimpose the Marines later.
"Ms. Coyote's politics blinded her to her duty as the director of the Film Commission and as a responsible citizen," said Captain Corrales.
We asked Stefanie Coyote why they're not allowing the Marines to shoot on California Street. She wouldn't answer our questions.
At today's Film Commission meeting, she said she wouldn't let the Marines film because of rush hour.
"Traffic control was the issue," explained Stefanie Coyote.
However, the Marines would have just shut down one lane of California Street for a few minutes at a time, and Captain Corrales points out the Film Commission often approves shoots for rush hour.
"If they want to get the job done, they find a way to get it done," said Captain Corrales.
The city's treatment of the Marines is making many people angry, from local conservatives like Christine Hughes with the San Francisco Republican Party who told us, "it's an embarrassment. I'm a fourth generation San Franciscan and I don't even recognize my city right now."
To current and former Marines like Vince Rios, a Vietnam veteran.
"I'd like to say, 'does your mother know you're doing this? And if so, is she proud of you for that?'" said Vince Rios.
"The city of San Francisco made a statement saying, 'we don't like the war' by shutting down the troops. I don't think that was the right thing to do," explained Eric Snyder, a U.S. Marine.
"I wish to hell she would leave her politics at home and take care of the city business and the bridge business on an even keel basis," said Mike Paige, a Korea veteran.
The Marines also applied for permits to shoot on the Golden Gate Bridge that same morning, but were turned down because of similar traffic concerns.
The end result -- the crew didn't film the Marines in San Francisco at all. They had to go to the National Park Service for permission to shoot in Marin overlooking the bridge and at Kirby Cove.
"Golden Gate National Recreation Area is steeped in military tradition and we're honored to be a part of their continued military traditions so we're glad that we could accommodate the shoot," said Amy Brees with the National Park Service.
Captain Corrales and several other Marine veterans came to the Film Commission Monday afternoon. They see this as just the latest insult along with the city blocking the USS Iowa from docking here, banning the junior ROTC from high schools, and trying to ban the yearly Blue Angels air show.
"This -- a slap in the face of every veteran and every parent of men and women who are doing their duty -- is shameful," said Captain Corrales.
The Marines we spoke with also make the point that the city allows street demonstrations, anti-war protests and other events which snarl traffic, such as Critical Mass. They still don't understand why the Marines got turned away.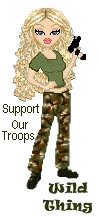 Wild Thing's comment........
This is outrageous!
Hey San Fran. When you get in trouble call Ghost Busters, the Marines will be too busy protecting real Americans.
The Marines were turned away because people like this woman are more aligned in their thinking with our enemies than they are with the very people who lay their lives on the line to defend their life and liberty. That's why...plain and simple..and disgusting, revolting, sickening, and pathetic too.

Posted by Wild Thing at September 25, 2007 12:55 AM
---
Comments
San Francisco is like one of those post-colonial crap holes that functioned when adults were in charge, and then slipped into ruin when the mental dwarfs took over. It's not just the Marines situation in SF.
The lefty clowns are running the city like a sandbox full of cats. Homeless, shabbiness, high taxes, resident flight...to OAKLAND! Just how bad is SF if people are stepping UP to Oakland?
Cities are not just so much architecture and political bullshit. They're organisms, they evolve, and no social organism consisting of leftists can evolve in any direction but backwards, into chaos, ugliness and wreckage.
Screw these people. Why does anyone even try in that place? Let them rot.
Posted by: Rhod at September 25, 2007 05:24 AM
---
Oh, good grief. Who do they think PAID the price for their "fruitcake-ness"? The five services, that's who. Hell, this hand full of Marines could capture and hold the whole dang city. But, then again, who would want it?
I personally would be afraid to drop my rifle and bend over to pick it up. Oh, well...soon the "big One" (easy there SFRAN boys) will drop it in the ocean and some of our "happy" issues will be over.
I am only glad that in 1985 I stole the LAST normal woman from the Bay area and married her down her in Texas.
Posted by: Steve Gaston at September 25, 2007 06:12 AM
---
San Francisco is full of crap!
I feel sorry for the "normal" people who live there, but most of them moved out.
Their city government is corrupt and look who they sent to Washington.
Yeah, human rights are one thing, but those things sway both ways. They just don't want to see that.
Theirs is the only voice and ours doesn't count.
Semper Fi, Marines--I'm sure you could film in my town. We LOVE the Marines!
Posted by: Lynn at September 25, 2007 06:36 AM
---
... calm down Lynn for San Fransicko is on a fault line, and when God is ready... Also the nuke missiles from N. Korea and China will hit the left coast easier than the east coast! "When you come to San Fransicko... be sure to wear some flowers in your hair?" The proud city of Nazi Pelosi & Meatballs, eh? - The Few The Proud The Marines!!!
Posted by: darthcrUSAderworldtour07 at September 25, 2007 08:09 AM
---
Well, so much for "From Sea to Shining Sea".
Posted by: Billy at September 25, 2007 09:00 AM
---
Why in the world would the Marines want to film in San Francisco? Of all the fine cities in America, why choose that Bastion of Depravity? Their too many cities in America that'll roll out the Red Carpet for the Marines for them to monkey with the Sodom of America.
Posted by: BobF at September 25, 2007 09:05 AM
---
The Marines and other military are Welcome here in Dallas.
San Francisco was a neat city in the 60s. I loved it. History, culture, geography, architecture, SF had it in abundance. Then the hippies moved in. Still kinda neat. Trouble is they stayed, and never grew up. It is no longer the city for Tony Bennett or Dirty Harry or Steve McQueen. It is the city of Dianne Feinstein, Nancy Pelosi, Queer Nation and Berkeley.
What a shame and a waste. The US Marines are not allowed but the United Farm Workers, LaRaza and PETA are promoted. Those running SF grew up as hippies being protected by people of more responsibility. They are still protected by more responsible people. Ultimately they will fail, and maybe San Francisco can return to it's former wonderful self.
Posted by: TomR at September 25, 2007 12:41 PM
---
Wasn't it San Francisco who refused to let the USS Missouri dock there because it was too reminescent of War ? After all the Surrender of the Japs was signed on the deck of the Big Mo.
So this is not surprising that they refused the Marines the use of their streets. For a commercial.
I guess History and Tradition is only important if it includes a gay pride parade, or an anti-American demonstration by Illegals, all the while tearing down and setting fire to the American flag. In a city granting sanctuary to Illegals.
How they appreciate their first amendment rights they have, to do these despicable things, yet there is no appreciation of just exactly how these rights came to be.
Posted by: Mark at September 25, 2007 02:39 PM
---
I give San Fran twenty years. Then it will look like a scene from "Blade Runner".
Posted by: Rhod at September 25, 2007 06:43 PM
---
Just another reason for me not to go to San Francisco and CA.
Has anyone picked up on the fact that her husband is the actor Peter Coyote who supports the Moveon organization. Do you think that has anything to do with it?
Posted by: John 5 (VN69/70) at September 25, 2007 07:50 PM
---
Rhod that is an excellent run down of the city.
Long ago, when I was just a little girl, my parents took me there on one of our summer vacations. I must have been 7 years old and it was exciting, and riding on the trolly car, the winding road that is so famous so many things.
Then I went there several more times for the modeling work I did and one acting job I had there for some silly TV show. The city had changed so much. The riff raff was every where, it still had the nice things but it was over crowded with people that were more like a freak show then anything else. The left sure can destroy beautiful things and places. Very sad to see things like this happen.
Posted by: Wild Thing at September 25, 2007 11:52 PM
---
Steve, that is great, you did good and that is so neat. You saved her from a city that has changed so radically over the years.
Posted by: Wild Thing at September 25, 2007 11:53 PM
---
Lynn I agree, the few normal people there I feel sorry for. But I bet your right that most of them have moved away.
Posted by: Wild Thing at September 25, 2007 11:55 PM
---
Darth, Lynn and I will have flowers to give our Marines. heh heh To thank them and we can have dead flowers to throw at the lefties in San Fran. hahaha
Posted by: Wild Thing at September 25, 2007 11:58 PM
---
Billy, yes good point......""From Sea to Shining Sea"....takes on a whole new meaning when one include SF.
Posted by: Wild Thing at September 25, 2007 11:59 PM
---
Bob, I wonder why, the article never said the reason that wanted to film there.
Posted by: Wild Thing at September 26, 2007 12:00 AM
---
Tom, I agree, back then and even in the last 50's it was a beautiful place to visit. Too bad the people are making it ugly. The beauty of the things there are still there but to have to put up with so many lefties now it spoils it.
The last time I went there was in the 80's and the difference now is shocking.
Posted by: Wild Thing at September 26, 2007 12:02 AM
---
Mark......EXACTLY!!!!!
"How they appreciate their first amendment rights they have, to do these despicable things, yet there is no appreciation of just exactly how these rights came to be."............

This always really ticks me off. How they use the freedoms like they do and slap those in the face that provided those very freedoms.
Posted by: Wild Thing at September 26, 2007 12:04 AM
---
Rhod, Blade Runner, wow that is probably just how it will be. I remember that movie too.
Posted by: Wild Thing at September 26, 2007 12:08 AM
---
John, I didn't know that, VERY interesting!!!
Wow Peter is a full blown liberal to the max, a socialist, communist horrible person.
Posted by: Wild Thing at September 26, 2007 12:11 AM
---
Dear Emperor Hirohito, your Rising Sun Zero fighters and bombers attacked the WRONG city!
Tora Tora Tora 2007!!!!!!! + SF + !!!!!!!!
Posted by: darthcrUSAderworldtour07 at September 26, 2007 07:25 AM
---
Coyote + Marine-Navy Tag Team=attitude adjustment. Oops the old days are gone, aren't they?
Kick San Fran out of the Union, shut off all utilities from the outside, etc.
Posted by: Glenn M. Cassel, AMH1(AW), USN, RET at September 26, 2007 09:45 PM
---