« Treasonrats Jumping The Gun | Main | Bin Laden Says US Should Convert ~ LOL No Way! »
September 08, 2007
Chuck Hagel To Call It Quits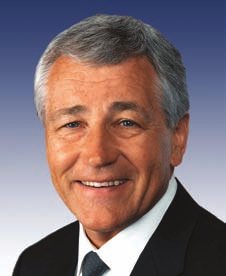 Chuck Hagel is calling it quits
Omaha.com
WASHINGTON
Chuck Hagel will announce Monday that he is retiring from the U.S. Senate and will not run for president next year, people close to the Nebraska Republican said Friday.
Nebraska Sen. Chuck Hagel plans to leave the Senate after two terms as a Republican Party maverick, people close to him say.Hagel plans to announce that "he will not run for re-election and that he does not intend to be a candidate for any office in 2008," said one person, who asked not to be named.
Hagel has scheduled a press conference for 10 a.m. Monday at the Omaha Press Club.
According to one person interviewed, Hagel told Senate Republican Leader Mitch McConnell of Kentucky on Friday morning that he had decided to retire. Hagel's staff learned of his decision that afternoon.
The North Platte native earned national recognition as perhaps the most vocal, at times angry, GOP critic of the Bush administration's Iraq policies.
His outspokenness on Iraq and other key issues, including Social Security and foreign policy, fueled national interest in Hagel as he flirted with a possible presidential bid.
His national profile reached its zenith in March, when he headed to Omaha to hold a press conference on his political future.
But amid wide speculation that he was leaning toward a White House run, Hagel announced that he would disclose his plans later in the year.
His pending retirement leaves another GOP Senate seat without an incumbent at a time when the Republican Party is struggling to stem potential losses and must defend more seats than Democrats.
In Nebraska, the news will trigger a scramble among possible successors.
Early this year, his frustration erupted after Bush announced plans for a troop buildup to try to curb violence in Iraq. Hagel labeled it "the worst foreign policy blunder since Vietnam - if it's carried out."
That and other criticism triggered a backlash from some conservatives, who viewed him as disloyal to the Republican president and potentially jeopardizing troops abroad.

Wild Thing's comment........
Hoohah! Two RINOs - Warner and Hagel GONE! Things are looking up.

Posted by Wild Thing at September 8, 2007 12:47 AM
---
Comments
... one less donkey in elephant skin! Upchuck Hagel, see ya! - Exit Stage LEFT Snagglepuss 2007
Posted by: darthcrUSAderworldtour07 at September 8, 2007 04:22 AM
---
Why am I NOT surprised?
I remember when he first ran for election--I thought he was great--he had a new way of looking at things and once we got him into office, he became a RINO--changed completely.
I won't make this mistake again.

Posted by: Lynn at September 8, 2007 05:40 AM
---
I'll drink to that!!! Only 533 to go.
Posted by: Jack at September 8, 2007 10:36 AM
---
I think all Senators and House members should be held to term limits of eight years max.
Hagel should have run as a Democrap.
Posted by: TomR at September 8, 2007 11:40 AM
---
Perhaps Warner and Hagel can take Brownback with them.
If I remember right, Warner really stuck it to Ollie North when he ran for the Senate. And where was Warner when George Allen needed him. Nowhere to be found.
When these three are gone it will be good for everybody.
Posted by: Mark at September 8, 2007 01:49 PM
---
Darth, good one, I like the " exit left". hahahaha
Posted by: Wild Thing at September 8, 2007 05:59 PM
---
Lynn, your right, he sure did. He talked it up like a different person till he got in office.
Posted by: Wild Thing at September 8, 2007 06:01 PM
---
Jack, yessss that would be wonderful. I would love to get rid of the rino's and put real conservatives there. Gosh that would be a dream come true.
Posted by: Wild Thing at September 8, 2007 06:02 PM
---
Tom he should have and Warner too. I always wondered when Elizabeth Taylor was dating or did she marry him....not sure....but after he started to show what he was he is a dem too. Glad he is gone as well.
Term limits would solve so many things wrong they are doing. Way too much power these people have for way too long a time.
Posted by: Wild Thing at September 8, 2007 06:05 PM
---
Mark I agree completely. Your right about what happened when they needed him also.
Posted by: Wild Thing at September 8, 2007 06:08 PM
---