« You had us on the ropes and you left ~ General Giap, North Vietnam | Main | Soldiers in Iraq Say They Don't Hear Deliberations Back Home »
August 23, 2007
You Too Can Look Like Putin, says newspaper ~ HUH???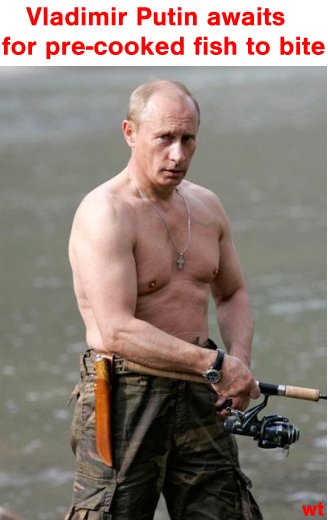 Vladimir Putin poses stripped to the waist, fishing rod in hand, in a boat on a Siberian river. The Russian leader has been worrying Western leaders by flexing his political muscles recently.

But yesterday he was showing off the real thing - and appeared in impressive shape for a man of 54. The former KGB officer is known as a fitness fanatic and is a black belt in judo.

Wearing only combat trousers tied roughly at the waist, a camouflage hat and army-style boots, Putin displayed his usual icecold expression as he waited for the fish to bite.
You too can look like Putin, says newspaper
Herald Sun
A STEP-BY-STEP guide to building a body like President Vladimir Putin's was available to readers of a Russian newspaper yesterday.

Official photographs of the 54-year-old leader holidaying in southern Siberia last week showed him fishing with his shirt off to display a well-honed torso.

He was also shown on horseback in sunglasses, gloves and a body-hugging white vest.

"He has some great definition under that shirt," said the Komsomolskaya Pravda tabloid, Russia's biggest circulation newspaper which specialises in admiring coverage of President Putin.

Under the headline: "Get a body like Putin's", the daily published an exercise guide by a fitness instructor.

An accompanying diagram of President Putin's naked torso had arrows pointing to his major muscle groups.

President Putin, who is married with two daughters, has attributed his physique to sports - he is an accomplished practitioner of judo and a keen downhill skier.

Wild Thing's comment.........
Never mind looking like him, I want a large country to rule! If you have that, they don't care what you look like. LOL
Posted by Wild Thing at August 23, 2007 12:55 AM
---
Comments
...once KGB always KGB, and Laura Bush gave this Commie Sadist flowers and kissed him at the Crawford Ranch a few weeks ago? And Bush looked into his 'soul'? Hey 'W' - Commie Atheists don't have a soul because they're atheists!!! And Bush #43 never heard of the Cold War? Back to my Prozac & Pabst Blue Ribbon Beer Shooters...
Posted by: darthcrUSAderworldtour07 at August 23, 2007 03:49 AM
---
Every woman wants a man like this--yum-yum--NOT!!!!!!1
Posted by: Lynn at August 23, 2007 06:29 AM
---
His military is in bad shape though.
Posted by: TomR at August 23, 2007 08:36 AM
---
Can't this bozo afford a decent pair of 'wadders'
What a putz. And it figures he is a 'meat fisherman' probably got a worm on that hook that was raised on steroids. Just to catch a minnow.
And of course OUR media is impressed with this.
If he were a real Man he'd be out there with a large rod trying to get a steel head or tarpon, but it was for the media and they don't know the difference between a grub and catfish.
Posted by: Mark at August 23, 2007 10:28 AM
---
Darth, that surprises me when they did that, Laura and George I think really like Putin. Not just because they have to deal with him, I just get the feeling (body language etc.)shows it.
But what I don't get is how Putin can go to Bush's ranch, buddy buddy stuff, the "miller time moments" probably and then go back to Russia and bash us.
I could never be President and I don't want to be, yuk. But if I was I would end up saying something like this to the media.Yes commie, KGB, Cold War hugger Putin is coming for a visit.
Posted by: Wild Thing at August 23, 2007 10:54 AM
---
Lynn, haha yes that is really tempting, a commie, KGB, power hungry, cold war loving man. Not my type either.
Posted by: Wild Thing at August 23, 2007 10:59 AM
---
Tom, I pray we always stay the most powerful Nation.
Posted by: Wild Thing at August 23, 2007 11:04 AM
---
Mark, LMAO so true!!!!
There were a bunch of photos, and some where he is on horseback, but that one looked more like oh what the heck was the name of that movie about those ........oh wait, it was Brokeback Mountian or something. Never saw the movie but the movie posters looked like Putin on his horse, with hat on etc. Photo op stuff and his arm with hand up by his forehead like he was looking for Indians. hahahaha
Posted by: Wild Thing at August 23, 2007 11:09 AM
---