« Dutch Reject Call to Ban Koran But Worry About Islam | Main | Dems Discredit Iraq Report Before It Appears »
August 17, 2007
Stamp Honors James Stewart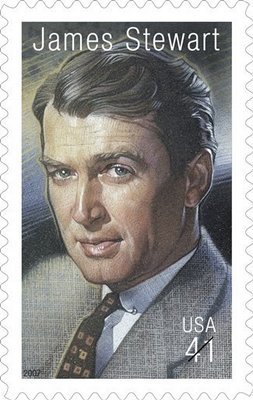 Stamp honors James Stewart (decorated World War II bomber pilot and actor)
(AP)
Lots of actors play war heroes on the screen. James Stewart was one in real life.
A decorated World War II bomber pilot who returned from battle to star in "It's A Wonderful Life," Stewart will be commemorated on a new 41-cent postage stamp being released Friday.
Stewart flew 20 bombing missions over Germany, including one over Berlin, after wrangling combat duty when commanders would have preferred to use a movie star for morale building work at home.
As a squadron commander, Stewart flew many dangerous missions when he could have sent others instead, recalled Robbie Robinson, a sergeant who was an engineer-gunner in Stewart's B-24 squadron.
But while Stewart rose to colonel during the war and later retired as a brigadier general in the reserves, he didn't stand on ceremony.
Robinson, of Collierville, Tenn., recalled one time when a creative tail gunner managed to "liberate" a keg of beer from the officer's club.
That evening, Stewart wandered into a hut where some men were resting, picked up a cup, walked over to the "hidden" keg, poured himself a beer and sat back and drank it slowly, relaxing in a chair.

"We were shaking in our boots," Robinson said.

But Stewart merely got up, wiped out the cup, asked the men to keep an eye out for a missing keg of beer, and left.
Another time, Robinson recalled in a telephone interview, his plane landed behind another that was stuck on the end of the runway, nearly clipping it's tail.
After watching this Stewart rubbed his chin and commented: "Ye Gods, sergeant, somebody's going to get hurt in one of these things."

"Once in your lifetime someone crosses your path you can never forget, and that was Jimmy Stewart," Robinson concluded.
This is the 13th stamp in the "Legends of Hollywood" series and will be dedicated in ceremonies at Universal Studios, Hollywood, Calif.
"It's our privilege to pay tribute to James Stewart, a fantastic actor, a great gentleman, a brave soldier, and an inspirational human being who truly led a wonderful life," Alan C. Kessler, vice chairman of the postal governing board, said in a statement.
Other highlights from Stewart's career include the movies "Rear Window," "Vertigo" and "The Man Who Knew Too Much," all directed by Alfred Hitchcock.
Stewart played a country lawyer in "Anatomy of a Murder" and played a lawyer again in "The Man Who Shot Liberty Valance," a Western released in 1962.
He won an Oscar for best actor in "Philadelphia Story" in 1940.
Stewart died on July 2, 1997.

Wild Thing's comment........
One of my favorite actors and a great patriot and one of my favorite Pennsylvanians. He also flew at least one sortie over Vietnam in a B-52.
I was fortunate to be able to meet Jimmy Stewart. He was truly a gracious gentleman.
Posted by Wild Thing at August 17, 2007 12:55 AM
---
Comments
A good man and true American.
Strategic Air Command: One of my favorite movies. I spent 16 years in SAC.
Posted by: BobF at August 17, 2007 09:59 AM
---
What a great man. He was a real American. I guess a lot of his popularity is because he was bigger than life but did not strut. He could be identified with by the common man. His movies were all great, back in the days of great movies. He played the quiet, but thoughtful hero and always treated women with respect. I wish he was still around to be a role model, but I am sure he would be disappointed at what "entertainment" has become.
Posted by: TomR at August 17, 2007 10:11 AM
---
I had the honor of being the tail gunner on the a B52 three ships behind gen. stewart that day. He was the airbone comander on that mission.
Posted by: oakley at August 17, 2007 11:17 AM
---
It must have been wonderful to meet this splendid man. I'm glad to see him being honored.
Posted by: Trish at August 17, 2007 06:28 PM
---
They don't make 'em like they use to. All the good actors are now gone, or almost.
Hollywood used to be filled with men like Jimmy Stewart and John Wayne...alas they have been replaced by the likes of Sean Penn and Alec Baldwin.
How Hollywood went from character to schmuck in 20 some plus years
Posted by: Mark at August 17, 2007 07:09 PM
---
Yes, Jimmy Stewart was a fabulous American.
He knew where his duties lay and he did them
with an open heart and open hands.
Used to be he was the type of man every girl wanted and every man wanted to be like.
Character meant something.
Some of these Hollywoodies have mistaken pseudo intelligence with character. Just because you've chosen what side your own, doesn't make you a hero.

Posted by: Lynn at August 17, 2007 07:16 PM
---
Bob wow that is really something. Thank you!
Posted by: Wild Thing at August 17, 2007 11:23 PM
---
Tom, Yes I think he would be disappointed in how Hollywood has gone down hill.
Posted by: Wild Thing at August 17, 2007 11:29 PM
---
Oakley thank you for sharing about that, that is so interesting. And thank you for serving our country.
Posted by: Wild Thing at August 17, 2007 11:32 PM
---
Trish me too, it is a good feeling to see something like this happen.
Posted by: Wild Thing at August 17, 2007 11:37 PM
---
Mark, "character to schmuck "....I love how you put that and it is true too.
Posted by: Wild Thing at August 17, 2007 11:37 PM
---
Lynn, that is so true, I agree.
Posted by: Wild Thing at August 17, 2007 11:38 PM
---