« In Country ~ Hey Lefies Surge Is Working | Main | Ron Paul vs Duncan Hunter on IRAQ - MUST SEE ! »
August 08, 2007
OMG Look At This and Watch Murtha Lose It! LOL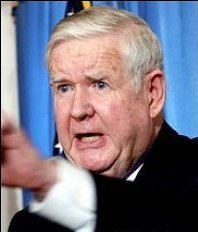 From the desk of Congressman John Campbell ( Republican) of California
Townhall.com
Early in the morning on Sunday, as we were finishing up amendments on the Defense Appropriations bill, I debated an earmark challenge with the Chairman of the Defense Subcommittee on Appropriations, Congressman John Murtha (D-PA). The earmark allocated $2 million to Sherwin-Williams Paint Company to develop what they described as a "paint shield to protect against microbial attacks." As the sponsor of the amendment, Congresswoman Stephanie Tubbs-Jones (D-OH) did not come down to defend her earmark. The defense was left to Congressman Murtha.
keep in mind all I wanted to know was:
1) Is this project requested by the Department of Defense? The correct answer is NO.
2) Is this a project that was competitively bid among other potential suppliers? The correct answer again is NO.
3) Will the taxpayer own the rights to any successful product developed? Again, the correct answer, according to Sherwin-Williams' own brochure for this project is NO.
For those of us in Congress fighting to reform our earmark process, this video is a good example of where we need to start.

HERE is the Video >>>> Just CLICK Here......

Wild Thing's comment........
Congressman John Campbell scrutinizes and 'pushes' Murtha for 'appropriate' answers. murtha answers to nobody. Just ask him. Watch the Video it is amazing. LOL
Posted by Wild Thing at August 8, 2007 12:47 AM
---
Comments
... and the freaky deal is Murtha, Corzine and Lee Harvey Oswald were US Marines? Ya gotta be kidding me SSgt Steve! At least 99% are courageous and HONORABLE!! - OOHRAH 2007
Posted by: darthcrUSAderworldtour07 at August 8, 2007 08:43 AM
---
The all mighty Murtha doesn't like to be questioned about his dolling out of the taxpayers money to his friends. Murtha has no honor.
Posted by: BobF at August 8, 2007 09:15 AM
---
Thank you, Darth....I hope you include me in the 99%. Murtha is truly a "Loose Cannonball". I am EXTREMELY ashamed he was in the Marines. I can only assume he sustained a head injury somewhere.
- Gasman
Posted by: Steve Gaston at August 8, 2007 11:59 AM
---
Murtha is a great example for the need of term limits. No more than 8 or 10 years total in Federal elected office.
Don't worry Steve. We still respect the Marines and know most of you are very honorable folks. Murtha was a politician in the making just using the Marine Corps to get his ticket punched.
Posted by: TomR at August 8, 2007 01:19 PM
---
Posted by: Lynn at August 8, 2007 08:10 PM
---
Murtha is Pelosi's dancing bear. The only thing missing is a skirt, a straw hat, a bell-collar and a brain. The jackass is entirely too stupid to realize he's the main act in the side show.
Posted by: Rhod at August 8, 2007 09:30 PM
---
Darth isn't that something. OH how I wish they had not even been in the military and just maybe not existed at all.
Posted by: Wild Thing at August 8, 2007 11:55 PM
---
Bob, yes and it sure shows up on this video how Murtha gets riled up being asked hard questions. haahhaha
Posted by: Wild Thing at August 8, 2007 11:57 PM
---
Steve, hahahaha that has to be it. A head injury that Murtha had. heh heh Good one.

It really makes me angry someone like Murtha, because the rest of the Marines are totally awesome like you Steve, Mark and others I know. Plus my Unlces that were Marines.
Posted by: Wild Thing at August 8, 2007 11:59 PM
---
Tom I agree I would love term limits. I wonder if that will ever be possible to have that.
Posted by: Wild Thing at August 9, 2007 12:04 AM
---
Posted by: Wild Thing at August 9, 2007 12:06 AM
---
Rhod, LOL that would make a great graphic. hahahhaahahahha
Posted by: Wild Thing at August 9, 2007 12:08 AM
---