« New York Islamist Day Parade ~ Grand Marshall Keith Ellison | Main | Shinedown on a USO Tour To Thank Our Troops »
August 28, 2007
Lima Company 3/1 turns routine patrol into payday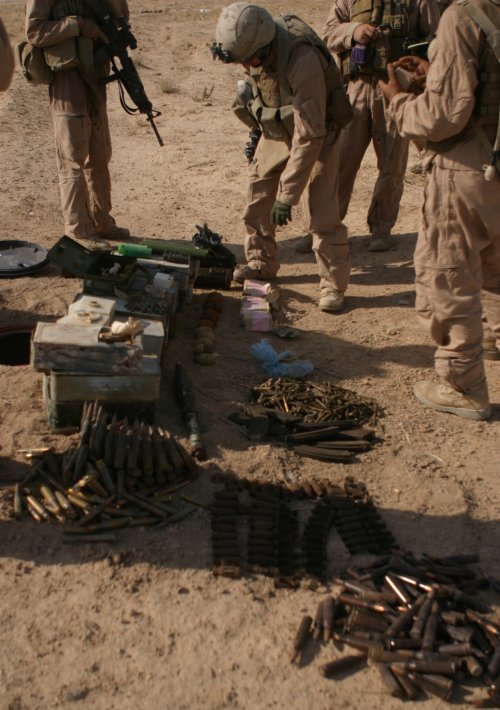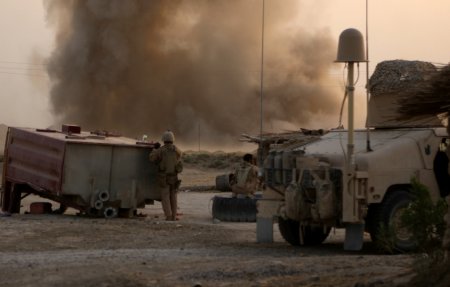 Lima Company 3/1 turns routine patrol into payday
NEAR KARMAH, Iraq
August 25, 2007
Using the term "Motivating Marine Corps day" in the morning is usually an indicator of sarcastic optimism throughout the ranks. Generally speaking, "motivating" can mean tired, frustrated and dirty. Rarely is the term prophetic.
Today, however, what began as a standard counterinsurgency patrol in Al Anbar Province turned into a truly motivating day as Marines from Lima Company, Battalion Landing Team, 3rd Battalion 1st Marines uprooted several large weapons caches, Homemade Explosives (HME) and a Vehicle-Borne Improvised Explosive Device factory.
Canvassing the remote desert region near Combat Outpost Chicago, Weapons Platoon Marines swept several routes and fields before a local citizen tipped them off and pointed them toward suspicious sites in the area.
Conducting a search based on this lead, Marines discovered numerous weapons, including a mortar tube, hundreds of automatic weapons rounds (of varying caliber and munitions type), a Simonov SKS rifle and American-made flares.
The citizen then escorted Marines to two buried containers, both filled to the brim with enemy "accelerants," including a Rocket Propelled Grenade (RPG) launcher with several rounds and boosters, a 14.5mm anti-aircraft weapon with seven receivers, grenades, mortars, rifle magazines, primers and IED trigger mechanisms.
Continuing the search in close proximity to the buried containers, a house, identified as a car bomb factory, contained evidence of a massive HME-mixing operation, including tarps, several pair of rubber boots and a children's swimming pool (used as a mixing vat).
Personnel from Combat Logistics Battalion 13's Explosive Ordnance Disposal section destroyed the caches after site exploitation was complete.
Successful days like today are becoming surprisingly routine. As BLT 3/1 continues counterinsurgency operations here, willing locals are frequently offering up information on insurgent activity and weapons cache sites. The constant accomplishment is causing some Marines to make confident, early morning predictions of success.
"I woke up this morning, and I just knew it was going to be a 'motivating Marine Corps day,'" said Lance Cpl. Randy Cantrall, a native of Peoria, Ariz. "And it was. It was beautiful."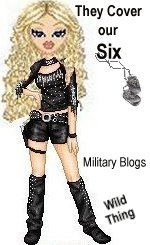 Posted by Wild Thing at August 28, 2007 12:55 AM
---
Comments
I wonder if Katie Couric will cover stories like this during her 12 day trip to Iraq and Syria starting next week. OK, I stopped wondering. She won't. We all know that is why more and more people get their news from the Internet while fewer people rely on the mainstream media like CBS for the truth.
Posted by: Les at August 29, 2007 02:29 AM
---
Les thank you for telling me she was going to Iraq and Syria. I didn't know that.
I bet your right Les, she won't do a lot of positive news about our troops.
Posted by: Wild Thing at August 29, 2007 03:14 AM
---
Since this is a story about Marines ... I will beg to go off topic.
We just returned from a trip to Virginia, to a Civil War Battlefields of Fredericksburg, Chancellorsville, the Wilderness and Spotssylvania.
Recently being from the Cleveland Area, but not originally, but living in Ohio for the past 25 years til we moved here to Pa. I became somewhat of a Cleveland Browns fan. A few years ago one of the owners, Al Lerner, had died, a lot of the fans always blamed Lerner for the lack of success the Brownies had since they came back into the league, me included.
Little did I know until this morning, Al Lerner was an immigrant from the old Soviet Union. He was a Russian Jew who's family fled the Communists. I didn't know either that he was also a Marine officer. Part of his legacy was to do something for Cleveland but also something for his country. The Browns were brought back to Cleveland and the Marine Corps has a new Museum near MCB Quantico. The roof of the building the highest point is in the shape of a triangle, the long side, the Hypotneuse, has the same angle as the Iwo Jima Flag raising monument.
This morning while getting ready to come home, my wife suggested, we stop at a museum right up the road, She thought I might like to visit. It was this Museum we stopped at.
This is Al Lerners gift to America.
Posted by: Mark at August 29, 2007 03:26 PM
---
This is a follow-up to my earlier comment on Katie Couric's trip to Iraq and Syria. She will be accompanied by Rick Kaplan, executive producer of the broadcast. Two excerpt's from The New York Times on the trip.

"I don't travel an anchor lightly," said Mr. Kaplan, who will accompany Ms. Couric. "Only when it's important. I think it is, and Katie thinks it is."
"CBS plans to interview General Petraeus and other American military and Iraqi officials. Mr. Kaplan said CBS was seeking interviews with seven soldiers who wrote an Op-Ed article in The New York Times that cited their dissenting views about how the war was faring."
Obviously, she won't be interviewing any of the tens of thousands of soldiers with positive views of how the war is faring and what they do and see every day to make it happen.
Posted by: Les at August 29, 2007 05:33 PM
---
Wow Mark thank you so much for sharing about Al Lerner and also the new Marines Museum. I looked it up and it is really something. Thank you!!!
Posted by: Wild Thing at August 30, 2007 12:35 AM
---
Les thanks for the information.
GRRRRRRRRRRR I swear I would love to meet either Katie or Rick Kaplan, in person and tell them what I think of them.
Posted by: Wild Thing at August 30, 2007 12:37 AM
---