« Illegal Aliens Declare War on the United States | Main | Jackie Mason ~ "The Democrats And The War" »
August 03, 2007
ICE campaign - "In Case of Emergency"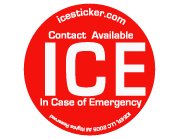 In April 2005, a National "ICE" Awareness Campaign was launched in the U.K. by mobile phone service provider Vodafone with the endorsement of Falklands War hero Simon Weston, and the movement reached critical mass in the wake of the July 7, 2005 terrorist bombings in London. The idea is now beginning to catch on in other countries, including the U.S.A. (as reported in the Washington Post).
We all carry our mobile phones with names & numbers stored in its memory but nobody, other than ourselves, knows which of these numbers belong to our closest family or friends.
If we were to be involved in an accident or were taken ill, the people attending us would have our mobile phone but wouldn't know who to call. Yes, there are hundreds of numbers stored but which one is the contact person in case of an emergency? Hence this " ICE" (In Case of Emergency) Campaign
The concept of "ICE" is catching on quickly. It is a method of contact during emergency situations. As cell phones are carried by the majority of the population, all you need to do is store the number of a contact person or persons who should be contacted during emergency under the name "ICE" ( In Case Of Emergency).
The idea was thought up by a paramedic who found that when he went to the scenes of accidents, there were always mobile phones with patients, but they didn't know which number to call. He therefore thought that it would be a good idea if there was a nationally recognized name for this purpose. In an emergency situation, Emergency Service personnel and hospital Staff would be able to quickly contact the right person by simply dialing the number you have stored as "ICE".
Please advance this idea by sending it to your loved ones. It won't take too many "forwards" before everybody will know about this. It really could save your life, or put a loved one's mind at rest.
For more than one contact name simply enter ICE1, ICE2 and ICE3 etc.
A great idea that will make a difference!


Several suggestions:
* Make sure the person whose name and number you are giving has agreed to be your ICE partner
* Make sure your ICE partner has a list of people they should contact on your behalf - including your place of work
* Make sure your ICE person's number is one that's easy to contact, for example a home number could be useless in an emergency if the person works full time
* Make sure your ICE partner knows about any medical conditions that could affect your emergency treatment - for example allergies or current medication
* Make sure if you are under 18, your ICE partner is a parent or guardian authorised to make decision on your behalf - for example if you need a life or death operation
Should your preferred contact be deaf, then type ICETEXT then the name of your contact before saving the number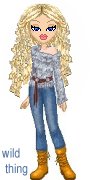 Wild Thing's comment........
Two years ago I got an email about this and sent it out. Now it has been brought up again which is good.
Posted by Wild Thing at August 3, 2007 12:40 AM
---
Comments
Posted by: Lynn at August 3, 2007 04:27 AM
---
... what about ice cubes, Iceland, cherry flavored water ice and icing the puck?
Posted by: darthcrUSAderworldtour07 at August 3, 2007 06:03 AM
---
This is good advice, I've already sent it to all I know. Thanks WT.
Posted by: Jack at August 3, 2007 01:38 PM
---
Glad you all like it, Nick and I both have it on our cell phones. It does make me feel better.
Darth, hahhaa you are so funny. heh heh
Posted by: Wild Thing at August 4, 2007 12:26 AM
---
WT... Wasn't Nick in Dean Martin's classic 'The Silencers' where he battled Deano's ICE agents? I miss those braless tank top - mini skirt - go go boot days Chrissie! I miss Raquel Welch & Ann Margaret as well.... real beautiful classy ladies that went with you and Bob Hope to visit our troops and airmen in Vietnam over the Christmas holidays. God bless you all for doing so and Frohlich Weihnachten!
Posted by: darthcrUSAderworldtour07 at August 4, 2007 06:56 AM
---
Hi Darth yes he sure was. I miss the old days too, I do love living and every day to be alive but the stars of yesterday were bigger then life. Jimmy Stewart, John Wayne so many of them are missed. I was asking Nick a couple of days ago if he thought Ann Margaret still rode her mototcycle. He said she might be, we are pretty active and she always stayed active too. Just that accident, that fall she had that time in Las Vegas on stage messed her up for a long time. I hope so, I love to think of them all being happy and enjoying life. Ann is a special person and truly loves our troops.
Thank you Darth. ((hug))
Posted by: Wild Thing at August 4, 2007 09:47 AM
---