« In County With Our Troops ~Iraq Various Bases | Main | I love this ~ Insurgent is targetted after planting IED »
August 01, 2007
Helen Thomas Wanted to Be Rumored as 'JFK's Lover'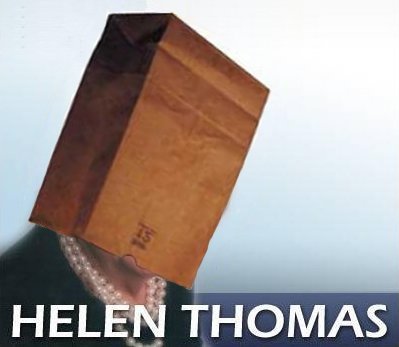 Helen Thomas 'Miffed' at Doonesbury, Wanted to Be Rumored as 'JFK's Lover'
Helen Thomas, the Hearst columnist and long-time scourge of Republican presidents as UPI White House correspondent, was "miffed" at Doonesbury cartoonist Garry Trudeau because he joked that the rumors were that she was Harry Truman's lover:
"I wish he'd said I was Jack Kennedy's lover," said Thomas, who began covering the White House when President Kennedy took office in January, 1961.
Thomas, who will celebrate her 87th birthday next month, left UPI in 2000 and now writes a syndicated column for Hearst Newspapers.
Describing the Bush administration, Thomas said it's "running on empty and heading for collapse." She added that the "invasion and occupation of Iraq -- which didn't attack us -- was illegal, immoral, and unconscionable. George W. Bush struck a match inflaming the whole Mideast, and no one has laid a glove on bin Laden."
Thomas also blasted secret overseas prison sites and Guantanamo, noting: "Detainees have been denied the right to appeal -- a right that only goes back to the Magna Carta." One result? "The U.S. is now the most despised nation in the world," she said.


Wild Thing's comment.........
JFK thinking......."Decisions, decisions. Sex with Helen Thomas or Marilyn Monroe"
Posted by Wild Thing at August 1, 2007 12:50 AM
---
Comments
Bad image!
Helen Thomas and JFK?
I don't think so.

Posted by: Lynn at August 1, 2007 05:11 AM
---
Yeah, Lynn's right, even with a blond wig Hellen wouldn't even look like Marylyn, ... Trigger maybe but not Marylyn.
As far as touching Bin laden, we never got Adolf either
Posted by: Mark at August 1, 2007 08:11 AM
---
No one has laid a glove on bin Laden but then, he has to live in caves and holes in the ground.
Bin Laden is an expert in escape and evasion. He was trained by the best in the world, our CIA, when he fought against the Russians.
Shoot, I don't think Truman would have touched her with a 10 foot pole.
Posted by: BobF at August 1, 2007 09:41 AM
---
Maybe she had an affair with the Caveman's great grandaddy, but JFK had many better choices than Helen Ugh Thomas.
Posted by: TomR at August 1, 2007 11:19 AM
---
Maybe she's confused, (again). Bill Clinton, yes, he has no morals. JFK, no, his morals weren't any better but he was a better connoisseur, besides he can't defend his 'honor'. Imagine after a drunken night out of waking up and having to gnaw your arm off to get away from Helen, and that voice!!!. She's my image of what the legendary troll looks like.
Posted by: Jack at August 1, 2007 11:46 AM
---
And all this time, I thought that Helen Thomas and Janet Reno were a thing...
Posted by: DD2 at August 1, 2007 03:22 PM
---
When did this woman's divorce from reality become final?
Posted by: Trish at August 1, 2007 04:25 PM
---
Jack
I remember a song, ' all the girls look better at closing time', this had to be written about all the ones like Ms.Helen Thomas. or the One 'I am married to a waitress and I don't even know her name.'
But even drunk, I mean you really got to be pretty damn drunk for her to start looking good. That is just distasteful to even think about. She is like the ugly dog , so ugly you have to comb the hair over his face paint his butt with a face and make him walk backwards.
Almost like a baby elephant ... Ah naw, I won't
go there.
Trish, LOL good one.
Posted by: Mark at August 1, 2007 09:43 PM
---
LMAO you all are such fun. I love reading your commnets, your humor, your takes on this.
OMG..............ROTFL
Posted by: Wild Thing at August 2, 2007 12:06 AM
---
... she would be a natural IN a hearse! Is one bag enough? Burkas are made for Helen Thomas. - Cabbage Patch Look Alike 2007
Posted by: darthcrUSAderworldtour07 at August 2, 2007 01:15 AM
---
HI Darth, haha I can just imagine her in a burka. OMG the new Cabbage patch like you said. LOL
Posted by: Wild Thing at August 2, 2007 04:57 AM
---
She writes for Hearst. Marriage made in Hades. Hearst was a whiner during the Iwo landing.
Posted by: raz0r at August 2, 2007 08:04 PM
---