« Break Girl John Edwards Slams Hillary About Corruption | Main | Kucinich Complains About ABC News »
August 24, 2007
Dems Seeking 'Bumper Sticker' Campaign Slogan ~LOL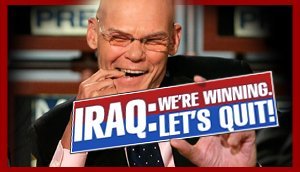 Democrats Seeking 'Bumper Sticker' Campaign Slogan
August 23, 2007
CNSNews.com
The Democratic Senatorial Campaign Committee (DSCC) has announced a campaign to find the "bumper sticker slogan" that will carry it through the 2008 elections. The slogan also will appear on the DSCC Web site and campaign literature.
"We need a turn of phrase that really jumps out and tells you right off the bat what this election is all about," said James Carville in a message to Democrats.
Carville is credited with the famous phrase, "It's the Economy, Stupid," which apparently propelled the Clinton campaign to victory in 1992. (Less well known was the 1996 phrase, "Had Enough?")
In a message to DSCC supporters on Thursday, Carville said sometimes the best ideas come from people outside Washington. "Heck, come up with something good enough, I'll risk my own safety and put it on my wife's car," Carville said. (His wife Mary Matalin is a Republican and a former aide to Vice President Dick Cheney.)
The DSCC, a group that works to elect Democrats to the Senate, is urging Democrats to vote on its four suggestions -- "or create one of your own by midnight August 27."
The DSCC's suggestions include "W Is Out: Send the Right Wing With Him," "No Republicans Left Behind in D.C.," "What Have Republicans Done for You Lately," and "2006 Was Just the Beginning: More Dems in '08."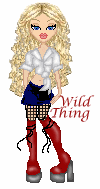 Wild Thing's comment........
Well let's see, how about the current slogan, "Death to America"? That is how they act and talk and work for.
"Hating America, One Liberal At A Time"
Or they could keep it simple for the simple minded - "WE'RE IDIOTS!!"
"Get Free Stuff!"
"We Suck!"
"Scrape the bottom....vote for Rodham!"
"In your guts, you know we're nuts."
Posted by Wild Thing at August 24, 2007 12:47 AM
---
Comments
1. THE DNC IS THE PARTY OF AL-QAEDA 2008
2. THE DNC BLEW IT IN 2000 & 2004 LIKE MONICA DID!
3. BILL CLINTON - OUR ONLY TWO TERM PREZ SINCE FDR & WW II!
4. The DNC - the party of Stainmaster & Scotch Guard
5. DNC = Disgusting Nuts & Cowards 2008
Posted by: darthcrUSAderworldtour07 at August 24, 2007 04:07 AM
---
Read our lips--MORE new taxes!
Taxing you to pay for big government.
Sellouts since the end of WWII.
DNC in 2008--Why not? Because it's stupid, that's why not!
DNC-Dumb Noodleheaded Communists
Keeping you on the public dole for your own protection.
You Can't Have that.

Posted by: Lynn at August 24, 2007 07:59 AM
---
How about just a blank bumper sticker signifying that there is no substance to the Dems.
Posted by: TomR at August 24, 2007 11:15 AM
---
This vehicle makes wide left turns.
Nutjobs On Board.
Have you hugged an Illegal Alien today.
If you can read this, you're smarter than I am.
Fire can't melt steel.
This is a stickup.
Muslims are not bad but what they're doing is bad.
Democrats for bush, vote Hillary.
Terror attacks promote municipal redevelopment. Vote Democrat.
Save gas, fight them here so we don't have to fight them all the way over there.
Lying is great in 2008. Vote democrat.
Posted by: Billy at August 24, 2007 11:50 AM
---
You are all awesome and such fun. Thanks for joining in with your suggestions.
Hahahahahahahhaahahahahahaha
Posted by: Wild Thing at August 25, 2007 12:00 AM
---
... fun? We aren't joking WT for these ARE their LEFT bumper stickers! I forgot WE SUPPORT THE TROOPS AND AL-QAEDA, and WE SUPPORT THE SPAGHETTI BUT NOT THE MEATBALLS, and PELOSI PUSSIES INC. 2008 !!!
Posted by: darthcrUSAderworldtour07 at August 25, 2007 06:43 AM
---
Darth, good ones! heh heh
Posted by: Wild Thing at August 25, 2007 11:37 PM
---
Here's one more--Tired of the Abuse? Vote Republican 2008! (hee-hee!)
Posted by: Lynn at August 26, 2007 08:34 AM
---