« Come To Mexico - LOL | Main | In County With Our Troops ~Iraq Various Bases »
August 01, 2007
Ally Of al-Qaida Terrorist Admits To Conspiracy In Mall Plot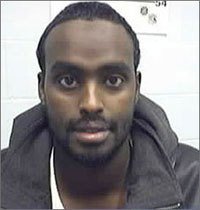 Ally of al-Qaida terrorist admits to conspiracy in mall plot
COLUMBUS, Ohio (AP)
A Somali immigrant the government says plotted to blow up an Ohio shopping mall pleaded guilty Tuesday to one count of conspiring to provide material support to terrorists.
Nuradin Abdi, 35, entered his plea before U.S. District Judge Algenon Marbley a week before the expected Aug. 6 start of his trial. He answered each of the judge's questions with a quiet, 'Yes, Your Honor.'
Under a plea deal, Abdi is expected to receive a 10-year sentence on the count, which carries a maximum penalty of 15 years. Three additional charges were dropped in exchange for the plea.
The Justice Department accused Abdi of suggesting the plan to attack an unidentified Columbus shopping mall during an August 2002 coffee shop meeting with now-convicted al-Qaida terrorist Iyman Faris and a third suspect, Christopher Paul.
Faris is serving 20 years in a maximum-security federal prison in Florence, Colo., for his role in an al-Qaida plot to destroy the Brooklyn Bridge. Faris scouted the bridge and told al-Qaida its plans wouldn't work, court papers have said.
Federal agents arrested Abdi the morning of Nov. 28, 2003, the day after Thanksgiving, out of fear the attack would be carried out on the heavy shopping day. He was arrested at 6 a.m. while leaving his Columbus home for morning prayers.
Prosecutors say Abdi gave stolen credit card numbers to a man accused of buying gear for al-Qaida, and lied on immigration documents to visit a jihadist training camp.

Wild Thing's comment........
I don't get why the plea deal should be necessary. Can't they find a jury that would convict this guy, I mean good people that love America and would send this guy away to prison instead of lawyers and the judge making plea deals.

Posted by Wild Thing at August 1, 2007 12:44 AM
---
Comments
Probably thinking they couldn't find a partial jury, so some liberal pantywaste judge gives him basically a slap on the wrist.
Conspiracy, to me, is the same as treason, and should be treated the same.
Death by firing squad.

Posted by: Lynn at August 1, 2007 05:14 AM
---
Somali immigrant, stolen credit cards, bomb plots. Why are we allowing immigrants from moslem terrorist producing countries?
He should have received a life sentence. I hope they at least got some good intel from him on other Somali terrorists. There was no mention of deportation after his sentence is completed.
Posted by: TomR at August 1, 2007 11:29 AM
---
Can't argue with your logic Lynn, I'd willingly pull the trigger myself. Maybe while he's in the crowbar hotel, he'll get frequent visits from Bendover Bob and an eventual shank that he deserves. Having worked with ex-cons, I know that not all prison inmates like a rat bastard traitor either.
Posted by: Jack at August 1, 2007 12:01 PM
---
Sometimes plea deals mean that the defense attorney gets more bucks.
Posted by: Always On Watch at August 1, 2007 09:35 PM
---
Lynn I agree all that was is a slap on the wrist and to me too what he did is the same as treason.
Posted by: Wild Thing at August 2, 2007 12:18 AM
---
Tom, it is a mess isn't it. So much for true justice.
Posted by: Wild Thing at August 2, 2007 12:19 AM
---
Jack I was hoping that could happen. That some of the prisoners let this guy know what they think of someone like this.
Posted by: Wild Thing at August 2, 2007 12:22 AM
---
Always On Watch, thank you I didn't know that.
Posted by: Wild Thing at August 2, 2007 12:23 AM
---