« Chinese Helicopter Unit Flies to Russia For Military Drill | Main | Hates The Military So 42 Tires Slashed At Army Recruiting Office »
July 31, 2007
Our Prayers For Justice Roberts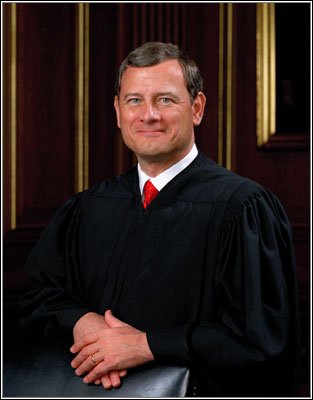 WASHINGTON (AP)
Chief Justice John Roberts suffered a seizure at his summer home in Maine on Monday, causing a fall that resulted in minor scrapes, Supreme Court spokeswoman Kathy Arberg said.
He will remain in a hospital in Maine overnight.
"It's my understanding he's fully recovered, said Christopher Burke, a spokesman for Penobscot Bay Medical Center, where Roberts was taken.
Roberts, 52, was taken by ambulance to the medical center, where he underwent a "thorough neurological evaluation, which revealed no cause for concern," Arberg said in a statement.
Roberts had a similar episode in 1993, she said.
Doctors called Monday's incident "a benign idiopathic seizure," Arberg said. The White House described the January 1993 episode as an "isolated, idiosyncratic seizure."
A benign seizure means that doctors performed an MRI and other tests to conclude there was no tumor, stroke or other explanation.
In addition, doctors would have quickly ruled out simple explanations such as dehydration or low blood sugar.
By definition, someone who has had more than one seizure without any other cause is determined to have epilepsy, said Dr. Marc Schlosberg, a neurologist at Washington Hospital Center, who is not involved in the Roberts' case.
Whether Roberts will need anti-seizure medications to prevent another is something he and his doctor will have to decide.
Wild Thing's comment........
My prayers are with Justice Roberts. America needs him.
Posted by Wild Thing at July 31, 2007 02:44 AM
---
Comments
Yes. this is a very scary medical condition.
To not know when your next seizure will happen is
just an awful feeling.
I have a sister with epilepsy. I have seen the seizures first hand. It's not pretty and one might think it's embarassing, but when it's family, you can look past the stares of passersby, so yes, I prayed for Justice Roberts.

Posted by: Lynn at July 31, 2007 04:30 AM
---
This will put some restrictions on his lifestyle, but it should not interfere with his abilities on the SCOTUS. We conservatives certainly need him as he has remained a stable conservative.
Posted by: TomR at July 31, 2007 06:19 AM
---
Seems like a nice guy. Shame this had to happen to him.
How much you want to bet the lefties were full of glee?
Posted by: raz0r at July 31, 2007 12:24 PM
---
I agree Razor but I'm not going over to the KOZ to find out. My prayers go out to Justice Roberts and his family, I hope the physicians have the proper medications for his condition.
I too have seen epilepsi up close and it's scary to watch. Once I came upon a girl unconscious in a snow bank near my daughters school, I ran to the office for help, one of the aids came back with me and said "yeah she's an epileptic and does this all the time". It was 32f below that morning and they offered no help to get her into a warm shelter. To me that was the scariest part of that incident.
Posted by: Jack at July 31, 2007 01:37 PM
---
Well I will be my ever cynical self,. The left is going to have a field day with this. And like everything else that Bush has done, this was one of his better moments, so I think we can look forward to the left chastising the idea of Justice Roberts staying on the court. Afterall, all conservatives are demented, this will just add fuel to their fire.
Posted by: Mark at July 31, 2007 09:43 PM
---
Lynn I am so sorry your sister has it.
Your right, some people stare and some want to help, Nick and I were at a Dodger game and the man in front of us had a seizure, all of us around him did whatever we could to help. I felt so badly for the man, but more then anything I wanted him to know not to be embarassed by his having a seizure.
Posted by: Wild Thing at July 31, 2007 11:56 PM
---
Tom, I think so too, there will probably be a few restrictions but nothing to keep him from doing what he does.
Posted by: Wild Thing at August 1, 2007 12:01 AM
---
razOr I bet the lefties started to attack him immediately. They are such horrible people.
Posted by: Wild Thing at August 1, 2007 12:02 AM
---
Jack that is so scary and how awful that did not help her to get her into a warm place.
Posted by: Wild Thing at August 1, 2007 12:05 AM
---
Mark, well I agree, the left will use this and maybe even try to have Roberts step down who knows. sheesh I hate the left, actually more then the terrorists, I could propbably shoot a terrorist and not go to jail, but.... if I shot a leftie I would be behind bars with Big Bertha YIKES.
Posted by: Wild Thing at August 1, 2007 12:09 AM
---
I HAVE HAD EPILEPSY SINCE 1982. THERE ARE PROBLEMS BUT THE ONLY MAJOR THING IS I CAN'T DRIVE. I HAVE A UNDERSTANDING BOSS WHO WORKS WITH ME ABOUT NOT BEING ABLE TO COME TO WORK ALL THE TIME. MR.ROBERTS HAS THE CONNECTIONS TO GET A CAR SERVICE (IF HE BECOMES UNABLE TO DRIVE). I ALSO HAVE SOME MEMORY PROBLEMS BUT IN A COURT EVERTHING IS WRITTEN DOWN ANYWAY. MY POINT IS SHOULD THE LEFTIES TRY TO GET HIM TO STEP DOWN, THEY COULD GET INTO BIG TROUBLE. IT COULD BE PERCIVED AS DISCRIMANATION, AND WE ALL KNOW HOW THAT WOULD LOOK
Posted by: SOUTHERNBELLE74 at August 1, 2007 10:40 AM
---