« Dog's Against Romney | Main | White House Debate Is Rising on Iraq Pullback »
July 09, 2007
National Guard Soldiers Patrol Qarabagh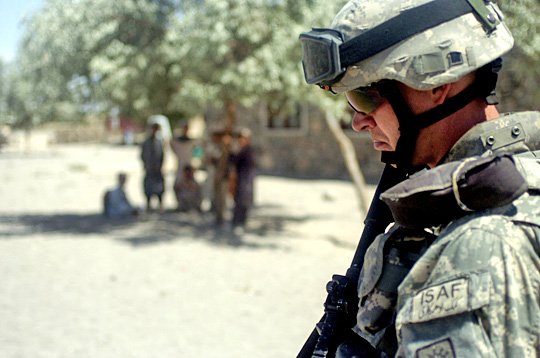 U.S. Army Sgt. Paul L. Wilkerson, a forward observer with Battery A, 2nd Battalion, 138th Field Artillery Regiment, Kentucky National Guard, pulls security at a school in Mushkay, Afghanistan, June 15, 2007. The unit stopped there during a mounted patrol in the Ghazni province. Army photo by Sgt. Jim Wilt

By U.S. Army Sgt. Jim Wilt
Combined Joint Task Force-82 Public Affairs Office
QARABAGH, Afghanistan, July 2007
"Get down! Get down! Get down!," yelled Air Force Master Sgt. Jason Davis, an explosive ordnance disposal technician, seconds before shrapnel started raining down on the soldiers and bouncing off their Humvee.
"I pray every time I go out. I pray every night when I lie down."
U.S. Army Spc. Greg A. Race
A day earlier, if not for the warning of a local farmer, the soldiers' truck would have struck the double-stacked antitank mine.
The warning enabled the soldiers to stop before they hit the mine and safely dispose of it possibly saving their lives and the lives of farmers and children working in the area.
Soldiers from Battery A, 2nd Battalion, 138th Field Artillery Brigade, Kentucky National Guard, were conducting a mounted presence patrol in a village outside Qarabagh when they were warned about mines in the area June 14.
"God is watching over us," said U.S. Army Spc. Greg A. Race, an artilleryman with Battery A.
Unfortunately the convoy coming to destroy the mines didn't receive the same warning before they hit a mine on the same road less than a kilometer from the halted patrol. They hit the mine just hours after the first mine was discovered.
The troopers credit the farmer with keeping a bad situation from getting worse.
"Most likely we would have hit that one and they would have hit the other one when they came in to get us," Race, a native of Piner, Ky., said.
It also shows the impact the troopers are having in an area where people have been scared into silence by the Taliban.
"A farmer stopping and telling you there is something in the road shows we're having an effect on the area," Race said.
The Guardsmen have been patrolling in the area since they arrived here in March.
Their squad leader, U.S. Army Staff Sgt. Matthew Linneman, said they had patrolled the same road just days earlier.
The artillery unit, which is acting as military policemen, has been conducting mounted patrols because "more people see you out and about in the area," Race said.
Most of the soldiers in the unit prefer a mounted patrol despite the dangers of mines and improvised explosive devices.
"The armor [on the trucks] works," said U.S. Army Spc. Steven M. LaFever, a track mechanic and native of Louisville, Ky.
Race also sees several advantages to having vehicles during patrols such as having armor, crew-served weapons, and the ability to cover a lot of ground in a short period of time.
"We cover more ground," he said. "We see a lot more faces."
Though the men of Battery A have armored vehicles, they don't always use them. They are not afraid to get out of the armor and put a little wear on their boots. During their mounted patrols they stop to talk with the people, investigate suspicious activity and check on reconstruction projects in the area.
Despite the advantages of patrolling in vehicles, the men also know the dangers.
"I pray every time I go out. I pray every night when I lie down," Race said.
Whether mounted or dismounted, Race sees risk.
"I'm a big believer that if it's your time, it's your time," he said. "I've been like that forever."
Posted by Wild Thing at July 9, 2007 03:47 AM
---
Comments
I love our National guardsmen and reservists. What a great job they are performing.
This is in stark contrast to the National Guard during Vietnam. Then, LBJ all but promised the Guard would not be deployed for duty in Vietnam. The Guard became a haven for draft-dodgers seeking to avoid going to combat. In many Guard units it took political connections and bribary to get a slot. A disproportionate number of todays political office holders were in the Guard during the 60's and 70's even though the Guard was much smaller in number than the regulars. Then, as soon as the War and the Draft ended, these "patriotic warriors" quit the Guard. I still act with sarcasm and some hostility when some guy mentions his NG status during Vietnam.
Today's National Guardmen, and women, sacrifice every bit as much as our professional Regulars and they do their job just as well. For a while they did not get the benefits that active duty people received, especially if they became a casualty. I hope that has changed, completely. God Bless our National Guard and Reserves.
Posted by: TomR at July 9, 2007 05:26 AM
---
... so we're surrounded by Syrians, Iraniacs, Turks, Saudis, Hamas, Al-Qaeda, Hezbollah and 'Death to America' insurgents from other third world countries... and anti-American chants from Americans and the Europeon Union...
and we have to fight by rules when the radical islamos do not... sounds like the SURGE could work... Didn't our Vietnam Vets see this crap before prior to President Nixon getting elected and bombing Hanoi into submission with ARC LIGHT'S B-52 strikes? Still a superpower 2007?
Posted by: darthcrUSAderworldtour07 at July 9, 2007 05:27 AM
---
During my wanderings, I have served with, or met, many National Guard Men and Women. They are great, knowledgeable, honorable and are true Warriors of OUR Nation.
Also, I admire that U.S. Army Spc. Greg A. Race, Artilleryman, Battery A (and others) have brought G_d and prayer into his life and cicumstances. G_d Bless and watch over them all.
SSgt Steve, USMC
"Whatever you do, you need courage. Whatever course you decide upon, there is always someone to tell you that you are wrong. There are always difficulties arising that tempt you to believe your critics are right. To map out a course of action and follow it to an end requires some of the same courage that a soldier needs. Peace has its victories, but it takes brave men and women to win them." Ralph Waldo Emerson
Posted by: Steve Gaston at July 9, 2007 09:56 AM
---
Thank you WT. These soldiers may not be the elite soldiers that the media seems to concentrate on but they bleed red just the same. Once they have been activated they join the same realm as the regulars, incur the same risks and casualties, walk the same patrols, suffer the same hardships and traumas as the regulars, because they are regulars. Their armories and reserve centers are far behind them, they became regulars when their units were activated, they carry on the citizen soldier heritage as professional soldiers. The career they have chosen is more uncertain than the regular enlistee who can rest assured that they will be deployed at anytime, whereas the Guard and Reserve have their regular lives uprooted, their families torn apart, their civilian jobs put on hold or even lost, just so they can serve, they do this repeatedly and willingly. They are awesome!!!
Great quote Steve Gaston. Thank You.
Posted by: Jack at July 9, 2007 11:56 AM
---
Tom thank you so much, great comment about the National Guard and Reserves.
Posted by: Wild Thing at July 9, 2007 11:30 PM
---
Darth yes they sure did your right.
Posted by: Wild Thing at July 9, 2007 11:33 PM
---
Steve, wonderful, thank you.
Posted by: Wild Thing at July 9, 2007 11:34 PM
---
Jack your right, I have known a few and that is just how it is for them. Thank you.
Posted by: Wild Thing at July 9, 2007 11:36 PM
---