« Democrat Presidential Candidates In First Ever Gay Debate | Main | "Feelings, wo-o-o feelings" ~ Chertoff Sings From His Gut »
July 12, 2007
In Country With Our Marines 3rd Battalion, 1st Marines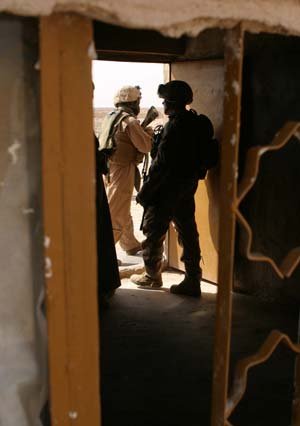 Marines from Weapons Company, Battalion Landing Team, 3rd Battalion, 1st Marine Regiment, search a home during Operation CHINA SHOP 2. The operation, conducted over four days from July 5-8, was aimed at gathering census information in the rural areas north of Kharma, along with seeking and destroying enemy weapons caches and logistic points.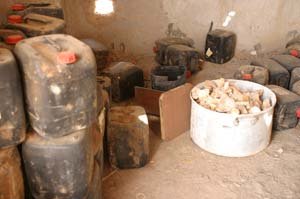 Jugs of nitric acid were found at many homemade explosives factories uncovered during Operation CHINA SHOP 2. Marines from Battalion Landing Team, 3rd Battalion, 1st Marine Regiment, conducted methodical searches during the operation.

BLT 3/1 wraps up CHINA SHOP 2
By Sgt. Andy Hurt, 13th MEU
NEAR KARMAH, Iraq (July 11, 2007)
Units from Battalion Landing Team 3rd Battalion, 1st Marines, concluded counter-insurgency Operation CHINA SHOP II July 8 in Al Anbar province here.
The battalion, serving as the Ground Combat Element for the 13th Marine Expeditionary Unit, continued census surveys and carried out sweeps and methodical searches for weapons caches beginning July 5.
In the course of 96 hours, elements from the battalion, including India and Weapons companies and Light Armored Reconnaissance assets, covered more than 400 square kilometers north of Karmah, sniffing out numerous weapons caches, explosives factories and Improvised Explosive Devices.
Among the explosives-making factories, large quantities of nitric acid, ammonium nitrate and chlorine were discovered. Raw homemade explosive materials totaled nearly 30,000 pounds. Artillery shells, rifles and mortar rockets were also uncovered by the battalion. All munitions were reduced in place by Combat Logistics Battalion 13 Explosive Ordnance Disposal technicians.
The operation has been dubbed a success by unit commanders. "The incidents with IEDs are definitely being reduced in surrounding areas," said 1st Lt. Mike Geiger, a platoon commander from Weapons Company, BLT 3/1. "We're exploiting logistics areas, places where insurgents bed down, and taking away their safe harbor here."
In addition to taking away enemy accelerants, BLT 3/1 has also been tasked with a census operation, allowing the opportunity to speak with local populace, a piece of the war traditionally known as "hearts and minds."
"We talked to one farmer and told him we were going to be around for a few days," said Geiger, "and he said 'Thank God.'"
Geiger described the rising dangers for locals here, as insurgents conduct illegal checkpoints, hijack consumer goods, and rob civilians along routes. The presence of Coalition Forces here, said Geiger, inhibits such activity.
"The insurgents are conducting 'murder and intimidation' operations, and as long as we're here, they can't do that."
The Fayetteville, N.C. native also submitted the evidence uncovered by the searches as indication that insurgents are continuously utilizing the rural region as staging and recuperating areas.
"In some houses where we found explosives, there were bedrolls, human waste … it's not like we're chasing ghosts here."
Junior Marines conducting aspects of the operation say they felt a lasting positive impact made from a precursor mission, Operation CHINA SHOP.
"Every little thing we did made a difference, taking IEDs out of the hands of the enemy and the 'hearts and minds' stuff," said Lance Cpl. Nick Velasco, a weapons company mortarman and native of St. Paul, Minn.
Velasco, who is on his first deployment here, said he felt a moment of clarity, realizing the importance of coalition presence during CHINA SHOP II.
"During our screening mission for LAR, some guys were able to sit down, actually sit down with a family and just talk with them. One of the guys was arm wrestling with a kid … it just shows they're not afraid of us and know we're here to help them."
Battalion Commander Lt. Col. Phillip Chandler was again pleased with the efforts and success of his Marines under difficult circumstances.
"Marines did a great job going out using an analytical mindset in order to find out where these guys are hiding this stuff," he said. "It's a 'needle-in-a-haystack' type of search."
Looking ahead, Chandler noted the battalion is "beginning to focus efforts on combined operations with the Iraqi Army."
Posted by Wild Thing at July 12, 2007 12:47 AM
---
Comments
BLT 3/1
If there is any justice, those Marines should be allowed to have a picture of a pig, between to pieces of bread and lettuce, with an tomato in the mouth as a patch. At the least ti should be painted on everything they ride in.
And good hunting to them.
Posted by: raz0r at July 12, 2007 08:39 PM
---
Posted by: Wild Thing at July 12, 2007 11:05 PM
---
Hello
Libra Television (UK based) would like to request permission to show a photo from your website in an education programme they are making for Teachers TV (www.teachers.tv) about the teaching of Islam in English Schools. The link is:
http://www.theodoresworld.net/pcfreezone/Islam_Is%20NOT_a%20Peaceful_religion_it_is_a_DEATH_Cult.jpg
The photo would be on screen for 5 seconds maximum. We would be really grateful if you could contact us as soon as possible to let us know whether you grant your permission.
Best wishes
Liz
lizh@libratelevision.com
Posted by: Liz at July 18, 2007 07:55 AM
---