« Kerry accuses Bush Of Trying To Scare Americans About al-Qaida | Main | News About John Doe Protection Amendment »
July 25, 2007
I Love Happy Endings ~ Former Guantanamo Detainee Blows Himself Up
.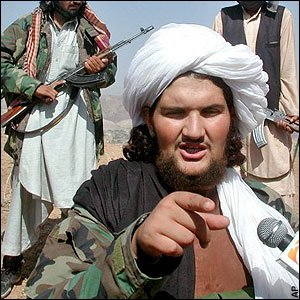 Abdullah Mehsud photographed in 2004
Former Guantanamo detainee blows himself up
Telegraph uk.co
A former Guantanamo Bay prisoner who took up arms alongside the Taliban after he was released from detention has blown himself up to avoid capture, Pakistani security forces said today.
Abdullah Mehsud killed himself with a hand grenade after he was cornered by troops at a house in the south-western Pakistani town of Zhob. He was wanted for the kidnapping of two Chinese engineers in 2004.
"My information is that (he) killed himself," said Atta Mohammed, the head of the police in Zhob. "Thanks be to God that only he was blown up and our men were safe."
Mehsud, 32, was released from the US detention centre in Cuba after two years in 2004 but immediately went back to violence when the Pakistani government began an offensive against the Taliban in the troubled region along the border with Afghanistan.
The one-legged militant was the leader of a group of fighters that kidnapped two Chinese engineers working on a hydroelectric dam project in South Waziristan. Pakistan was forced to apologise to China after one of the hostages died in the subsequent rescue attempt. Mehsud escaped after the incident and has been hunted by Pakistani forces ever since.

Wild Thing's comment........
Yippee!!!!
Liberals that want to close the Guantanamo base, should be forced to host the "guests" in their home and sign a form indicating liability for their "guests".
Posted by Wild Thing at July 25, 2007 12:50 AM
---
Comments
I wonder if he got his virgins--or was that Virginians?
I'll bet he's running around someplace very hot and whining that he was mislead by his religion.
Too late now.
Bye-bye and thanks for playing the game--you lose.
Next?
Posted by: Lynn at July 25, 2007 06:16 AM
---
A good Abdullah is a good Abdullah.
I wonder how much each enemy detainee in Guantanamo costs us to hold. Maybe if each one was given a grenade, the cost would go down dramatically.
Posted by: TomR at July 25, 2007 07:12 AM
---
FANTASTIC!! It spares us the cost of housing, food, and health care for this swine.
Posted by: BobF at July 25, 2007 08:51 AM
---
One down, many more to go!!! Has anyone put a suicide watch on Biden and Schumer? Oh never mind, forget I mentioned that!!!
Posted by: Jack at July 25, 2007 01:34 PM
---
Holy shiite! For real? As UGLY as these islamomaniacs are, I'm beginning to feel sorry for the 72 virgins! - The religion of bits and pieces
Posted by: darthcrUSAderworldtour07 at July 25, 2007 10:19 PM
---
What a heart warming story. I'll sleep well tonight.
Posted by: raz0r at July 25, 2007 11:28 PM
---
Posted by: Wild Thing at July 26, 2007 01:26 AM
---
Tom great idea.

Let's see, serve them their meal, and on their tray a nice grenade.
Posted by: Wild Thing at July 26, 2007 01:29 AM
---
Darth, heh heh yes it is for real and very good news. haha
I agree I like it when it their bits and pieces.
Posted by: Wild Thing at July 26, 2007 01:31 AM
---
Bob I agree, I wish this would happen more often.
Posted by: Wild Thing at July 26, 2007 01:33 AM
---
Posted by: Wild Thing at July 26, 2007 01:34 AM
---
Posted by: Wild Thing at July 26, 2007 01:39 AM
---