« For Some Fun With The Communist Witch Hillary | Main | Nam Vet Russ Vaughn On Liberals And The War »
July 29, 2007
Checking In With Our Troops ~ Thank you All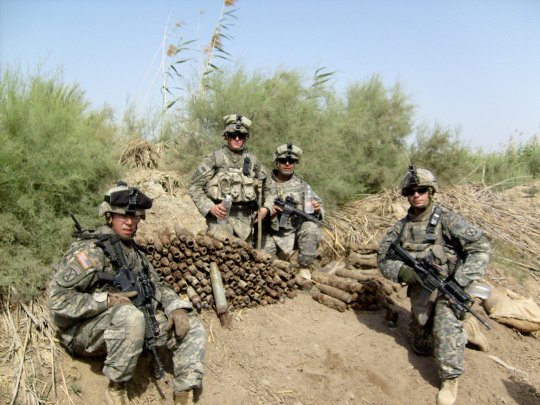 Soldiers of Company D, 4th Battalion, 31st Infantry Regiment, 2nd Brigade Combat Team, 10th Mountain Division (Light Infantry) out of Fort Drum, N.Y., pose for a photo with a cache of weapons they unearthed after several local citizens near Patrol Base Inchon chased away anti-Iraqi forces from the cache and told U.S. forces about it. The cache was full of explosives. Courtesy photo.
Local residents lead Soldiers to huge weapons cache
2nd BCT, 10th Mtn. Div. (LI) PAO
PATROL BASE INCHON — The rural areas south of Baghdad have long been a trouble spot for Coalition Forces. The fertile land was given by Saddam Hussein to Baath Party members and close friends, and the ties made it a hotbed of terrorism.
Increasingly, however, residents are combating terror in their areas.
On July 23, a local Iraqi man came to Patrol Base Inchon, near the Euphrates River, staffed by Company D, 4th Battalion, 31st Infantry Regiment, 2nd Brigade Combat Team, 10th Mountain Division (Light Infantry) out of Fort Drum, N.Y., and elements of the 4th Battalion, 4th Brigade, 6th Iraqi Army Division. He told troops that several other residents had chased a group of anti-Iraqi forces away from a weapons cache. He asked Soldiers to remove the weapons.
Several local residents guarded the cache and placed a fluorescent marking cloth to alert helicopters that they were not hostile.
Soldiers of Company D moved out to find the cache and were met on the road by some of the local residents, who guided them to the cache, which was next to a canal.
The cache contained 210 57mm rockets, 25 82mm rockets, eight 120mm mortars, a large rocket, and a bag of homemade explosives.
An explosive ordnance disposal team detonated the contents of the cache with a controlled explosion.
Although most rockets and mortars found in caches are not suitable for firing as intended, they are commonly used as improvised explosive devices.
"It's a significant breakthrough in one of our most problematic areas," said Maj. Kenny Mintz, 2nd BCT's operations officer. "We have had a series of people turn in caches in the Qarghuli tribal area, which has historically been a source for supplies for IEDs and munitions for terrorist attacks."
Mintz, a San Diego native, said he feels the change in residents' behavior is due to a realization that al Qaeda and other terrorist organizations are not what they had bargained for.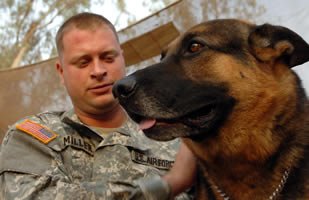 MUQDADIYA, Iraq -- A group of Soldiers need to clear a tall, dark building, possibly housing terrorists in the city of Muqdadiya, just north of Baqouba, Iraq. The Soldiers have received reports of booby-traps in the area and are unsure if the building itself is a trap. What are they to do? This is where the Soldier's four-legged friend, Nero, comes in.
Nero is a military working dog serving with Staff Sgt. Zeb Miller, his handler, at Forward Operating Base Normandy, in support of Operation Iraqi Freedom 06-08. Nero's job – search the building, its doorway and the surrounding area, making sure no explosives are around to harm the Soldiers trying to clear the building.
With Nero's efforts, and the efforts of many other military working dogs serving in Iraq, Soldiers' lives are being saved everyday.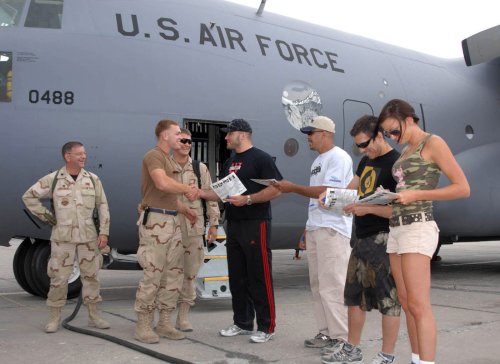 Ultimate Fighting Champions (from left to right) Heath Herring, Jorge Rivera, Kenny Florian and Amber Nicole Miller, the Octagon Girl, greet and sign autographs for the maintenance crews of the C-130 Hercules July 24 at Bagram Airfield, Afghanistan. (U.S. Air Force photo/Senior Master Sgt. Kim Allain)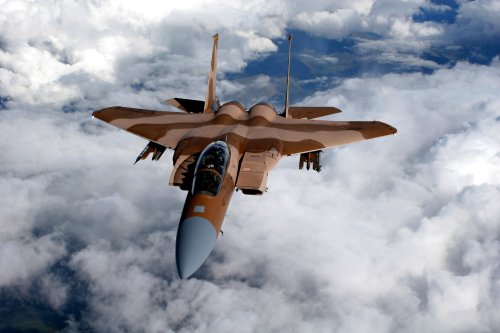 Aggressor at Red Flag Alaska Strike Eagle fully loaded - An F-15C Aggressor from the 65th Aggressor Squadron at Nellis Air Force Base, Nev., flies over a mountain range on a refueling mission at Red Flag-Alaska July 25. Red Flag-Alaska enables aviation units to sharpen their combat skills by flying simulated combat sorties in a realistic threat environment. More than 80 aircraft and 1,500 servicemembers from six countries are participating in the exercise July 12 to 27. (U.S. Air Force photo/Capt. Tana Stevenson)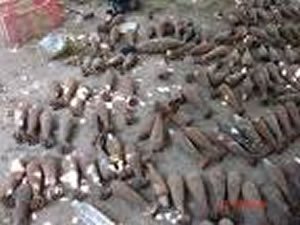 Hundreds of mortar rounds were uncovered by troops from Company A, 2nd Battalion, 23rd Infantry Regiment July 23 in Baghdad%u2019s Rashid District. An explosive ordnance disposal team destroyed the munitions in place. (U.S. Army Photo)
Baghdad troops seized a large cache consisting of mortar tubes, munitions and significant amounts of homemade explosives in the southern portion of the Iraqi capital July 23.
Troops from Company A, 2nd Battalion, 23rd Infantry Regiment, attached to the 4th Infantry Brigade Combat Team, 1st Infantry Division, discovered an 82mm mortar tube, along with 260 82mm mortar rounds, 11 120mm mortar rounds, 120 blocks of homemade explosives amounting to more than 31 lbs., and numerous components for explosively-formed penetrators and other improvised explosive devices in the eastern portion of the Rashid District, near the Tigris River.

"The discovery of today's weapons cache will reduce sectarian indirect fire attacks on both sides of the Tigris River in southeast Baghdad," said Maj. Robert Picht, the 4th IBCT's fire support coordinator and a native of Bergenfield, N.J. "It also sends a strong signal to the insurgents that we will remain vigilant in our pursuits to identify and cut off their supply lines."

An explosive ordnance disposal team destroyed the cache in place after troops cordoned off the area.
Posted by Wild Thing at July 29, 2007 12:47 AM
---
Comments
Posted by: TomR at July 29, 2007 07:30 AM
---
And the surge isn't working? God Bless our troops.
I'd love to see Harry Reid and Jack Murtha's face surrounded by that ordinance just a second before EOD lit it off.
Posted by: Jack at July 29, 2007 03:09 PM
---
Posted by: Wild Thing at July 30, 2007 01:18 AM
---