« For My Friend Vinnie | Main | Veteran Marine Tackles Suspected Bank Robber »
July 14, 2007
Charlie Company Conducts Mounted Patrols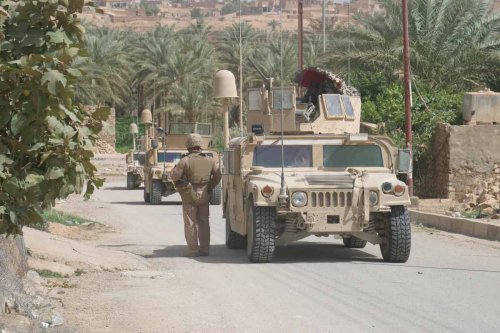 Marines assigned to Mobile Assault Platoon, Charlie Company, 1st Battalion, 3rd Marine Regiment, patrol the city of Haqlaniyah during a mounted patrol

Charlie Company conducts mounted patrols
HAQLANIYAH, Iraq
By Cpl. Rick Nelson, 2nd Marine Division
(July 13, 2007)
Marines assigned to Charlie Company, 1st Battalion, 3rd Marine Regiment, Regimental Combat Team 2, continue to conduct operations throughout Haqlaniyah with ongoing mounted patrols throughout the city.
"Our mission is to keep the main service routes clear and stop locals from smuggling weapons and [improvised explosive device] making material (into the city)," said Sgt. James C. Faraci, platoon sergeant, Mobile Assault Platoon, Charlie Company, 1/3. "We also provide security for dismounted patrols, re-supply check-points and do IED sweeps."
Faraci describes his platoon as the "jack of all trades."
"When we first got here there weren't many people in the streets, now they're everywhere, and a lot of the shops are opening back up," said Faraci, a Brooklyn native. "I think we make it a lot safer for them to move about as they please. The biggest thing is the constant patrols; they are helping out a ton."
Navy Petty Officer 2nd Class Jonathan E. Knotts, corpsman, MAP, Charlie Company, 1/3, said the dismounted patrols help keep the enemy from running free throughout the city.
"They know we're here, which gives the insurgents a lot less room for maneuverability," said Knotts, a Fort Collins, Colo., native.
At any given time Charlie Company will have a mounted unit patrolling in Haqlaniyah, added Faraci.
"We usually do (several) patrols a day," said the 27-year-old Faraci. "So we're outside the wire a lot."
Faraci said the biggest threats for his Marines are the IED's in the area.
"We've been lucky so far with the IED's," he said. "But now we have to worry a lot more about grenades being thrown in the turret and [rocket-propelled grenades] being used."
Although threats in the city remain, Faraci said Haqlaniyah has changed a lot since their arrival in late March.
"When we first got here and I went on my first patrol, I was really knit picky and all I wanted to do was get to know the area to see who's supposed to be there and who's not supposed to be there," Faraci explained. "Now that I know the area I'm still very cautious, but the Marines can just tell if something's not right. If the people shy away and won't talk to us, then we know someone who isn't supposed to be there is around."
Knotts said he's pleased at the rate the deployment is going so far, but it isn't what he expected.
"I was a little unsure, not knowing what I was getting into," said Knotts. "We heard our area was pretty intense, and it was when we first got here but not nearly what I imagined. It's calmed down a lot since then."
Knotts recalled his second day in Haqlaniyah when a grenade landed in the vehicle in front of him during a patrol.
"It was a pretty crazy feeling, but now I know what to expect and can deal with it a lot more," Knotts said.
Although the tempo of hostile actions has slowed down, Knotts said he knows there's always a threat of attacks picking up any day.
"I come back after a convoy and relax and just prepare for the next patrol," Knotts said. "This helps me to stay alert and not become complacent. I realize I have a job as a corpsman to take care of my Marines, and keeping that in mind would keep anyone alert."
Faraci, who deployed to Iraq in 2004, said the thought of the Marines who were killed in action during his first deployment to Iraq is what keeps him going.
"I expected this deployment to be going just like it was in Ramadi in 2004," Faraci added. "I thought we'd be getting attacked all the time, but all I can say is if it stays like this I will be really happy. I just want to get all of my Marines back to their families in one piece."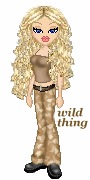 Wild Thing's comment........
Thank you Charlie Company, you are all in our thoughts and our prayers.
Posted by Wild Thing at July 14, 2007 12:40 AM
---
Comments
My prayers for these and all American/allies troops. It seems everything about this war is complicated, even running a simple patrol. I kinda wish we had lobbed a nuke back when.
Posted by: TomR at July 14, 2007 01:03 PM
---
Posted by: Wild Thing at July 14, 2007 11:42 PM
---