« Hates The Military So 42 Tires Slashed At Army Recruiting Office | Main | Moslems Say Factory Could 'Rain Down Pork' »
July 31, 2007
Bill Walsh "The Genius" Passes Away
Bill Walsh, the imaginative and charismatic coach will be missed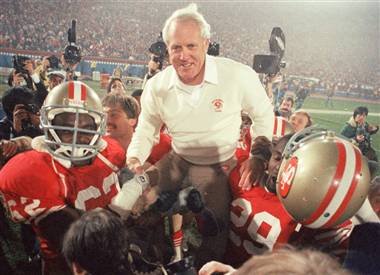 3-time Super Bowl champion coach Walsh dies
msnbc
Bill Walsh, the groundbreaking football coach who won three Super Bowls and perfected the ingenious schemes that became known as the West Coast offense during a Hall of Fame career with the San Francisco 49ers, has died. He was 75.
Walsh died at his Bay Area home early Monday following a long battle with leukemia, according to Stanford University, where he served as coach and athletic director.
Walsh didn't become an NFL head coach until 47, and he spent just 10 seasons on the San Francisco sideline. But he left an indelible mark on the United States' most popular sport, building the once-woebegone 49ers into the most successful team of the 1980s with his innovative offensive strategies and teaching techniques.
The soft-spoken native Californian also produced a legion of coaching disciples that's still growing today. Many of his former assistants went on to lead their own teams, handing down Walsh's methods and schemes to dozens more coaches in a tree with innumerable branches.
He was named the NFL's coach of the year in 1981 and 1984.
Few men did more to shape the look of football into the 21st century. His cerebral nature and often-brilliant stratagems earned him the nickname "The Genius" well before his election to the Pro Football Hall of Fame in 1993
Walsh twice served as the 49ers' general manager, and George Seifert led San Francisco to two more Super Bowl titles after Walsh left the sideline. Walsh also coached Stanford during two terms over five seasons.
In 2004, Walsh was diagnosed with leukemia — the disease that also killed his son, former ABC News reporter Steve Walsh, in 2002 at age 46. He underwent months of treatment and blood transfusions, and publicly disclosed his illness in November 2006.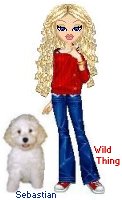 Wild Thing's comment........
This is a man who emphasized intelligence and character above raw athletic ability. He'll be missed. Bill Walsh made himself available whenever possible for community outreach, charity events, and encouraged his players to remember the fans who supported them through the lean years as well. He also had a great sense of humor.
I remember the Niners first Superbowl. Walsh dressed up like a bellman and stood outside the bus as the players came off. Walsh took Montan's bag and it took Montana a couple seconds to realize who Walsh was. It was a great thing to watch.
Prayers for comfort and strength for his family and friends.
Posted by Wild Thing at July 31, 2007 02:48 AM
---
Comments
oh goodness. I remember how wildly popular the 49s were under Walsh. I am so sorry that he is gone, but he is with God, who has found favor with him and his son, right where a father should be.
There aren't many "super" coaches anymore.
He was one of a kind.
Posted by: Lynn at July 31, 2007 04:24 AM
---
Bill Walsh was one of my favorites, a football coach I admired. He was cut from the same cloth as Tom Landry. These men were brilliant football minds who emphasised dignity and class. To them morality was more important than winning. I did not realize Bill Walsh was head coach for only 10 years, but I remember that he was the same class act at Stanford. If only we could have more leaders in sports like Bill Walsh and Tom Landry.
Posted by: TomR at July 31, 2007 06:32 AM
---
Wow. What a shame. He's one of the good ones.
Posted by: raz0r at July 31, 2007 12:20 PM
---
What a shame, there are no more like him.
Posted by: Jack at July 31, 2007 01:09 PM
---
Bill Walsh got into coaching in the 60's with Paul Brown, who was fired by the New Browns new owner Art Modell. Art had a habbit of firing good coaches.
He became Bengals Offensive Coach, then, and Paul Brown was asked if Walsh would make a head coach, and he said no he was too nice or maybe Brown didn't want to lose Bill Wassh. Even Al Davis called Bill Walsh and asked if he could be a head coach, Davis (AFL) never listened to anyone from the NFL, anyway, and Walsh said certainly, but that was never to be.
It wasn't until the late 70's when he was called by the 40 niners that he was considered for a head coaching job of a 2-14 team, that he was suppose to turn around. But it was his insight for talent that made him one of the winningest coaches. Who'd of thought that anyone could draft a quarterback in the 3rd round and turn him into a probowl starter. Especially today, top qb's are drafted within the first 10 picks of the first round. If they are real good they may start right away otherwise they are rated and no.2 or 3, there are exceptions of course. But you can't show me another Montana either. A 3rd round pick that started after a 1 and a half. Under Walsh's guidance.
This was all Bill Walsh, the rest of the organization sort of went along for the ride. That amounted to 5 superbowl wins with the team and the system he created. (george Seifert was the actual coach for two)
Posted by: Mark at July 31, 2007 02:38 PM
---
Thanks for sharing about Bill Walsh.
Posted by: Wild Thing at July 31, 2007 11:31 PM
---