« Every Friday in The Pentagon is Memorial Day ~ Media Won't Tell About This | Main | Charlie Daniels's Latest ~ America The Passive »
June 03, 2007
Rest in Peace, Brave Warrior ~ Rest in Peace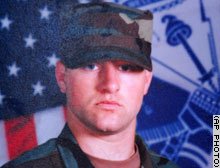 Memorial Service for Joe Anzack, 20, kidnapped & killed in Iraq recently
Votive candles, flowers, messages and other offerings adorn a sidewalk shrine in honor of Army Cpl. Joseph Anzack Jr., including a photo of him in his high school football uniform. Joe was a 20-year-old soldier found dead last week after an ambush in Iraq. There was a public funeral service at his old high school in Torrance, Calif., Friday, June 1, 2007. Joe, a private first class who was promoted to corporal after his death, was to be interred at Arlington National Cemetery. The Army gunner vanished with two other soldiers May 12 when their combat team was ambushed about 20 miles outside of Baghdad.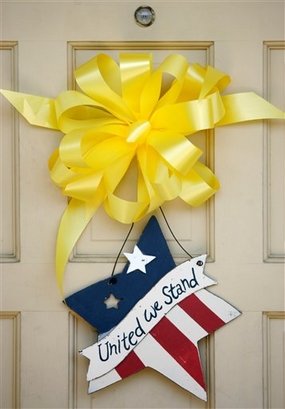 The door of Joseph Anzack's home is adorned with a yellow ribbon and sign that says, 'United We Stand'.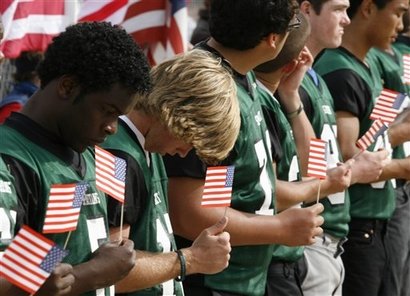 Members of the football team line the way as Cpl. Joseph Anzack's casket arrives at South High Football Stadium in Torrance.
Devin Week, 19, said he was on Anzack's wrestling and swim teams at South High School, and had known him since he was a freshman.
"He wanted to be in the military as long as I've known him," said Week, who met up with the procession in front of Rice Mortuary. "I brought flowers today and said goodbye. Earlier, I was angry at the war. We have no choice but to support it - our good buddies are out there. It's sad that it takes this to make the war real."
Outside South High School, hundreds flooded into the athletic field for the 5:30 p.m. service. Many milled outside, watching from behind a chain-link fence.
Nine-year-old Molly Blank hugged her grandfather, Jim Reinhardt.
"He lived one block from us," said Reinhardt, 79.
David Adams, 21, said Anzack was one class behind him in high school.
"He was a real nice guy, a real intense athlete," Adams said. "Seeing everyone's faces, his dad's face in the limo - it hits pretty hard. I just respect how much he gave for his country."

Wild Thing's comment...........
Thank you, soldier. I'm grateful for your service and sacrifice. I will not forget you.
Posted by Wild Thing at June 3, 2007 12:55 AM
---
Comments
God Bless Anzack's family.
May He hold them in the hollow of his hand, keep them safe and allow them to know the peace that Joe is with him and lighting the way for all of our fallen soldiers.
He was a bright shining leader and has found blessings with God.
Carry on, faithful servant, carry on.
Posted by: Lynn at June 3, 2007 07:03 AM
---
When our soldiers are captured they are tortured then killed. Where is the ACLU, Amnesty Internatl., the lawyers, civil rights demanders, the news media? We treat the moslem terrorists at Gitmo with kid gloves and respect. Yet America is attacked by liberal activists for even having prisoners.
Joseph Anzack's death was barely mentioned. But to me and others he will be remembered as heroic and honorable.
Posted by: TomR at June 3, 2007 01:31 PM
---
Absolutely Right, Tom, also where are the Dirbins and the kennedys and the rest of that swine-shit, that have the audacity to call themselves Americans.
Not one peep out of those traitors.
God bless, all our soldiers.
Posted by: Mark at June 3, 2007 02:20 PM
---
Thank you Cpl. Joseph Anzack Jr. for standing between us and the crazed terrorists. Thank all of the brave soldiers, past and present, that stand on the wall.
It brings me great sorrow to also ask that everyone here to say a prayer for another fallen soldier. Allan Kelly of http://www.barking-moonbat.com/ has passed on. Known as "The Skipper", anyone that has ever read Allan's site will remember his "Lost" posts.
Rest in Peace Skipper and you are cleared to land my friend!
Posted by: Dan at June 3, 2007 02:35 PM
---
Posted by: Wild Thing at June 3, 2007 11:05 PM
---
Tom your so right, everything you said.
Posted by: Wild Thing at June 3, 2007 11:06 PM
---
Mark I agree, they should ashamed of themselves. I am ashamed of all of them for not putting out at least a statement or something.
Posted by: Wild Thing at June 3, 2007 11:08 PM
---
Dan thank you. And thank you for the link. My prayers for his loved ones and family.
Posted by: Wild Thing at June 3, 2007 11:10 PM
---