« ~ Caption Fun ~ | Main | Poll of U.S. Muslims Tells of Suicide Attacks OK »
May 23, 2007
Underwater Warriors / Deeper Waters
Underwater Warriors is a foundation, which provides a powerful alternative of rehabilitation to our wounded soldiers through SCUBA.
This video takes place off the coast of the serene tropical Island of Cayman Brac. You will see the beauty and continued courage of our wounded heroes as they move forward with confidence and wonder in the freedom they find beneath the sea.
You will also see a sculpture of the mythical world of the sunken city of Atlantis as envisioned by local Cayman Brac artist, "Foots", which provides a healthy environment for new coral growth and marine life.
You will also see a sunken Russian Frigate, which was exciting to explore with the soldiers. Famed underwater photographer Lawson Wood took all these photos.
" I am so proud to have been chosen to be the spokesperson for the Underwater Warriors Foundation. If you are interested in further information on the Underwater Warriors foundation, please visit "....www.underwaterwarriors.org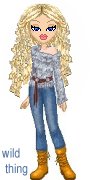 Wild Thing's comment......
Greaty video and wonderful photography.
Posted by Wild Thing at May 23, 2007 12:44 AM
---
Comments
This is very nice. I know those wounded vets really enjoyed the diving and the beauty of Cayman Braac. I wish these trips had been available 35 years ago.
Posted by: TomR at May 23, 2007 05:52 AM
---
Nice to see folks offering their time, etc. and share an experience with our heroes.
Posted by: raz0r at May 23, 2007 10:08 PM
---
Tom, isn't it wonderful. I was so impressed with it and what they are doing.
Posted by: Wild Thing at May 23, 2007 10:45 PM
---
razOr it sure is, it is a real feel good video and one of hope too.
Posted by: Wild Thing at May 23, 2007 10:46 PM
---