« Too Sexy For Iran's Foreign Minister Manouchehr Mottaki | Main | " Sleeping With The Emeny" »
May 06, 2007
Thoughts and Prayers for Those in Kansas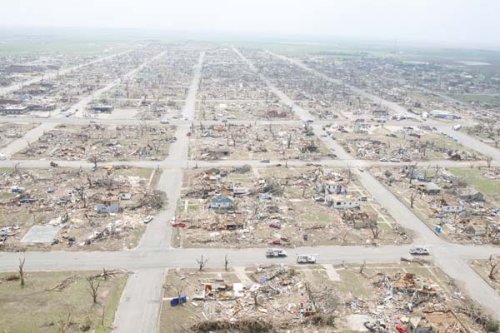 The Kansas Adjutant General's Department said it had confirmed reports of eight tornadoes touching down.
Vienna Janis, spokeswoman for Osborne County Emergency Management, said the twister hit around 6 p.m., ripping the roof off the Circle N restaurant and smashing windows in a Pizza Hut.
"It touched down and would then go back up and then touch down and go back up," Janis said.
The National Weather Service said it had received reports "well into the double digits" of twisters touching down in six southwest Kansas counties. Numerous tornadoes were reported from South Dakota south into Oklahoma as forecasters scrambled to keep issuing warnings.
The new storms forced rescuers to abandon search efforts Saturday in southwest Kansas, where crews had spent the day hurrying through the wreckage from Friday night's giant tornado. That twister left little standing in Greensburg beyond the local pub.

UPDATE in last few minutes ( 23:30 Saturday)..............
GREENSBURG, Kan. — A fresh wave of tornadoes ripped through southwest Kansas on Saturday evening, a day after a tornado destroyed this town, killing nine and injuring dozens more.

The National Weather Service said it had received reports "well into the double digits" of twisters touching down in six counties.

Among them were a series of half-mile wide "wedge" tornadoes — similar to the one that devastated Greensburg on Friday night, meteorologist Mike Umscheid said.

"We're going to expect quite a lot of damage," he said.

The twisters were reported just after emergency crews called off the search for more victims of Friday night's tornado.

Rescuers had spent the day hurrying through the wreckage from that giant tornado, which left little standing beyond the local pub.

City Administrator Steve Hewitt estimated 95 percent of the town of 1,500 was destroyed and predicted rescue efforts could take days as survivors could be trapped in basements and under rubble.


Wild Thing's comment.........
Prayers for all that have lost a loved one, have friends and familiy missing and injured. And praying too for those that physically are OK but have lost everything they have. This is so sad.
Posted by Wild Thing at May 6, 2007 12:44 AM
---
Comments
This is an active storm season for parts of the country. For some, these storms are a drought relief, but at a price. Yes, prayers for those who have suffered Natures's furies.
Posted by: TomR at May 6, 2007 06:26 AM
---
With hurricanes you get a lot of notice but with tornado's you get 20 minutes, if your lucky.
I've been watching this on the news all morning and I've still yet to hear someone say, "Where's FEMA".
Posted by: BobF at May 6, 2007 08:24 AM
---
Yeah--I noticed, these people and those from Hallum, NE a few years ago--filed with their insurance and rebuilt. No one blamed anyone for the devastation.
My heart does go out to anyone who has been through any form of nature's wrath. I've been through tornadoes too. Not a pretty picture, but life does and will go on and the people of Greensburg have shown they are resilient and will bounce back. Kudos to them for looking at the devastation in a positive way. I hear them say, "yeah,it's gone, but we're not."
Posted by: Lynn at May 6, 2007 11:10 AM
---
Sad, the loss of life and property but I'm proud that these self reliant folks don't fall on the government by either begging or blaming the rest of us for their misfortune, quite unlike certain other cities. I hope and pray that they get some relief as they surely need a hand up to get them back on their feet. God, that place is still as flat as I remember it, I fully understand why my wife's grand parents migrated west from Kansas during the dustbowl. I reckon the Salvation Army is a good place to send a donation, I don't trust anyone else to put their feet on the ground in a support effort.
Posted by: Jack at May 6, 2007 05:15 PM
---
I agree about the Salvation Army they are always first at the scene and do a great job.
Posted by: Wild Thing at May 7, 2007 12:24 AM
---