« Ft. Dix Six Father Whines of Bad Treatment | Main | Three Of Our Soldiers Missing and Updates »
May 15, 2007
Something You Would Never, EVER Do.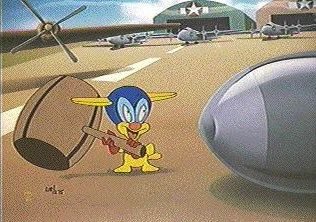 Image from and old Bugs Bunny cartoon where Bugs comes across a gremlin casually whacking the hell out of a huge bomb.
Teen Hurt Whacking Bullets With Hammer
LAKE LUZERNE, N.Y.
(AP)
A teenager who put bullets in a vise and whacked them with a hammer to empty the brass shell casings was wounded in the abdomen by approximately the 100th bullet he hit, according to Warren County deputies.
Damion M. Mosher, 18, had been discharging .223-caliber rounds, placing them in a steel vise, putting a screwdriver on the primer, and striking the screwdriver with the hammer, deputies said.
Deputies were called to his home in Lake Luzerne shortly after 5 p.m. Saturday when one bullet went about a half-inch into his abdomen. He was treated at Glens Falls Hospital and was released. No charges were filed.
Mosher told authorities he was trying to empty the rounds to collect the brass casings for scrap.
Sheriff Larry Cleveland said about 100 other rounds that Mosher hit had "fizzled," but one was somehow sent with more force. It was unclear if the bullet ricocheted or hit him directly.
An employee of Capitol Scrap Co. in Albany said Monday the business pays $1.70 a pound for scrap brass shell casings.
Cleveland said Mosher's shells amounted to just a few pounds.
Lake Luzerne, at the southeastern edge of the Adirondacks, is 45 miles north of Albany.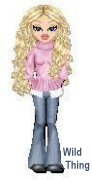 Wild Thing's comment........
Good grief! This kid is not too bright. He could have simply gone to a shooting range and collected all the empty casings he wanted.
Posted by Wild Thing at May 15, 2007 12:44 AM
---
Comments
Some people are just destined to get a mention on the Darwin Awards and I think we have a future winner with that dumb chap.
Posted by: fidothedog at May 15, 2007 06:40 AM
---
He wanted to bite the bullet? He surely didn't dodge the bullets! A Tom Delay 2nd Amendment supporter? - "Here's your sign!"
Posted by: darthcrUSAderworldtour07 at May 15, 2007 07:08 AM
---
Some 40 years back a kid on a Washington State school bus was doing the same thing with a .50 Cal live round, it worked. One dead and several wounded.
That primer alone is a powerful explosive, even in a .22 cal. There is a rental unit in Anchorage, Alaska where a friend and I were handloading ammo, the primer tube on the loading bench went up, spraying the ceiling like a machingun with some 150 detonated primers, we think it was static electricity that set them off. The real lesson is if you don't know what it will do don't mess with it, and if you do know what it will do, don't mess with it. Old primers can be rendered inert with oil, but there is always someone who will push the envelope.
Posted by: Jack at May 15, 2007 02:00 PM
---
Whoops, some idgit slipped into the gene pool when the lifeguard wasn't looking!

Posted by: Lynn at May 15, 2007 07:31 PM
---
Am I missing something, the amount of ammunition that it would require to create a pound of brass is worth much more than $1.70 - so why would anyone be expending it like that? sounds like a pretty suspect story to me?
Posted by: davec at May 15, 2007 07:46 PM
---
fidothedog, your right, haha
Posted by: Wild Thing at May 15, 2007 11:46 PM
---
Darth, LOL, yes he learned a lesson about bullets for sure.
Posted by: Wild Thing at May 15, 2007 11:47 PM
---
Posted by: Wild Thing at May 15, 2007 11:48 PM
---
Lynn, hahahhaa good way to put it.
Posted by: Wild Thing at May 15, 2007 11:49 PM
---