« Moran..."I well uh...." | Main | A Friend of mine that Supports the Troops ~ Gary Sinise »
May 24, 2007
Soar with the eagles, Earthquake!!!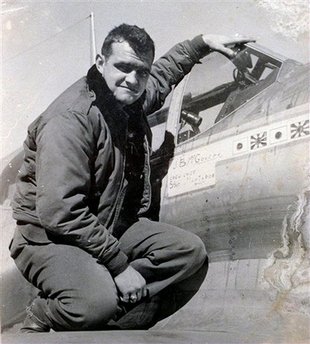 Capt. James B. McGovern Jr. of Elizabeth, N.J., poses on the wing of his World War II fighter plane at an unknown location in this undated file photo provided by his family. Fifty-three years after he was shot down on a desperate cargo-delivery flight over Vietnam, a legendary pilot and soldier-of-fortune known as 'Earthquake McGoon' is to be buried at Arlington National Cemetery on Thursday. (AP Photo/McGovern family photo via the Home News Tribune, File)

Famed flier to be buried at Arlington
NEW YORK
Fifty-three years after he was shot down on a desperate cargo-delivery flight over Vietnam, a legendary pilot and soldier of fortune known as Earthquake McGoon will be buried Thursday at Arlington National Cemetery.
The burial plan was announced by the Pentagon on Wednesday.
Earthquake McGoon, whose real name was James B. McGovern Jr., was one of the first two Americans killed in the Vietnam conflict. His remains were recovered from an unmarked grave in a remote northern Laos village in 2002 and identified last year by forensic experts at the Joint POW/MIA Accounting Command's laboratory at Hickam Air Force Base, Hawaii.
But a family fued among relatives in New Jersey, in part about burial plans, stalled his interment. Meanwhile, former colleagues of McGovern in World War II and Indochina tried to arrange an Arlington burial to coincide with a planned "final reunion" of pilots who flew in China and French Indochina with Civil Air Transport, a postwar airline secretly owned by the CIA.
McGovern, who weighed 260 pounds and was nicknamed after a hulking character in the hillbilly comic strip "Li'l Abner," was killed May 6, 1954, while air-dropping an artillery piece to the trapped French garrison at Dien Bien Phu. His C-119 "Flying Boxcar" cargo plane, crippled by anti-aircraft fire, continued 75 miles into Laos and crashed on a hillside.
The crash also killed his co-pilot, Wallace Buford, and a French flight engineer. Three other French Legionnaires survived the crash and were captured by communist troops, but one died later. The remains of Buford, of Kansas City, Mo., were never found.
Dien Bien Phu fell to Ho Chi Minh's communist-led revolutionary army the next day, dooming the French colonial regime in Indochina.
McGovern and Buford, both civilians at the time, were the first two Americans killed in fighting in Vietnam, where ensuing warfare would kill nearly 60,000 Americans and more than a million Vietnamese over the next two decades.
Earthquake McGoon was a flamboyant figure who became famous in the early 1950s for his escapades. As a member of an Air Force squadron descended from the famed Flying Tigers, he shot down four Japanese planes and destroyed others on the ground.
His adventures included being captured by communist Chinese troops who freed him because he called them "liars" for not letting him go; winning a clutch of dancing girls in a poker game; and setting free a group of Japanese POWs on a beach rather than follow orders to "dump cargo" after he developed engine trouble.
Possible graves were spotted in the Laotian village of Ban Sot in the late 1990s by an analyst for the Hawaii-based POW/MIA Accounting Command, which searches for missing Americans in Asia and elsewhere.
In 2002, a JPAC team led by anthropologist Peter Miller found one of the graves contained remains that were later identified by forensic experts as those of McGovern.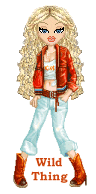 Wild Thing's comment..........
From 1946 to 1976, Civil Air Transport (CAT) and Air America served alongside U.S. and allied intelligence agents and military personnel in the Far East, often in dangerous combat and combat support roles. Behind a shroud of strict secrecy, many Air America personnel were unaware that they were "shadow people" in counterinsurgency operations. Some 87 of them were killed in action in China, Korea, Laos, Vietnam, Cambodia and elsewhere.
Though many of those Asian countries eventually fell to the communists, the contributions of Air America personnel to the cause of freedom remain unparalleled in aviation history. CAT and Air America personnel were the first Americans in China and Korea and, after the U.S. military had withdrawn from Vietnam, Air America pilots risked their lives to evacuate the last Americans. Air America -- "First in, last out."
This official website of Air America and CAT tells the 30-year story of these great Americans--shadow people, largely unknown to Americans and the world. They helped bring the Cold War to an end.
Click HERE to go to their website to read about Earthquke McGovern and Buford disappeared while flying a C-119
Posted by Wild Thing at May 24, 2007 12:47 AM
---
Comments
I read about McGovern before I went to Vietnam. While I was in Nam, I saw Air America working on an almost daily basis. They were paid very well and sometimes did crazy things. Great pilots and crews. They even saved my bacon one time.
I hate that the liberal Al Franken radio program took up the name Air America.
Posted by: TomR at May 24, 2007 06:41 AM
---
Tom me too, I was so upset when they named their radio program Air America. I wish someone had said they could not do it, that it was a copyright name or something. grrrrrr
I sure am glad they saved your bacon that time. ((hug))
Posted by: Wild Thing at May 24, 2007 11:42 PM
---