« Robert Mitchum in 1966 | Main | God Bless Our Troops ~ For the soldiers, "Bagpipes Cryin'" »
May 29, 2007
Rolling Thunder ~ I Love You! Thank you!


No Memorial Day weekend in the capital is complete without the ritualistic rumble of Rolling Thunder. For 20 years now, the nonprofit group has led a ''Ride for Freedom'' along the National Mall, a full-throttle demonstration in support of soldiers held captive or missing in action.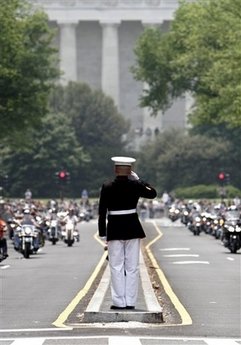 An unidentified U.S. Marine salutes as participants of the 20th annual Rolling Thunder Ride for Freedom drive in front of the Lincoln Memorial, seen in background, Sunday, May 27, 2007 in Washington.
(AP Photo/Caleb Jones)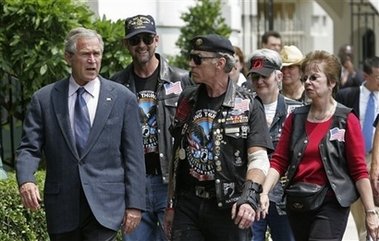 President Bush, left, walks with Rolling Thunder members, from left, Gary Scheffmeyer, Artie Muller, Lynne Jenks Spencer and Elaine Muller, as he receives them on the South Lawn of the White House in Washington, Sunday, May 27, 2007.
(AP Photo/Lawrence Jackson)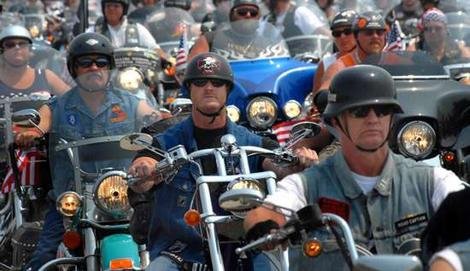 Hard hats and horsepower: Thousands of bikers leave the Pentagon car park as they make their way to Washington's mall during the Memorial Day Rolling Thunder parade.
Photo: AFP
Thunder rolls, tears rain on Vietnam vets' parade
from various sources online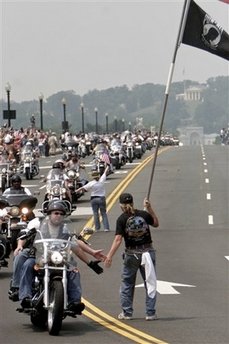 The ponytails might have grayed, and they're not as lithe as they were 40 years ago, but for the Harley-riding Vietnam veterans who descend on Washington for Memorial Day, it's a chance to remember and reflect on the war that changed their generation.
An estimated 400,000 motorcyclists swarmed the capital at the weekend for the 20th Rolling Thunder event. Many were veterans sporting leather vests advertising their platoon, their tour of duty, fallen comrades — and their devotion to their Harley-Davidson.
Some had ridden across the US in a pilgrimage to "the Wall", the name given to the stark yet moving monument that records the names of the 58,000 US servicemen who died in Vietnam.
Others had come from closer states. Like Jim Burgess, from Florida. He flew reconnaissance planes out of Thailand along the Ho Chi Minh Trail.
"I got 10 people up on the Wall — one from my squadron. You gotta come and visit them once in a while," he said.
Ben Ompad served at the Phan Rang Air Base alongside Australian servicemen in 1967-68. "They were flying Canberras (bombers) back in those days, and I was like an adopted son," he said.
Dan Watson didn't serve in Vietnam, but he'd ridden the eight hours from Pennsylvania to spread the word on behalf of the Christian Motorcyclists' Association.
"I'm president of our chapter and I come every year to hand out Bibles and just talk to people," he said.
There was also a smattering of newer vets, several of whom were still recovering from injuries sustained in the Iraq war.
Specialist Adoph Morciglio, who drove convoy escorts, is now on disability leave from the US Army after a roadside bomb exploded near his convoy in Iraq. One of his team died a couple of months later from his injuries. It was his first time at the Memorial Day event.
"I don't doubt in my mind that there were weapons of mass destruction. Saddam just had too much time to get rid of the stuff, " said Sam Clark, a Vietnam veteran who survived the 1968 Tet Offensive.
Keith Eastman, from Dayton, Ohio, who served in the US Air Force on gunships out of Nha Trang, wants to see America stay the distance. "I want us to leave but after we win, and I think you'll find most of the vets feel the same way. We were pulled out of Vietnam and we didn't like it," he said.
Retired Army Spc. George Rusiewicz rides to show support for his brother, who fought in Vietnam and was riding in Rolling Thunder today for the fourth straight year.
"You've gotta support the troops, and I think this is a great way to do it," Rusiewicz said. "We need people to defend this nation, and like they say, 'Freedom isn't free.'"
By mid-afternoon the air around Constitution Avenue was thick with exhaust smoke and the smell of synthetic motorcycle oil. But the parade kept coming and the crowd kept cheering, even though by now every shape, size and modification of Harley had passed them by.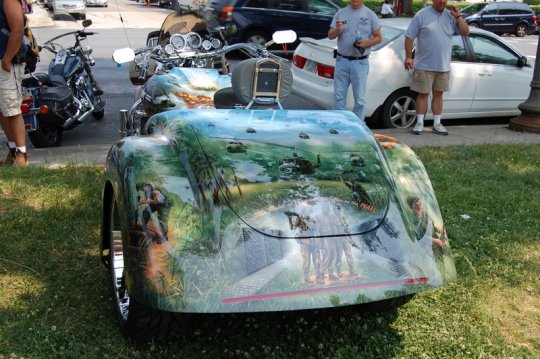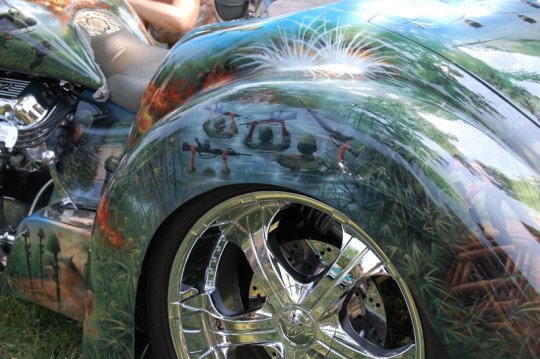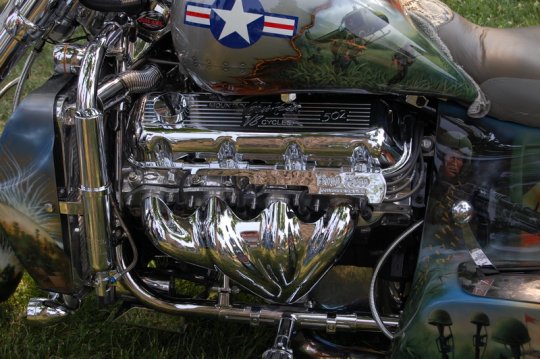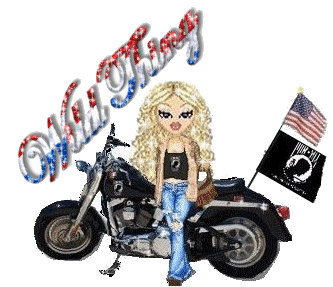 Below are some video's about this last weekend with the Rolling Thunder. Love the first one especially.
And this one too...............

Posted by Wild Thing at May 29, 2007 12:55 AM
---
Comments
Funny how those anti-war, anti-American assholes are never to be seen at an event like this, huh?
Posted by: vilmar at May 29, 2007 05:26 AM
---
God Bless Rolling Thunder!
Posted by: Lynn at May 29, 2007 06:22 AM
---
"I don't doubt in my mind that there were weapons of mass destruction. Saddam just had too much time to get rid of the stuff, " said Sam Clark, a Vietnam veteran who survived the 1968 Tet Offensive.
Exactly!! We can't even find the Meth labs in our county so how do people expect us to find these weapons in a country as large as Texas? You can hide a lot of "death" in a basement, garage, attic, or buried in the desert.
Posted by: BobF at May 29, 2007 07:14 AM
---
Wish I could be at one of these Rolling Thunder events. It must be awesome. At least I was able to see part of it on C-SPAN. It has to be great to be around 400,000+ people who have basically the same views as yourself.
Posted by: TomR at May 29, 2007 11:33 AM
---
Vilmar, hahahha your right, if they did show up they would not be feeling good for a very long time. heh heh
Posted by: Wild Thing at May 29, 2007 11:32 PM
---
Bob good point! That Blix jerk gave Saddam all kinds of time to hide all he needed to hide. I can't stand Blix.
Posted by: Wild Thing at May 29, 2007 11:34 PM
---
Me too Tom, I have always wanted to go to one of them.
Posted by: Wild Thing at May 29, 2007 11:36 PM
---