« Michael Chertoff Total Jerk Mouthing Off | Main | Moran..."I well uh...." »
May 24, 2007
Our Awesome Troops in the Gulf of Oman

US issues nuclear warning to Iran as armada enters Gulf
USS Nimitz (CVN 68), the USS Bonhomme Richard (LHD 6) and the USS John C. Stennis (CVN 74) in the Gulf of Oman.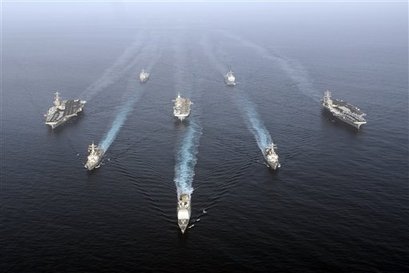 USS John C. Stennis (CVN 74), USS Nimitz (CVN 68), and USS Bonhomme Richard (LHD 6) strike groups
Guided-missile destroyer USS O'Kane (DDG 77) steams through the Gulf of Oman while an SH-60H Seahawk, from the Eightballers of Helicopter Anti-Submarine Squadron (HS) 8, moves into position
US issues nuclear warning to Iran as armada enters Gulf
afp.com
The United States threatened new UN sanctions to punish Iran's nuclear drive as it ratcheted up tensions with the biggest display of naval power in the Gulf in years.
A bristling US armada led by two aircraft carriers steamed into waters near Iran for exercises Wednesday, hours before UN watchdogs said Iran was expanding its uranium enrichment program in defiance of international sanctions.
The International Atomic Energy Agency (IAEA) said that Iran continues to enrich uranium -- which can provide fuel for civilian reactors but also make nuclear bombs.
That prompted warnings from US officials of further UN punishment unless Iran curtails its nuclear development -- which the Islamic republic insists is devoted to civilian energy.
"Iran is once again thumbing its nose at the international community," US Under Secretary of State Nicholas Burns said, even as US and Iranian envoys prepared for historic talks on Iraqi security in Baghdad next Monday.
Iran denied obstructing IAEA inspections, but White House national security spokesman Gordon Johndroe said the report by the United Nations atomic watchdog was damning.
The IAEA assessment "is a laundry list of Iran's continued defiance of the international community and shows that Iran's leaders are only furthering the isolation of the Iranian people," he said.
The US Navy said the Gulf exercises were not directed at Iran but Mustafa Alani, senior analyst with the UAE-based Gulf Research Center, said it was no coincidence the powerful flotilla arrived on the day of the IAEA report.
Posted by Wild Thing at May 24, 2007 12:40 AM
---
Comments
Seeing a US Naval Carrier battle group from 20,000 feet or while driving across the Chesapeake Bay Bridge towards Norfolk NAS still gives me patriotic goosebumps and no Viagara or Cialis is needed! A true glimpse of power, prestige and freedom. - The Final Countdown!
Posted by: darthcrUSAderworldtour07 at May 24, 2007 01:18 AM
---
I'm married to a Vietnam Navy Vet. He and I have been watching us quietly sending carrier groups to the Persian Gulf over the past year.
When the USS Nimitz left for the area, he told me that something is going on. We have gathered an enormous amount of fire power in that area. I think at this point we have 4(?) carrier groups poised in the Persian Gulf.
If that is so, then I will forgive Bush for his non-aggressive method of fighting this war. He could still go out of office with a showing of strength and determination to protect our troops and our nation.
Take a look at that you Iranian alma-mama-jihad scum!!
Posted by: beth at May 24, 2007 08:19 AM
---
Woo-Hoo!
Let's kick some Muslim booty!
Go Navy!
Posted by: Lynn at May 24, 2007 07:52 PM
---
Posted by: BobF at May 24, 2007 10:50 PM
---
Darth, Wow what a sight that would be to see......awesome!
Posted by: Wild Thing at May 24, 2007 11:45 PM
---
Beth, it gives me goosebumps when we are strong like this and let them know we are right there waiting for one wrong move. I love it.
Thanks Beth.
Posted by: Wild Thing at May 24, 2007 11:47 PM
---
Posted by: Wild Thing at May 24, 2007 11:49 PM
---
Bob.........."the brown stinky stuff is about to hit the fan.".....LMAO what a great way to put it. heh heh

Thanks for the link Bob.
Posted by: Wild Thing at May 24, 2007 11:53 PM
---
I'll never forget looking down at the Gulf during Operation's Desert Shield & Storm sorties from our C-5 Galaxy flight deck. Talk about an ARMADA of US Naval Power! Freedom isn't free and God bless US - $emper Per Diem
Posted by: darthcrUSAderworldtour07 at May 25, 2007 12:28 AM
---