« iPod Armor | Main | Pelosi Terror Tour 2007 Continues »
May 01, 2007
In Country With Our Troops

"If we lose freedom here [in America], there is no place to escape to. This is the last stand on Earth."
- President Ronald Reagan
October 27, 1984
Thank you to our Veterans and our troops today for the freedoms we enjoy! - Wild Thing
.
Honor, Courage, Commitment. USMC


Iraq War: The Soldiers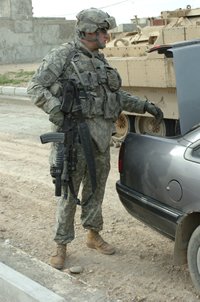 Infantry team leader, Sgt. Jesse Aguilera, Company A, 2nd Battalion, 7th Cavalry Regiment, 4th Brigade Combat Team, 1st Cavalry Division, searches a vehicle during a raid on a possible insurgent%u2019s home April 22, in Mosul, Iraq. Aguilera and the rest of Company A, control the Coalition Forces operations on the west side of the second largest city in Iraq. (U.S. Army photo by Pfc. Bradley J. Clark, 4th Brigade Combat Team, 1st Cavalry Division Public Affairs)

MOSUL, Iraq — Soldiers from Company A, 2nd Battalion, 7th Cavalry Regiment, are on the frontlines everyday in Mosul, Iraq, and have a mixture of emotions on the varied experiences in the second largest city in the country.
"We are the first ones out after something happens," said Riverside, Calif., native, Pfc. Bryan Quintana, infantryman, 1st Platoon. "We cover the whole west side of town."
The company has a wide variety of missions they perform. From escort missions to acting as a quick-reaction force, the Soldiers are always ready to perform.
"Our whole company gets ready to roll whenever something happens outside the wire," said Glendale, Ariz., native, Sgt. Jesse Aguilera, team leader, 1st Platoon. "We do everything from securing and searching targets to delivering camera equipment to local media outlets."
Despite the challenges and risks, Company A gets reminded why they are here every day and say they still feel safe out there because of the assets available to them.
"The thing that makes me feel safe is when I hear the air support over head," said Aguilera. "I know when we get pinned down, I can look up and hear those rockets and know the insurgents are going to pay for their damages."
Despite the recent news of the unit extensions, the Company A Soldiers maintained focused and positive as they continue their mission.


"We expected it to happen," said Columbus, Ohio, native, Pfc. William Stockton, infantryman. "Instead of looking at the negative, you have to look at the positive — it gives us more time to prepare the Iraqis and allows us to be more effective."
The Soldiers from Company A, 2-7 Cav., have a great pride in the job they are doing here and in their division heritage.
"We are out here every day doing our jobs," said Stockton. "We're not losing; we're living the legend."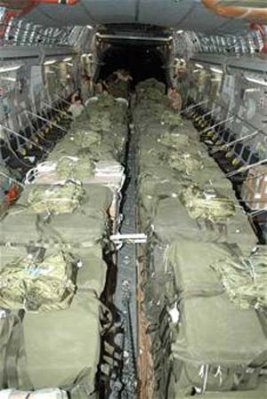 An 816th Expeditionary Airlift Squadron aircrew works with Army personnel in Afghanistan to rig a C-17 for an airdrop mission in February. The squadron has seen an increase in airdop missions during its rotation. U.S. Air Force photo/Senior Airman Erik Hofmeyer.
Bringing the bombs, beans and bullets to the warfighter" is how Capt. Aaron Oelrich described the mission of the 816th Expeditionary Airlift Squadron while on his way to fly an airlift mission into Iraq.
And "bring it" they do, to the tune of about one million pounds of cargo daily.
The 816th EAS, a 379th Air Expeditionary Wing tenant unit, is approaching the end of its four-month rotation after directly supporting and sustaining ground combat operations in Iraq and Afghanistan since Dec. 31. The C-17s provide theater logistical options for CENTCOM leadership through the airlifting and airdropping of personnel and supplies, and the expedited evacuation of wounded servicemembers.
As of April 24, squadron aircrews have flown 3,578 sorties equating to 6,167 flying hours, 120.8 million pounds of cargo and 111,549 passengers in and out of the area of responsibility. Also, the squadron has seen an increase in combat airdrop and dirt landing strip missions.
"All we need is 3,500 feet of runway, only 90-feet wide, which isn't much more than a C-130," said Lt. Col. William Anderson, 816th EAS commander. "We can get into some austere locations."
The squadron regularly travels into 13 locations in Iraq and several others for specific missions. The same goes for Afghanistan, where the squadron goes into eight locations, plus several other semi-prepared runway locations.
Also, forces on the ground don't need to go outside of secured drop zones to gather equipment, thereby reducing their exposure to enemy fire.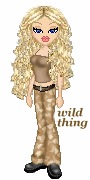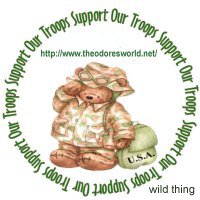 Posted by Wild Thing at May 1, 2007 12:47 AM
---
Comments
The Air Force now has delivery systems whereby they can airdrop by parachute with pinpoint accuracy to troops on the ground. These drops can be made from very high altitude, 20,000' or more, and at night. This way they can resupply Special Forces/spec ops units without the enemy spotting the aircraft or chutes.
Our military guys and gals are the best!
Posted by: TomR at May 1, 2007 05:45 PM
---
Tom that is awesome, thank you.

Posted by: Wild Thing at May 1, 2007 11:36 PM
---
As a former C-5 Galaxy aircrew dog...I admire the C-17 Globemaster as a replacement for the C-141 Starlifter! But nothing compares to Fred Galaxy
(1983-1997)! I miss my A-10 Thunderbolts and F-4 Phantoms too! "I love the smell of burning JP-4 exhaust...smells like....VICTORY!"
Posted by: darthcrUSAderworldtour07 at May 2, 2007 07:12 AM
---