« Fire Up and Thunder Out with Rolling Thunder Memorial Day Weekend | Main | Rosie Finally Is Gone From The View »
May 25, 2007
Special Thank You This Memorial Day Weekend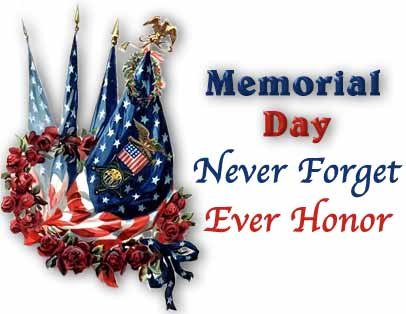 Memorial Day, originally called Decoration Day, is a day of remembrance for those who have died in our nation's service. Since some may be traveling to spend this weekend with special remembrance to someone that gave their all for our country. I wanted to Pay a Tribute today for our brave military and those that paid the highest price for our freedom. There will be other posts throughout the weekend as a Tribute to American's Heroe's for Memorial Day.
The music in the video is " Some Gave All" by Billy Ray Cyrus. It is an amazing song.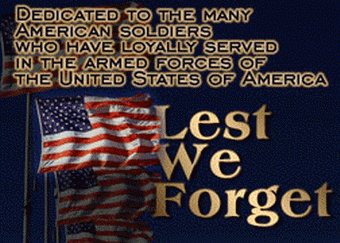 Posted by Wild Thing at May 25, 2007 12:55 AM
---
Comments
From 'the shot heard around the world' at Lexington & Concord in 1775, to the war against Islamofascism in Afghanistan & Iraq, we salute the patriots that gave the 'ultimate sacrifice'over the last 230-years so WE THE PEOPLE can be free... in the home of the brave!
Posted by: darthcrUSAderworldtour07 at May 25, 2007 04:02 AM
---
Yes, it is that time we put aside our petty little differences and Thank each and every man and woman who fought for this Nation, so they Nation would NOT perish from the Earth.
They are heroes all--they give so much and ask so little in return--just so we can talk the way we want to and say the things we want to and that we can sleep well at night, knowing they're on guard and they won't let anything happen to us.
Carry on, faithful children, carry on.
You make us EXTREMELY PROUD!!!!!!!

Posted by: Lynn at May 25, 2007 06:22 AM
---
God Bless America, the "Shining Light on the Hill"!
Posted by: TomR at May 25, 2007 12:34 PM
---
God Bless all you patriots here, especially WT. It's a weekend of rememberance, paying tribute to our departed, MIA and POW's.
I yearn for the pusillanimous Michael Moore types of this land to have to spend a few nights alone in no man's land, to be up to their ass in mud with dust blowing in their faces, burning during the day and thirsty, then shivering in the wet and cold at night without shelter, hungry because they're isolated, knowing that if they make a mistake they'll pay for it violently with their lives. That is a taste of what each and every one of our soldiers face everyday in the combat zone. God bless our troops!!!

Posted by: Jack at May 25, 2007 02:05 PM
---
Posted by: Wild Thing at May 26, 2007 12:57 AM
---
JOHN 15:13 - "Greater love has no one than this, than he lay down his life for his friends."
We pause to remember those who died,
with so much courage, so much pride.
They'll never come back, yet memories endure,
to remind us of freedom: fragile, pure.
We're worth of their sacrifice if we pause each day, not just on the last Monday in May. (By John T. Bird - Last Monday In May)
Posted by: darthcrUSAderworldtour07 at May 26, 2007 03:36 AM
---