« From An Army Ranger About Iraq ~ To America | Main | Hamas Uses Mickey Mouse Image To Teach Their Hate »
May 07, 2007
18,000 Mexicans Strip for Artist's Photo
Or it could be called..........18,000 Mexicans With Too Much Time On Their Hands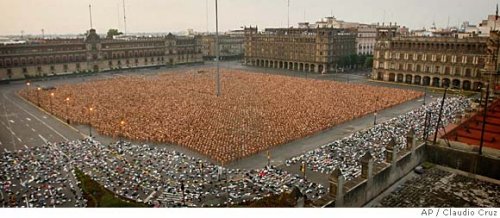 Thousands of naked people fill Mexico City's main Zocalo plaza during the massive naked photo session with U.S. photographer Spencer Tunick in the early hours of Sunday May 6, 2007. Associated Press photo by Claudio Cruz
MEXICO CITY, Mexico (AP)

More than 18,000 people stripped down and bared it all in Mexico City's vast main square Sunday for U.S. photographer Spencer Tunick's biggest nude shoot yet.
Standing up to salute, crouching in fetal positions and lying prone on the tiles of the Zocalo plaza, the volunteers formed a sea of flesh that Tunick snapped from balconies and a small crane in the morning light.
"What a moment for the Mexican art scene!" Tunick said in a news conference. "I think all eyes are looking south from the United Sates to Mexico City to see how a country can be free and treat the naked body as art. Not as pornography or as a crime, but with happiness and caring."
The Brooklyn, N.Y., artist has become famous for photographing thousands of naked people in public settings worldwide, from London and Vienna to Buenos Aires and Buffalo.
But the Mexico City shoot dwarfed all others. Previously his best turnout had been 7,000 models in Barcelona in 2003.
"I just create shapes and forms with human bodies. It's an abstraction, it's a performance, it's an installation," Tunick said. "So I don't care how many people showed up. All I know is that I filled up my space."
The heart of this city since it was founded by the Aztecs in 1325, the Zocalo measures about 21,000 square yards — the size of five football fields.
For Tunick's first photo, the models stood upright and gave a military-like salute to their national flag. In another, they lay down to form a blanket of flesh around a naked man in a wheelchair. Between shots, they burst out into verses of Mexican folk songs such as "Cielito Lindo."
Public nudity is hardly a novelty in Mexico City, where protesters often march through the streets wearing only their underwear or nothing at all.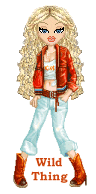 Wild Thing's comment........
Somebody tell Tunick that artists have been treating the naked body as art for thousands of years. And I would not call this art, at least not the kind of naked art that think would be good. yuck!
I wonder how many of them ate bean burritos before the shoot. heh heh
Public nudity is hardly a novelty in Mexico City, where protesters often march through the streets wearing only their underwear or nothing at all
Now that IS scary to me, I really don't need to see the illegals here in America protesting naked on street corners......augh!
Posted by Wild Thing at May 7, 2007 12:55 AM
---
Comments
What a way to begin Monday morning. Art? Photography? Was it televised throughout the world and if so, by which networks and cable companies? I am simply gathering facts and taking notes because this was, without a doubt, an earth-shaking event. You posed a question about the food intake of the participants prior to the event. Considering the knowledge that beans are the main staple of the diet in Mexico, your question created an olfactatorial kind of image that caused my nose to tremble. I can only imagine the methane that was let loose in such an en-masse assembly. Never in my life had I ever imagined such a smell. No, though my fantasies, throughout my lifetime have run the gamut and bordered on the harmless edge of insanity, aromas and odors have never been inspiring or part of my fantasies. That is not to say that the scent of a perfume on the nap of a gorgeous woman hasn't aroused me, but I cannot imagine getting turned on by sniffing in public. I mentioned en-masse. Was there, by chance, a Catholic mass that blessed these folks? Or was there an all-faiths prayer service before or after? Was there confusion about whose Victoria's Secret panties were whose? Did males challenge each other over Joe Boxer briefs? And now, for the big question, the really big question: Was there any monkey business or fooling around? No, not fooling about gender identification--that should have been obvious, especially if most of the participants were young men. The artist must have been thrilled, puffed up with the pride of having so much influence. I mean, really, to persuade thousands of humans to bare it all for a photo is mighty amazing. To call it art is okay, but there is much to be learned about the psyche of our Pan-American neighbors down Mexico way. It is interesting. Had this been scheduled for Topeka, Kansas, Minneapolis or Milwaukee, I don't imagine the crowd would have reached such numbers. How does one say cheese in Spanish? Queso...right? Is there a shortage of cheese in Mexico? My mind returns to all of those naked bodies in the fetal position and I hear someone giggling about cutting the queso. Then, the overwhelming power of 7,000 Mexican nationals passing gas in celebration of Cinco de Mayo...Congratulations, amigos. In my thinking, this should be studied in depth by some serious shrinks or by diplomats and peacemakers. Maybe there is a chance for world peace. Instead of getting mad, lets all get naked...but the Romans tried it and it didn't work. Hasta la vista tu nalga desnudas...
Posted by: ROBERT L. HUFFSTUTTER at May 7, 2007 08:59 AM
---
Wow, I didn't know that. There really are people sitll in Mexico. Damn I thought they were all up here. That must be Gringo da mayo celebration in appreciation for all George Bush has done for Mexico.
Posted by: Mark at May 7, 2007 09:52 AM
---
Not that the human body as an art form is unusual it's just the perversion of 'art' in this form. It's not a close up photo, 4x4s are hard to picture and most self respecting Mexicans have a higher moral code and wouldn't be showing their asses in public. As a U.S. photographer Spencer Tunick will probably get a Pulitzer Prize or an Emmy Award for this stunt but he really deserves an enema.
Posted by: Jack at May 7, 2007 10:21 AM
---
Good point Huffstutter, whose going to pay for all those carbon Credits. Hmmm ... ?
Posted by: Mark at May 7, 2007 12:22 PM
---
Big Deal! What's so special of taking a picture of a bunch of people standing naked in the city square? It's not like it takes some special talent. I mean, look at the picture. Any fool with a camera could have done that. I wonder if he gets money from the NEA?
Posted by: BobF at May 7, 2007 04:12 PM
---
Communicable diseases anyone?
Posted by: raz0r at May 7, 2007 08:54 PM
---

Say Jose pass the K-Y Jelly,Hey Ramone lets get
something stright Btwn. US...
Posted by: Tincan Sailor at May 7, 2007 11:32 PM
---
ROBERT thank you so much for your comment. Good one!
Posted by: Wild Thing at May 8, 2007 12:08 AM
---
Mark........."There really are people sitll in Mexico"
LMAO soooo good!!!
Posted by: Wild Thing at May 8, 2007 12:09 AM
---
Jack, Hahahhahha LOL good one, that would be good reward for him. tee hee
Posted by: Wild Thing at May 8, 2007 12:10 AM
---
Bob, your right, isn't it amazing. Hahaha
Posted by: Wild Thing at May 8, 2007 12:11 AM
---
razOr oh my gawd I had not thought of that, and with that many people. Yikes.
Posted by: Wild Thing at May 8, 2007 12:12 AM
---
Posted by: Wild Thing at May 8, 2007 12:13 AM
---