« Hijack! | Main | Iran Says No Airspace for Iraqi Prime Minister »
April 08, 2007
Teachings in Mosques in USA To Be Looked Into


'al-Qaeda-level' teaching to be exposed in U.S. mosques
onenews

The founder of an organization dedicated to exposing the truth about Islam says it hopes to expose every mosque and Islamic day school in the U.S. that teaches absolute obedience to sharia law.
The Society of Americans for National Existence, or SANE, has launched the "Mapping Sharia in America Project," which is aimed at sending Arabic-speaking agents into the 2,000 mosques and Islamic day schools in the United States to learn what kind of doctrine is being preached. SANE president David Yerushalmi explains says the objective is to determine if those Islamic establishments are teaching complete obedience to sharia law.
"We're going to go into the mosques ... we're going to go into the day schools, [and] we're going to get the literature, we're going to listen to the courses, and we're going to rate them," says Yerushalmi. A rating of zero will indicate no sharia being taught; a rating of 10, says the group, will imply it is being taught at "al-Qaeda level."
"If it is an orthodox, meaning a traditional, historical Islam [being taught], it preaches sharia and it's dangerous," SANE's president continues; "and the reason is because as a matter of doctrine, you cannot tolerate a Western nation-state run with a constitutional republic [that is] not based on Islamic law. That's the fundamental principle."
Yerushalmi says while there may a few mosques and day schools that reject Sharia law, they are few and far between.
"Because every Muslim who would stand up and make a case for form is subject to a death threat, only the smallest, fewest, bravest of the Muslims have publicly rejected Islam," he contends.
According to SANE's website, the four-phased approach to the project will culminate with a central database of information that contains details about an organization (e.g., types of members, profiles on leaders, business affiliations, financial information) as well as identification of what it describes as "vulnerable U.S. targets near the location" of that particular organization. SANE hopes to have its project completed in the next eight to ten months.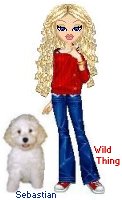 Wild Thing's comment.......
I wonder how much luck they will have with their project. My guess is even when they do find out what we have all heard about these Mosques our leaders won't let them do anything about it. Just my gut feeling.

Posted by Wild Thing at April 8, 2007 12:40 AM
---
Comments
WT, your comment was also my first thought after reading the post. Regardless of how much pertinent info SANE gets on American mosques, I bet the government disdains it.
Until after the Big Attack!
Posted by: TomR at April 8, 2007 03:47 AM
---
Tom, thank you. I agree with you, until after the BIG attack.
Posted by: Wild Thing at April 8, 2007 11:33 PM
---