« Hillary Hates Me | Main | I Just Love Dead Terrorists »
April 15, 2007
Officials Honor Audie Murphy Club Inductees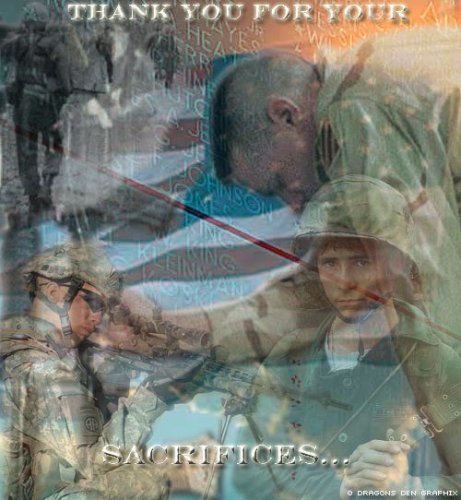 Officials honor Audie Murphy Club inductees
Saturday, 14 April 2007
By Sgt. Kevin McSwain
13th Sustainment Command (Expeditionary)
LSA ANACONDA — Eight Soldiers were inducted into the Sergeant Audie Murphy Club, an elite group for noncommissioned officers, April 6.
The ceremony, held in Sustainer Theater, recognized soldiers throughout Iraq for their professionalism and outstanding performance based on the Audie Murphy merit board.
The Soldiers inducted into the Audie Murphy Club were:
Staff Sgt. Jason Fiedler, 411th Engineer Brigade
Staff Sgt. Rafael Ramirez, 657th Area Support Group
Staff Sgt. Jose D. Garcia, Company B, Brigade Troops Battalion, 15th Sustainment Brigade, 1st Calvary Division
Sgt. Mandi Brassell, 45th Sustainment Brigade
Staff Sgt. Michael Thornton, 22nd Personnel Service Battalion, 45th SB
Staff Sgt. Marada Blakely, 164th Corps Support Group
Sgt. Carlos Bermudez, 164th CSG
Staff Sgt. Charles Duke, 82nd Sustainment Brigade.
The event, hosted by the 13th Sustainment Command (Expeditionary), had more than 200 servicemembers in attendance. As part of the official party, Brig. Gen. Michael Terry, 13th Sustainment Command (Expeditionary) commanding general, gave words of encouragement to the newest inductees and to the soldiers who aspire to be a part of the organization.
"Going forward I want everyone to take initiative to become a member of this organization," he said.
The commanding general said the group of noncommissioned officers receiving their medallions in this ceremony should feel even more pride than those who receive the same honor in the United States.
"Earning this membership alone is difficult," he said. "Earning it in this combat environment is remarkable."
Terry challenged all the senior noncommissioned officers in the room to prepare their soldiers to become an inductee into the Audie Murphy Club.
"If you have any soldiers remotely interested in this honor, you must begin preparing them now," he said.
As Terry spoke about Audie Murphy, he educated soldiers in the audience on the history of this brave soldier and introduced the guest speaker, Multinational Corps-Iraq Command Sgt. Maj. Neil Ciotola.
Ciotola began by giving the audience a word of advice he received from Command Sgt. Maj. Terry Fountain, 13th Sustainment Command (Expeditionary) command sergeant major.
"In everything you do, there is a chance to train," he said. "There is always time."
As he spoke, he explained what his quote meant while he talked about the achievement of the soldiers who were being inducted at the ceremony.
"Take every opportunity to do it all to the best of your ability," he said.
Ciotola said this was an opportunity to recognize the hard work each soldier put into being selected into the club.
"This is an opportunity to lift these soldiers up during this ceremony," he said. "And there is no other group of people I would want to be with right now on my birthday."
Ciotola said the eight soldiers being inducted have done more than just say what they could do, they proved it.
"Their deeds are the personification of their words," he said. "You all made a choice to excel, to become the best, and be a part of the Audie Murphy Club."
The inductees received an Army Commedation Medal, an Audie Murphy Club medallion and coins from all three members of the official party.
When a Soldier is inducted into the Sergeant Audie Murphy Club, they are given a medallion, which is approximately 2 inches in diameter. The medallion is suspended by a broad powder-blue ribbon, which represents the traditional color of the infantry.
The club, which originated in Fort Hood, Texas, only inducts exceptional noncommissioned officers who exemplify the characteristics of the soldier the club was founded in memory of.
Audie Murphy was one of the greatest combat soldiers in the history of the United States serving during World War II. He was decorated with every single American medal for valor, along with three French and one Belgian medal.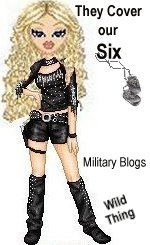 Wild Thing's comment.........

God bless all our troops and their families. We have such awesome men and women serving our country. I pray they always know how much we appreciate all they do.

Posted by Wild Thing at April 15, 2007 12:55 AM
---
Comments
Audie Murphy, what a guy. Makes me proud that the tradition of Audie Murphy is carried on by the Sergeant Audie Murphy Club's recognizing those fine soldiers. God bless them all for what they've done. Anyone who hasn't read Audie Murphy's life story should. Audie published his memoirs in a book entitled 'To Hell and Back', in 1955 Universal International made a movie with the same title starring Audie Murphy as himself. A dirt poor fatherless farm kid who joined the Army after his mother died and the family was split up to different foster homes. Murphy sent his money to support his brothers and sisters, and ended up mustered out due to his war wounds. An example in all ways of his selflessness, at home or in battle, the poor man had his demons to live with. I don't know if the movie is in print or available for sale because I have never seen it on the shelf, I have a bootleg VHS copy that I treasure.
Posted by: Jack at April 15, 2007 03:18 AM
---
I saw Audie Murphy one time. He was having dinner with a few people at a restaurant in Dallas. My brother got his autograph that day. Murphy was very friendly, but low profile. He was a successful business man as well as a combat hero and movie star.
It is great that an award for high standards is given in Audie Murphy's name. It is great that we have NCO's that meet these standards.
Posted by: TomR at April 15, 2007 08:53 AM
---
Posted by: BobF at April 15, 2007 09:17 AM
---
Thank you Bob. Thanks for the link, I wasn't aware of it's availability, it's a great movie to share with the grandkids.
Posted by: Jack at April 15, 2007 11:35 AM
---
Jack I was so glad when I read about this, I never knew they had it.
I agree that movie is excellent and Murphy was an awesome person.
Posted by: Wild Thing at April 15, 2007 10:54 PM
---
Tom, that is so neat, I love hearing about it. Thank you for sharing about meeting him.
Murphy wrote some fantastic poetry too.
Posted by: Wild Thing at April 15, 2007 10:55 PM
---