« U.S. Socialist Party The Democrats Want To Change Wording of the War | Main | Reid Says Bush Should Compromise On Iraq »
April 06, 2007
No way. Next case!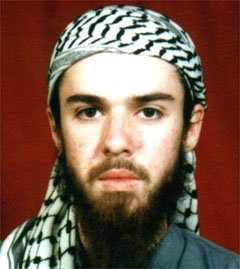 'American Taliban' Lindh asks Bush to reduce 20-year prison term
San Francisco (AP) -- The lawyer and parents of John Walker Lindh, the American-born Taliban soldier serving 20 years in prison after his capture in Afghanistan, called on President Bush on Wednesday to commute his sentence and set him free.
The renewed call to shorten the sentence was based on the relatively light term Australian David Hicks received Saturday after pleading guilty to supporting terrorism. Hicks, who had been imprisoned for five years at Guantanamo Bay and acknowledged aiding al-Qaida during the U.S.-led invasion of Afghanistan, was given a nine month sentence.
"In the atmosphere of the time, the best John could get was a plea bargain and a 20-year sentence," said Lindh's father Frank Lindh. "We love our son very much, he was wrongly accused when he was found in Afghanistan."
John Walker Lindh, 26, a Marin County native, was captured in Afghanistan in November 2001 by American forces sent to topple the Taliban after the Sept. 11 terrorist attacks. He was charged with conspiring to kill Americans and support terrorists but pleaded guilty in 2002 to lesser offenses, including carrying weapons against U.S. forces.
Attorney James Brosnahan brokered the plea deal and said it was the best he could do amid the political climate immediately after Sept. 11.
Lindh had converted to Islam and went to Afghanistan to fight for the Taliban against the Northern Alliance, Brosnahan said.
"It is a question of proportionality, it is a question of fairness and it is a question of the religious experience John Walker Lindh had and it was not in any way directed at the United States," Brosnahan said at a press conference Wednesday.
The White House referred telephone calls to the Justice Department, which declined to comment because it had not received the petition, said spokesman Dean Boyd.
Neither the president nor the department have acted on two previous commutation requests.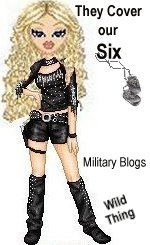 Wild Thing's comment.......
OK, so instead of John Walker Lindh shall serve 20 years imprisonment for his joining terrorists in battle against American forces, how about............You're in for the full 20, you effing traitor! And your hippie parents can burn in hell along with you.
Breathes there the man with soul so dead,
Who never to himself hath said,
'This is my own, my native land!'
Whose heart hath ne'er within him burn'd
As home his footsteps he hath turn'd
From wandering on a foreign strand?
If such there breathe, go, mark him well;
For him no Minstrel raptures swell;
High though his titles, proud his name,
Boundless his wealth as wish can claim;
Despite those titles, power, and pelf,
The wretch, concentred all in self,
Living, shall forfeit fair renown,
And, doubly dying, shall go down
To the vile dust from whence he sprung,
Unwept, unhonour'd, and unsung."
Sir Walter Scott.
Posted by Wild Thing at April 6, 2007 12:47 AM
---
Comments
If justice had been served this traitor would be in rotting in his grave right now, with his parents arrested, convicted and sentenced for abetting the treasonous little bastard. This is the aftermath of treating irrigular combatants as common criminals. Any western national caught on the battlefield aiding the enemy should be immediately shot by a field firing squad, hell for that matter they all should be if they are non -uniformed irregulars. The problem of his being in for 20 is that at some point in the future any Keith Ellison can and will pardon a brother, it's the Democrat way. Execution precludes any pardons or bargaining.
Posted by: Jack at April 6, 2007 01:46 AM
---
How come the loving parents in our 31 Red States of America don't send their children off to Taliban Al-Qaeda 'summer camps'in Afghanistan or the Horn of Africa or at Cal Berkely? After all, aren't they just trying to find / express themselves? And now his Flower Power parents want sympathy? I'm with you Jack ... + X + ...!
Posted by: darthcrUSAderworldtour07 at April 6, 2007 02:57 AM
---
As Ron White would say, "I don't think so, Scooter!"
Posted by: Lynn at April 6, 2007 06:19 AM
---
If they let that little scumbag out. He will be prancing around with Cindy Sh*tbag within a week.
If Ellison pardons him , Ellison shoud then be impeached and sent home to Saudi Arabia along with 'jihad' Johnny.
Lynn, Git-R-Done
Posted by: Mark at April 6, 2007 07:37 AM
---
They should let him go. The justice department should bring him to a bar just outside of Camp Pendleton where a bunch of Marines, who recently buried comrades who were killed in the Middle East, are remembering their fallen friends. They should set him in the middle of the place, announce who he is and what he did, then walk away, leaving him to the Marines. If he survives, he can go free, at least until some veterans find him.
Posted by: BobF at April 6, 2007 09:25 AM
---
Don't let Pelosi hear about this. If she remembers him, she will work at getting him released, once she gets done with her world wide tour of hobnobbing with the earth's top scumbags.
If/when the democrats completely take over the government, there will be no such charges as crimes or enemies against the United States. Life will be one big Berkley style love fest/pot party.
Posted by: TomR at April 6, 2007 12:28 PM
---
Jack,yes, execution would be the best and for anyone else that is a traitor. I have had with these slime.
Posted by: Wild Thing at April 6, 2007 11:57 PM
---
Darth they should do like you said. They might as well for all the lack of support they give our troops and their many victories in Iraq and Afghanistan.
Posted by: Wild Thing at April 6, 2007 11:58 PM
---
Lynn, good one my dear friend!!!
Posted by: Wild Thing at April 6, 2007 11:58 PM
---
Mark, oh good lord you are right. He sure would head straight to Cindy and her group. augh!
Posted by: Wild Thing at April 7, 2007 12:00 AM
---
Tom, how scary is that and it could be like that too if they get more power and more positions in government. Very scary stuff.
Posted by: Wild Thing at April 7, 2007 12:01 AM
---

If the boy wants Bush to reduce it I say go ahead...use new math 20 -10 =60 hows that...
Posted by: Tincan Sailor at April 7, 2007 01:04 PM
---